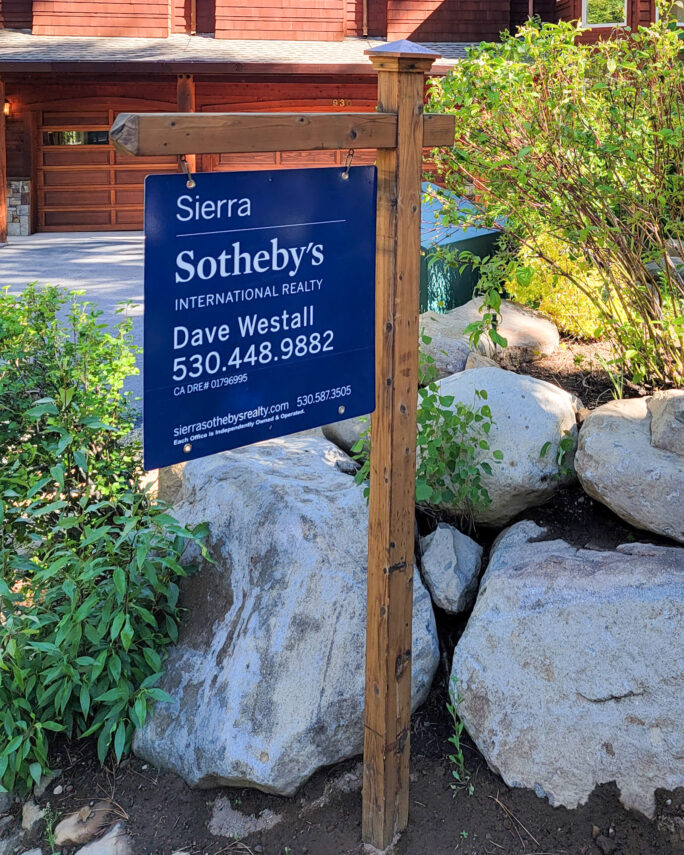 My Lake Tahoe real estate marketing plan will help you sell your Truckee Real Estate or Lake Tahoe Property with confidence and for top dollar in any market. Please Contact Me if you have any questions about selling your Lake Tahoe home as I am happy to discuss your goals, go over questions you might have and help you out in any way possible.
Lake Tahoe real estate marketing plan that will help you sell your Tahoe property quickly and for top dollar!
1. Market Analysis

Thoroughly inspect your home and outline all the important features and upgrades
Make arrangements to have a Home Inspection prior to listing your home so that we are aware of potential issues that could kill a deal. It is also more cost-effective to deal with these issues prior to listing a home as we can get bids and find the right professional to cure significant issues
Listen to your description of the property so that I am aware of the features that are most important to you as these features will be strong selling points
Determine the Fair Market Value of your property by completing a detailed market analysis
Provide an estimate of the selling expenses in order to show your net proceeds
Execute a listing agreement authorizing Sierra Sotheby's International Realty to market and sell your property
2. Property Enhancement

In order to sell your home quickly and for top dollar I will suggest enhancements for your property that buyers will appreciate

Staging
Repairs and Updates
Painting

Prepare a written home enhancement proposal and budget for your approval
Recommend repairs and improvements to sell your property for the highest price possible
Schedule and supervise the home enhancement program, with your approval
Suggest additional enhancement and repairs based on buyer and agent feedback
3. Marketing
We create a custom, highly targeted marketing plan for each unique property so that we maximize exposure for your property and generate the highest level of interest
I have a dedicated marketing manager who has over 15 years of Lake Tahoe marketing experience. This allows us to create a custom marketing plan for your property and give your home the best exposure possible
Professionally photograph your property for the MLS, print marketing and web-based marketing (at my expense)
Create a custom Matterport 3D tour of your property
Prepare and submit accurate listing information to the Multiple Listing Service (MLS)
Install a high-security MLS lockbox to facilitate Realtor showings
Create a custom high definition brochure outlining key property features
Install a custom for sale sign on your property to generate buyer calls
Display your home to the Sierra Sotheby's International Realty sales staff and other Tahoe and Truckee agents by hosting a broker caravan
Promote your property by networking with Sierra Sotheby's International Realty salespeople and top producers from other brokerages. We have offices in Tahoe City, Truckee, Incline Village, Zephyr Cove, South Lake Tahoe and Reno which will help promote your property. Additionally, we will promote your property to the Sotheby's International Realty network, which is the most powerful global real estate brand.
Feature your home on the internet through my numerous channels including but not limited to Trulia, Zillow, Linked-In, Google+, my website and blog. I have one of the best e-marketing programs in the Tahoe region which helps sell homes quickly and for top dollar
Design a custom web page exclusively for your home to give the best internet presence possible. This page will then get syndicated to numerous real estate websites to create a buzz and increase search engine optimization (SEO) for your property
Purchase a custom URL for your property to use in our marketing efforts
For homes with unique features, our videographer will create a studio-quality video to highlight your luxury property
Utilize promoted and sponsored posts on social media websites like Facebook, Instagram, Google, and Linked-In to highlight your property and create a buzz to specific target audiences
Mail custom "Just Listed" postcards to 300-500 of your closest neighbors, as numerous sales are made by friends and family of neighbors
Feature your property in my e-blasts which go out to over 4,000 people
Luxury properties will be featured on the Who's Who in Luxury Real Estate website, Wall Street Journal and New York Times websites
Call and email all prospective buyers/leads with information on your Tahoe property
4. Communication Program

Send you a printed copy and a link to the MLS presentation for your approval
E-mail you links to all websites where your property is featured
Visit your home weekly to check on the property and refill brochures
E-mail you direct feedback from other agents on all showings
Report activity and review market conditions and activity
Constantly review our marketing strategy and adjust as needed in order to get your home sold
5. Structuring the Sale

Carefully review and present all offers for your consideration
Qualify the prospective buyers to ensure that they are able to purchase your property
Go over any questions you might have and discuss costs associated with a given offer and how those costs can affect your bottom line
Prepare a strong counteroffer(s) to create a solid transaction that will close on time with no surprises
Submit an accepted offer to the appropriate Title Company
6. Transaction Management

I utilize a Transaction Coordinator to assist with all paperwork and make sure that we stay on track and all documentation has been procured and executed correctly
Manage all the details of your real estate transaction
Open escrow with Title Company and provide you with all relevant escrow contacts
Create an escrow timeline so that everyone involved in the transaction is on the same page
Help facilitate the property, termite, contractor and any other inspections required
Supervise any agreed-upon home repairs
Assist with all disclosures, including the seller's Transfer Disclosure Statement, Seller Property Questionnaire, supplemental disclosures, smoke/CO detector, and environmental hazard disclosures
Oversee the loan approval process to be sure your transaction closes on time
Coordinate and supervise the appraisal process to ensure that your property is valued correctly
Order the preliminary title report and review the condition of title
If applicable, order the HOA documents including the CC&Rs, budgets, by-laws and minutes of board meetings
Provide updated preliminary closing statements for your review
Stay on top of all other matters to be sure your real estate transaction closes on time and is hassle-free
Help arrange a moving company
7. Service after the Sale

Review the final closing statement to ensure accuracy
Help arrange to wire your net proceeds into your bank account
I will provide you with electronic files containing all your real estate transaction documents. Upon request, I can also provide printed contract documents including all disclosures. This is a valuable reference for the future.
I am always available for past clients to review questions or provide documents needed by accountants, attorneys, etc.