Alpine Meadows Real Estate and Homes for Sale
Alpine Meadows real estate provides immediate access to world-class skiing, hiking/mountain biking trails and endless outdoor recreation opportunities. The Alpine Meadows subdivision is located on the North Shore of Lake Tahoe, just minutes from Tahoe City and is home to the Palisades Tahoe – Alpine Meadows Ski Resort. The neighborhood is set in a peaceful mountain valley offering stunning and majestic views. When in the "Valley", you really get a sense that you are in the Sierra Nevada mountains, not just another wooded Tahoe subdivision.
Alpine Meadows is just a short drive to Tahoe City, Lake Tahoe, Truckee, CA and the Reno International Airport. Close proximity to all Tahoe amenities increases the desirability for real estate in this Tahoe ski resort neighborhood. Alpine Meadows Realtor Dave Westall is your best option for buying or selling property in this amazing valley as he lived in the valley for 14 years and has an intimate knowledge of every corner of this desirable mountain community.
Alpine Meadows Real Estate
is made up of +/- 500 ski resort properties including vacant land, ski cabins, luxury homes, condos, and single-family residences, and development opportunities. The neighborhood provides a unique natural setting with great views, creating a wonderful place to recreate and enjoy all that Lake Tahoe has to offer. Within Alpine Meadows, there are 3 distinct subdivisions that are known as Alpine Meadows Estates, Juniper Mountain, and Bear Creek. Each of these subdivisions is special and offers a unique mountain setting. There are also 5 Alpine Meadows condo and townhome complexes. They are known as River Run, Alpine Manor, Alpine Meadows Condos, Alpine Place, and Scott Peak Lodges. From rustic ski cabins to luxury mountain lodges, there is an Alpine Meadows real estate opportunity for every buyer and with prices ranging from $500,000 to $4,000,000, you will surely find a Tahoe ski resort property that will exceed your expectations.
Download and print the Alpine Meadows, CA Neighborhood Road Map.
Alpine Meadows Subdivisions
Alpine Meadows Estates
Alpine Meadows Estates are the ski resort homes located to the south of Alpine Meadows Road with Snow Crest Road to the east and Deer Park Drive to the west. This is the largest subdivision within the neighborhood. Although these properties are not part of a homeowners association (HOA), there is an optional property owners association that these owners can join. It is known as the Alpine Meadows Estates Association which was formed to promote a sense of community and keep members informed on neighborhood issues and happenings.
Bear Creek Association
Bear Creek is one of the most desirable Alpine Meadows subdivisions due to its serene mountain location near the ski resort. Bear Creek is the only drainage in Alpine Meadows and the creek flows through the neighborhood creating a one of a kind mountain setting. Homes that back to the creek demand a premium for their tranquility. This neighborhood has a mandatory HOA which provides snow removal for residences, high-speed internet, and maintenance of the majestic Bear Creek Pond. Bear Creek is one of the more expensive Alpine Meadows neighborhoods with pricing starting around $500K going up to $2M+. For more info: bearcreekassociation.com
Juniper Mountain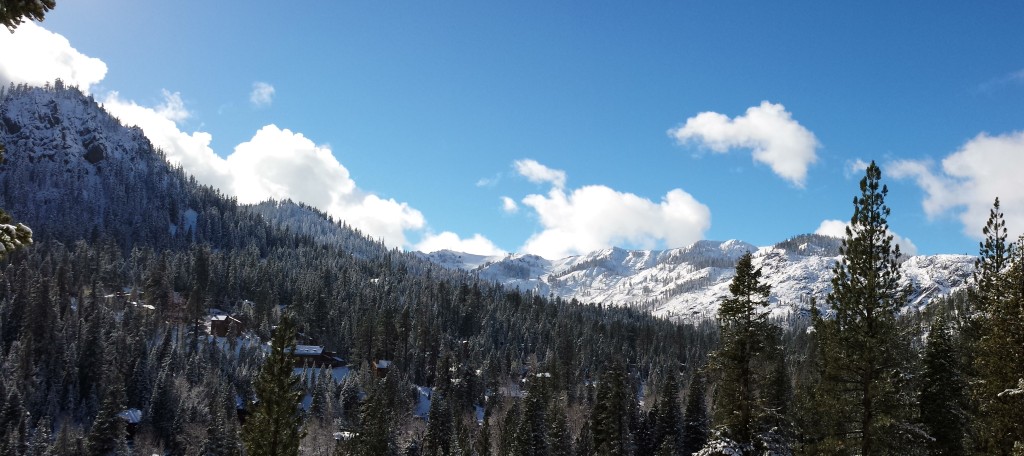 Juniper Mountain is arguably the best subdivision in Alpine Meadows due to its sunny south-facing orientation and incredible west-facing mountain and valley views. Almost every home in this neighborhood has awe-inspiring views of the Sierra Crest and Alpine Meadows ski resort. This neighborhood does not have any amenities but has a mandatory HOA with minimal dues for road maintenance. Some of the most desirable Alpine Meadows real estate is located in Juniper Mountain which has pushed home pricing upwards over the years.
River Run Condos
The River Run condominium complex is located on the western bank of the Truckee River in Alpine Meadows. This desirable complex features high-quality condo units with views of the Truckee River. The complex is approximately 3 miles from both Alpine Meadows and Squaw Valley Ski resorts. River Run amenities include a shared hot tub, sauna, pool, and tennis courts. Units in the River Run complex are just a short walk to the River Ranch Lodge and Crest Cafe.
Alpine Manor Townhomes
The Alpine Manor townhomes are made up of 2 complexes, Alpine Manor I and Alpine Manor II. Alpine Manor I was the original complex and is made up of 8 units located in 2 buildings. These units do not have any amenities and dues are approximately $312 per month. The Alpine Manor 2 complex is made up of 24 units located in 6 buildings and features a pool with cabana. Dues for Alpine Manor II are approximately $200 a month which is partially subsidized by wireless access easement contracts owned by the HOA which provide supplemental income.
Ski Resort Condos
There are 3 condo and townhome complexes located within walking distance to the Alpine Meadows ski resort. These complexes are known as Alpine Meadows Condos, Alpine Place and Scott Peak Lodges. These 3 complexes are each unique and offer 2, 3 and 4 bedroom units. Pricing ranges from around $200,000 for entry-level units to over $400K for higher-end remodeled units. These complexes are very desirable as the ski resort is close by. There are hiking and mountain biking trails right out of the parking lot. Advanced skiers and riders can take advantage of Alpine Meadows's open boundary policy and ski side-country terrain from the resort back to these units.
Alpine Meadows Ski Resort Info
Located just 3.5 miles north of Tahoe City, Alpine Meadows Resort is a skier's paradise. It offers world-class terrain featuring classic Sierra Nevada bowl skiing, top-notch glades and long sustained groomers for those looking to carve turns on fresh corduroy. With more than 100 trails spread over 2,400 acres, Alpine Meadows is one of the best ski areas in the country.
In 2011, Alpine Meadows was purchased by Squaw Valley Ski Holdings, LLC creating a 6,000-acre mega-resort, now known as Palisades Tahoe. Shuttle buses run between the mountains transporting skiers and riders so that guests can enjoy the best of both mountain resorts. In 2023 Palisades Tahoe will open the California Express Gondola and connect Olympic Valley with Alpine Meadows. The future is bright for Alpine Meadows and Palisades Tahoe skiers and riders.
Alpine Springs Community Park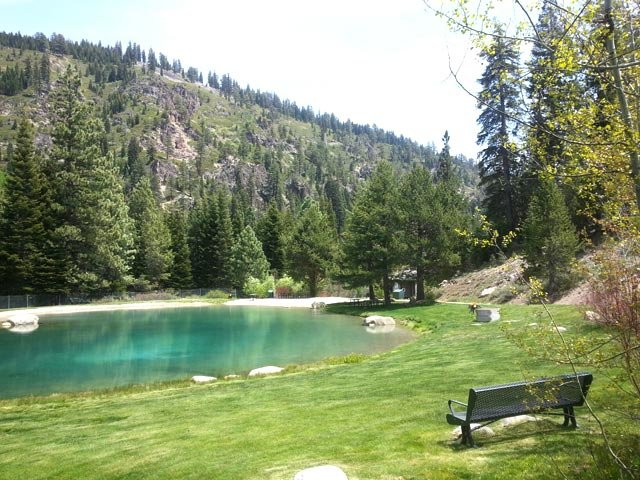 The Alpine Springs Community Park is located near the base of Alpine Meadows Rd. It offers a hidden recreational paradise within the Alpine Meadows neighborhood. Just inside the park gates, you will find expansive grassy fields, a sandy bottom spring-fed pond for swimming, sandy beach, tennis courts, BBQ facilities, and restrooms.
The Alpine Springs park is open to the public on a pay-to-use basis or seasonal passes are available and offer unrestricted access throughout the summer months. Looking for a place to celebrate a special occasion? The park offers the perfect place to get everyone together for a fairly inexpensive fee. If you are considering purchasing Alpine Meadows real estate make sure to check out this amazing park as this is one of the best amenities that Alpine Meadows has to offer.
More information on the Alpine Springs Community Park
Alpine Meadows Restaurants
The River Ranch (530-583-4264) The River Ranch Lodge is located on the Truckee River offering a warm casual atmosphere, fine dining, a welcoming lounge, and cozy Alpine Meadows ski resort accommodations.
The Crest Cafe (530-581-3037) The Crest Cafe is the place to go breakfast in Alpine Meadows. The Crest Cafe is a local favorite for breakfast, lunch and apres.
Contact Dave Westall, Alpine Meadows Realtor
Are you interested in Alpine Meadows real estate and homes for sale? Dave Westall is your North Lake Tahoe Real Estate expert and is happy to answer any questions you have. Contact Dave at (530) 448-9882 or David@WestallRealEstate.com.
Alpine Meadows Real Estate