Olympic Valley (Palisades Tahoe)
Olympic Valley Real Estate has been coveted since the historic 1960 Winter Olympics, which took place on the resorts fabled slopes. Over the years, Palisades Tahoe (formerly Squaw Valley) in Olympic Valley has arguably become the best ski resort in North America, known for its steep slopes, amazing skiers, beautiful weather, and deep snowpack. Due to its inspired amenities, close proximity to Lake Tahoe and easy access from San Francisco, Palisades Tahoe is one of the best North Lake Tahoe neighborhoods to own a vacation home.
Olympic Valley (Palisades Tahoe) Real Estate is for the Tahoe Skiing Fanatic
Olympic Valley real estate is made up of 15 subdivisions and approximately 600 home sites offering the best real estate options. Because the Palisades Tahoe ski resort is located within Olympic Valley, CA many people refer to this neighborhood as Palisades Tahoe (formerly Squaw Valley), which can be a bit confusing. Many Olympic Valley homes were built in the mid to late 1950's leading up to the 1960 Olympic games and are smaller eclectic cabins. Most of these cabins offer views of the Palisades Tahoe ski resort and are very desirable. A good portion of these original Tahoe cabins has been torn down or expanded on in order to facilitate custom Palisades Tahoe mountain lodges and Tahoe vacation homes. Over the last 20 years, 8 new subdivisions have been developed in Olympic Valley in order to facilitate the demand for people who want to build their own custom homes. These new subdivisions are known as Squaw Summit, Homesites at Squaw Creek, Squaw Peak, Creekside Estates, Painted Rock, Hidden Lake, Olympic Estates and the Palisades at Squaw.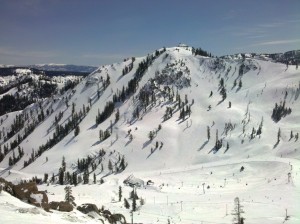 Olympic Valley Condos For Sale
Palisades Tahoe condos for sale are offered at various price points depending on the size of the unit, availability of covered parking, proximity to the ski resort, amenities, quality, and condition. The Village at Palisades Tahoe, Squaw Valley Lodge, and Squaw Creek offer condo units with luxurious amenities and ski on/off access. The Village at Palisades Tahoe is a pedestrian village with shops, restaurants, and spas located on the ground floor. Condo units located on the upper levels create a fun-filled mountain environment with something for everyone. Due to the close proximity to KT-22 and the ski resort, the Village has become a must-see destination and hosts a variety of fun events throughout the year.
The Resort at Squaw Creek is known for its world-class restaurants and the acclaimed Robert Trent Jones Golf Course. Squaw Creek offers studio to 3 bedroom units offering majestic views of the valley, golf course, and the ski area. These create an amazing opportunity to own a fabulous Palisades Tahoe condo located on a world-class golf course.
Olympic Valley offers condos and townhomes that are located in smaller more established complexes. Additionally, Olympic Valley condos have lower HOA dues, are often larger units, and offer a bit more privacy than units located in the larger complexes. Olympic Valley Condo complexes are known as the Aspens, Christy Hill, Nencini, Olympic Center, Olympic Village, Squaw Peak, Squaw Ridge, Squaw Valley Meadow, Squaw Valley North, Squaw Valley Tram Condos, Squaw Valley View, Tavern Inn Condos, and the Valley View Tract. Each complex offers different amenities and a different perspective on Olympic Valley condo living.
Olympic Valley (Palisades Tahoe) Ski Resort Information and Resources
History of Olympic Valley (Squaw Valley)
Palisades Tahoe (formerly Squaw Valley) is a special place, difficult to experience without falling under its spell. It's as if, by its very nature, the valley commands a relationship with those who set foot here. One can travel the world hiking, skiing, climbing, and exploring; Palisades Tahoe's beauty will still impress. Those who have been involved as team members, visitors, or "locals" proudly attest to an inexplicable connection with the valley. Many have contributed to Palisades Tahoe's founding and growth.
In 1946, Squaw Valley worked its magic on a young man named Alexander Cushing. He had traveled with friends to the Sierra Nevada on a four-day train ride from the East Coast. Cushing, then a lawyer on Wall Street, had served in the Navy and was ready for a change. "The war turns the world upside down and I was having a hard time adjusting", he recalls. "The strain of duty left him with solid impressions of life's fragility, and of the importance of living life to the fullest".
Read More About the History of Olympic Valley (Squaw Valley)
Contact Dave Westall, Olympic Valley (Palisades Tahoe) Realtor
Are you interested in Olympic Valley (Palisades Tahoe) real estate and homes for sale? Dave Westall is your Olympic Valley Real Estate expert and is happy to answer any questions you have. Contact Dave at (530) 448-9882 or David@WestallRealEstate.com.
Olympic Valley (Squaw Valley) Homes for Sale