Happy New Year!!!  Now that we have finished our trip around the sun known as 2013 I wanted to share my year end Lake Tahoe and Truckee Real Estate market review, which I think you will find fascinating as the Tahoe real estate markets made significant movement in 2013.
After watching the Lake Tahoe real estate markets for the last 12 months, the common theme throughout the year was high buyer demand and low inventory, which lead to increases in pricing in just about every segment of the market.   Inventory levels in Lake Tahoe were frustrating for buyers as it took much longer to find good homes to purchase and when the right Tahoe property came on the market there would often be multiple buyer groups circling around the same property and writing offers.  In short it was a competitive year for buyers.  This high buyer demand caused the average single family home price in Truckee and N. Tahoe to rise by 13% in 2013!
For sellers, 2013 was a great year to put your home on the market as the limited inventory and high buyer demand meant that listings sold quickly and for top dollar.  In 2013 the average marketing time was 89 days which is down 22.3% from 2012 when the average marketing time was 115 days.  So if you were selling your home in 2013 you were able to get a price that was approximately 13% higher than the year before and your home sold in approximately 3 months which I know makes the selling process much easier.
Here is a chart that I put together which shows the last 8 years of North Lake Tahoe and Truckee real estate sales (Single Family Homes):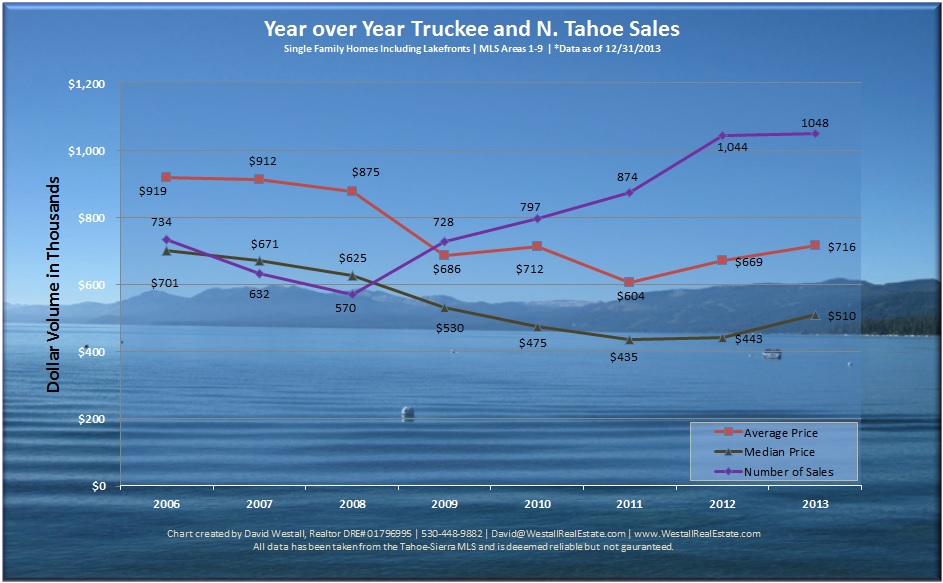 From this chart you will see that sales volume (shown in purple) bottomed out in 2008 with only 570 single family homes sales and since then sales volume has gone up a record breaking 45.6% to 1,048 units in 2013!  This chart also shows that single family home pricing bottomed out in 2011 and for the last 2 years we have seen significant appreciation in the Truckee and North Lake Tahoe Real Estate markets.
Lake Tahoe and Truckee Real Estate Statistics
The following spreadsheet breaks down the year over year sales volume and median pricing changes for single family homes in some of the most popular neighborhoods in Truckee and North Lake Tahoe.  For most neighborhoods in this chart we saw decreases in sales volume year over year as there was less inventory, but when you factor in the high buyer demand we see appreciation in every neighborhood noted in this chart!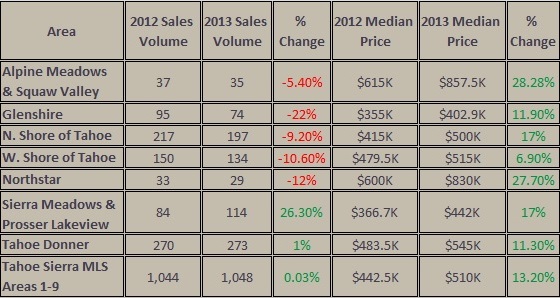 Tahoe Lakefront Market Analysis
Lakefront homes are the premier real estate in North Lake Tahoe and with pricing of these homes ranging from $1M to $20+M, Lake Tahoe lakefronts are a great indicator of the overall sentiment for the Lake Tahoe real estate markets.  The last 4 years have provided Tahoe with record breaking sales volume in the Lakefront markets.   The increased sales volume is mostly due to the fact that pricing has come down significantly since the high in 2008 and as pricing tapered, sales volume has increased.  In 2012 we had a record setting year for Tahoe lakefront sales volume.  2013 was a great year for lakefront sales volume but we did not reach the volume highs of 2012 partly due to the fact that there were fewer high quality lakefront properties on the market.  It is also interesting to look at the median lakefront price (shown in brown) as median pricing bottomed out in 2011 and for the last 2 years we have seen appreciation.  It would have been nice to see 2 straight years of average home price appreciation but we saw a little decrease in average pricing in 2013 due to the fact that in 2012 there were a few high dollar sales which skewed the data.  Overall, the average price is still rising from 2011 to 2013 which is a positive as this increase is very similar to the average pricing gains between 2005 and 2007.  The Lake Tahoe Lakefront home markets are healthy and we expect to see strong sales volume in 2014 and due to the limited inventory of high quality lakefront homes and strong buyer demand we are expecting to see continued appreciation in these markets.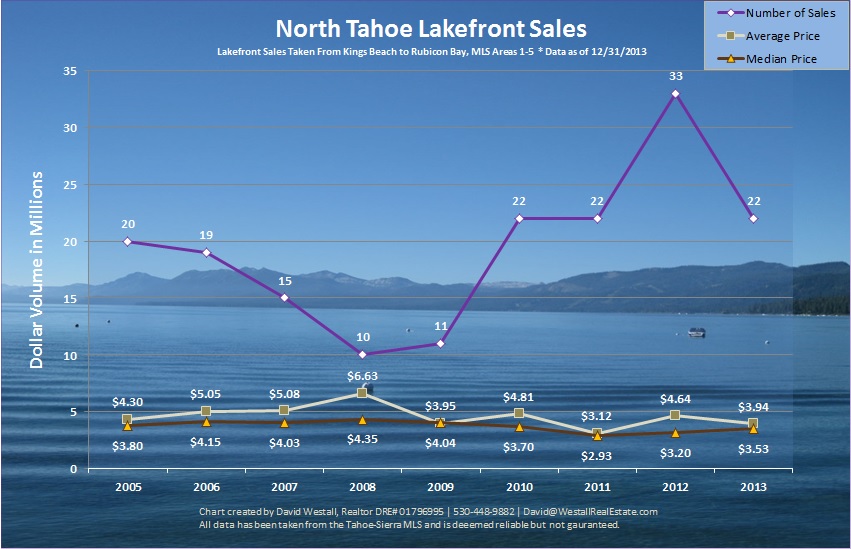 Tahoe Donner Market Analysis
With over 6,000 residential units, Tahoe Donner is the largest subdivision in Truckee/Tahoe and is an awesome neighborhood to gauge the strength of the market due to the large sample size.  From the charts below you will see that single family home pricing has been sliding since 2006 and bottomed out in 2012.  Over the last year we saw the average and median single family home prices increase by 12% and 11% respectively.  Along with the increase in pricing Tahoe Donner has had record breaking sales volume and in 2013 there were 273 single family home sales!  The second chart below breaks down sales volume over the last 8 years showing us that with depressed pricing the buyer demand has increased.   Since 2006 sales volume in Tahoe Donner has increased 34%.  I am forecasting that sales volume in 2014 will be slightly lower than 2013 due to the fact that as prices rise there will most likely be fewer homes on the market.  With lower inventory and continued high buyer demand we will most likely see another year of appreciation in the Tahoe Donner markets.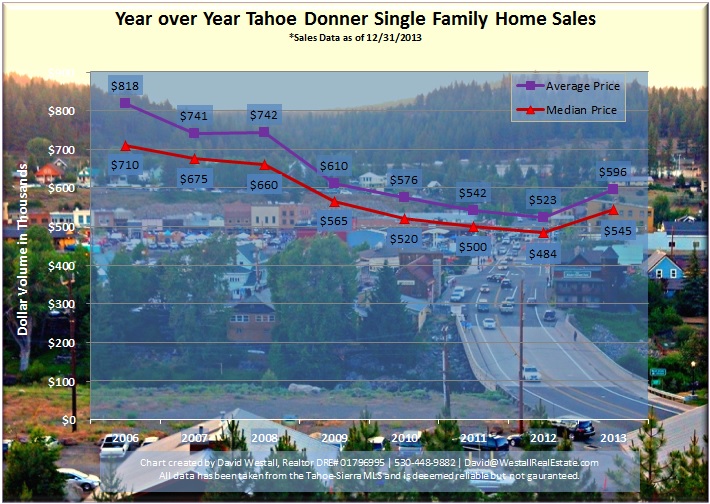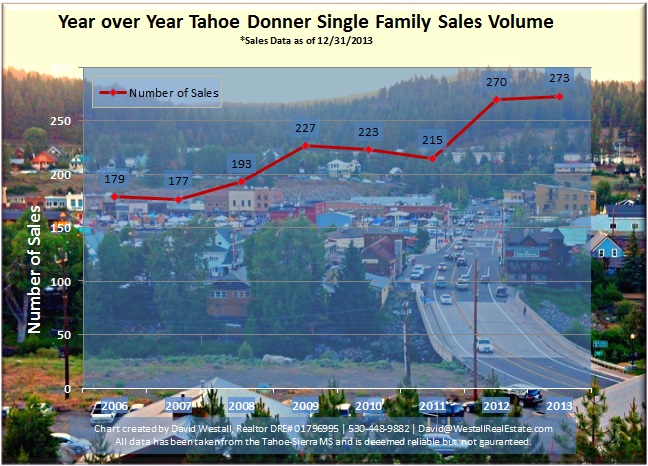 If you have any questions about my 2013 Lake Tahoe and Truckee market analysis or to discuss what I think will happen in 2014 please do not hesitate to CONTACT ME as I would be happy to go over my results with you.  I can also put together a specific market analysis for your Lake Tahoe property so that you can see how your neighborhood is doing and what the value of your home is.
David Westall, Realtor
Oliver Luxury Real Estate
P: 530-448-9882
David@WestallRealEstate.com
www.WestallRealEstate.com
CA DRE# 01796995