Tahoe City Condo & Townhouse Market Review. 2013 was another good year for condo and townhouse sales in Tahoe City, CA with the average sale price up almost 2% over 2012 pricing. Since the market low in 2011, the Tahoe City condo market is up 7% and the recovery is on its way. The Tahoe City condo market was hit hard in the economic collapse and even with the modest appreciation over the last 2 years pricing is still down approximately 48% from the peak of the market in 2007/2008.
The following chart shows an 8-year analysis of the Tahoe City Condo market with the Average condo pricing shown in green and the Median pricing shown in white.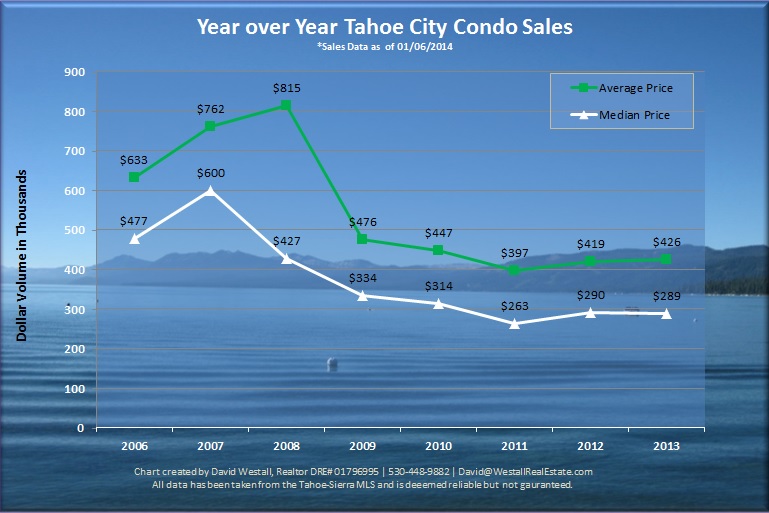 The following chart shows the sales volume for Tahoe City condos over the last 8 years. From this chart, you will see that as condo pricing became more affordable sales volume has spiked significantly. Since the sales volume low in 2008 volume has increased by a staggering 74%!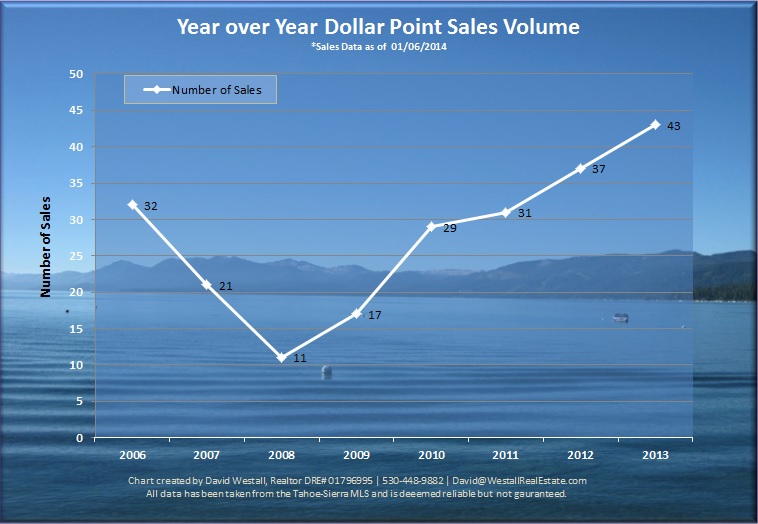 Tahoe City Condo & Townhouse Market Review
In 2014 we expect the Tahoe City condo market to continue to gain strength as the economy continues to heal itself. Most likely we will see a modest appreciation of around 5-7% in 2014. Sales volume might slow down slightly which will help with the pricing increases as strong buyer demand and limited inventory will help pricing.
If you have any questions about my analysis or if you would like to request an analysis of your Lake Tahoe property please feel free to call or email me anytime as it would be great to talk. Contact Dave at (530) 448-9882 or David@WestallRealEstate.com.
David Westall, Realtor
Oliver Luxury Real Estate
P: 530-448-9882
David@WestallRealEstate.com
www.WestallRealEstate.com
CA DRE# 01796995