North Lake Tahoe Real Estate Sales
North Lake Tahoe Lakefront real estate sales have been robust in 2014 as wealthy buyers are taking advantage of some amazing opportunities. With that said, Tahoe lakefront demand is currently exceeding supply and there are many buyers actively searching for lakefront homes and due to the limited inventory, these buyers cannot find properties that meet their needs. Excess demand has put upwards pressure on Tahoe lakefront pricing and we expect to see a continued increase in pricing going into 2015. In 2014, we have seen a large number of entry-level lakefront sales with 6 lakefronts selling below $2m! Although the average price is slightly rising the median Tahoe lakefront sales price is down this year, which is mostly due to the high level of entry-level Tahoe lakefront sales. It is rare that we see so many sales below $2M and buyers are quick to gobble up these opportunities.
North Lake Tahoe Lakefront Real Estate Sales Chart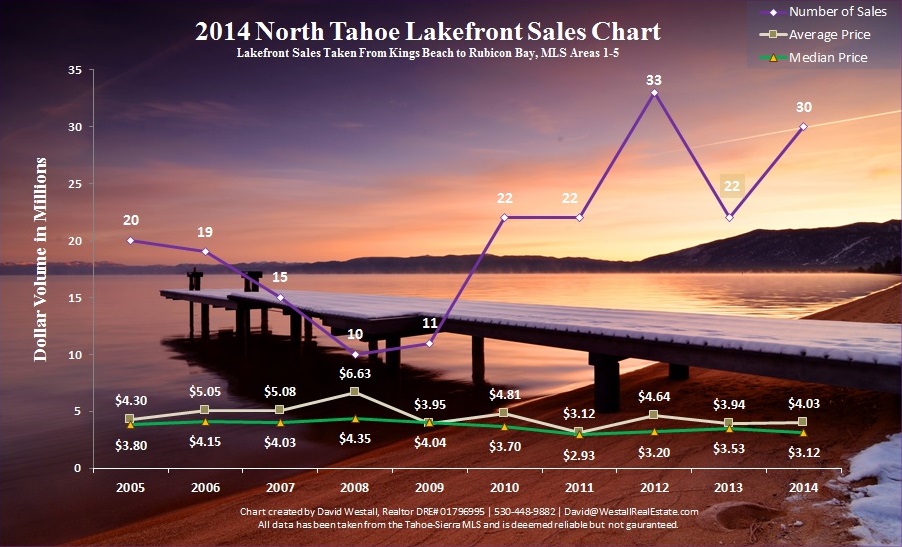 Tahoe Lakefront Sales Statistics
2014 Tahoe Lakefront Statistics

2013 Tahoe Lakefront Statistics


30 Lakefront Home Sales up 27%
Average Marketing Time: 162 Days

down 20%

Average Price: $4,038,140 up 2.5%
Median Price: $3,118,690 down 11.5%
6 Sales Below $2M up 67%
8 Sales over $5M up 37.5%
High Sale Price: $14M up 32%
Low Sale Price: $850K down 43%

22 Lakefront Home Sales
Average Marketing Time: 203 Days
Average Price: $3,938,522
Median Price: $3,525,000
2 Sales Below $2M
5 Sales over $5M
High Sale Price: $9.49M
Low Sale Price: $1.5M
*Lake Tahoe Lakefront Sales, MLS Areas 1-5 (Kings Beach to Rubicon Bay)
Oliver Luxury Real Estate is #1 for Tahoe Lakefront Sales
In 2014, Oliver Luxury Real Estate has sold 23 Lake Tahoe lakefront homes, which is more than double that of our closest competition! The Oliver Luxury Real Estate sales agents have a combined sales volume of $220,000,000 making us the #1 Luxury Brokerage in North Lake Tahoe. These are fantastic statistics, but we are most proud of the superior level of service that we provide to our clients leading us to achieve the noted accolades. If you are looking to buy or sell your Lake Tahoe property please feel free to call me anytime to discuss how I can help you achieve your real estate goals.
Contact Dave Westall, Tahoe City Realtor
Are you interested in North Lake Tahoe real estate and homes for sale? Dave Westall is your North Lake Tahoe Real Estate expert and is happy to answer any questions you have. Contact Dave at (530) 448-9882 or David@WestallRealEstate.com.
David Westall, Realtor
OLIVER LUXURY REAL ESTATE
P: 530-448-9882
David@WestallRealEstate.com
www.WestallRealEstate.com
CA BRE# 01796995