Lake Tahoe Real Estate Sales Volume Nearly Sets a Record
Happy New Year! With 2015 in the rearview mirror, we can now reflect on the year-end Lake Tahoe real estate market report and see what happened over the last 12 months. 2015 was an eventful year for Tahoe real estate and a sales volume record was almost broken with 1,002 single family homes trading hands, a 7% increase over 2014.
2015 Year End Lake Tahoe Real Estate Market Analysis
2015 Statistics
1002 Single Family Home Sales up 7%
Avg. Marketing Time: 97 Days up 5%
Avg. List-Sold Discount: 3.3%, down 30%
Average Price: $848K down 8.7%
Median Price: $556K down 3.5%
33 REO & Short Sales down 33%
11 Sales Below $200K up 27%
156 Sales over $1M down 18%
44 Sales over $3M down 20%
High Sale Price: $9.95M down 29%
Low Sale Price: $99.5K up 24%
2014 Statistics
930 Single Family Homes
Average Marketing Time: 92 Days
Avg. List to Sold Discount: 4.7%,
Average Price: $929K
Median Price: $576K
49 REO & Short Sales
8 Sales Below $200K
190 Sales over $1M
55 Sales over $3M
High Sale Price: $14M
Low Sale Price: $76K
Unfortunately, 2015 could not keep pace with the double-digit gains of 2014 and we saw the average and median home price slip for the first time since the recovery started in 2011.  The slip in home pricing was mostly due to a slowing luxury market which saw an 18% decline in the number of homes sold over $1M.  The decline in the luxury segment is directly correlated to the 4 years of drought conditions that Tahoe has been suffering from.
Homes priced under $1M make up 84% of North Tahoe/Truckee sales volume and these sales showed strength when compared to 2014.  Sales volume for sub $1M homes was up 12%, the average price was unchanged and the median home price was up 1.5%.  This shows me that the Tahoe real estate markets remain strong and offer value to buyers looking to take advantage of favorable home pricing.
2015 Year End Lake Tahoe Real Estate Sales Chart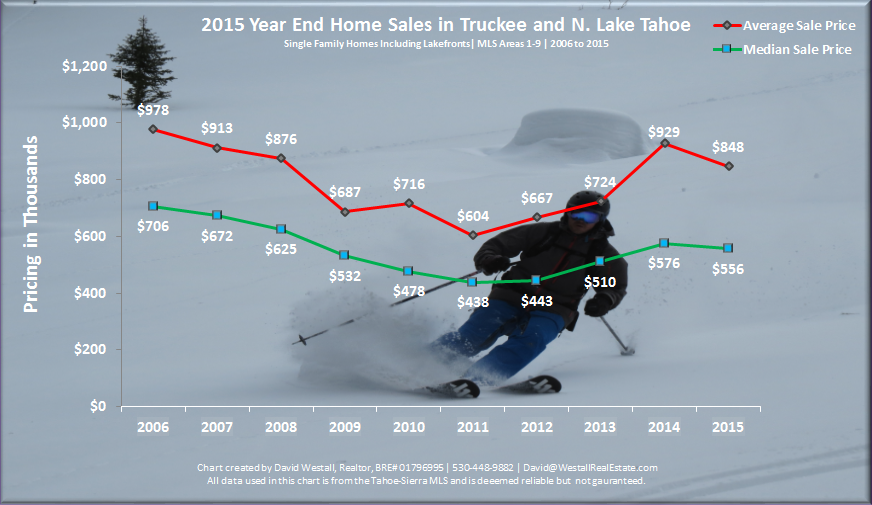 *North Lake Tahoe and Truckee Single Family Homes Including Lakefronts. Data taken from the Tahoe-Sierra Board of Realtors MLS Areas 1-9
Although buyers purchased homes at a record pace, they were discerning and only purchased properties that were aggressively priced and represented a "deal".  Even slightly overpriced homes lingered while well-priced homes moved quickly.  The drought seemed to be the culprit behind buyer sentiment and although sales volume was strong buyers would not overpay due to the uncertainty of whether or not winter would return to the region.
Luckily 2016 is off to a great start with over 200 inches of snow at Squaw Valley and we are only 10 inches away from last year's snowfall totals!  The Tahoe region is buzzing as the skiing and riding is the best it's been in the last handful of years.  The snowfall is bolstering the local economy and businesses are reporting record holiday sales and increased visitor traffic.  This is great news for the real estate markets as Tahoe is a lifestyle purchase and when potential buyers are having a blast with friends and family they want to keep the ball rolling and are more apt to purchase a second home in the region.  If the Godzilla El Nino continues to deliver storms as expected, Tahoe should have one of the best ski seasons in recent memory and I would expect that the real estate markets would gain momentum setting us up for a solid summer selling season.
If you would like to discuss Lake Tahoe real estate market conditions in more detail or talk about the market where your home is located please feel free to call or email me.  I would be happy to put together a specific market analysis for your home and provide you with information about how I can help you sell your home for top dollar.
David Westall, Realtor
OLIVER LUXURY REAL ESTATE
P: 530-448-9882
David@WestallRealEstate.com
CA BRE# 01796995