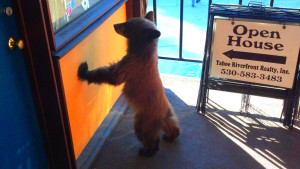 Yesterday morning we received a knock on the Tahoe Riverfront Realty office door and local Tahoe painting contractor Dick Tash asked if we knew what was going on outside.   I was a bit taken back and had no idea what he was talking about so I rose from my desk and began walking towards the door.  Dick then informed me that a bear cub had been injured and that they had contacted the Tahoe Bear League to come rescue the cub and bring it to Lake Tahoe Wildlife Rescue in South Tahoe where it could be rehabilitated.  At this point I did not realize that the bear was being held just outside of my office door while rescue efforts were being coordinated.

We then asked Dick where the cub was and he said "look outside the door".  To my astonishment the cutest cinnamon colored bear was walking up and down the stairs and peacefully hanging out just outside my office door!  The little cub was half the size of a golden retriever and my guess would be that it weighed approximately 30 pounds.  For the next half hour I had the pleasure of watching this little cub walk up and down the stairs and try to figure out a strategy to escape from his temporary confinement.
From my observations it appeared that the little bear had an injured front right leg, possibly a paw injury or elbow injury.  The little guy could still move around but you could tell that he was nursing the front right leg.  At this point quite a crowd had formed from patrons of the Crest Cafe couldn't help but notice this bear on the second floor landing which created great photo opportunities for people to see a bear up close.  Within a short period of time there were 3 Placer County Sheriffs on scene assessing the situation and trying to make sure that the injured bear would be taken care of by the proper agencies.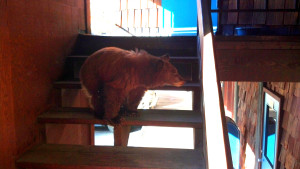 A representative from the Tahoe Bear League showed up within a half hour of my awareness of the bear and was able to safely get the cub into a crate and start the process of rehabilitating the little bear.  The Bear League had a little knowledge of this cub and stated that the cubs mother was killed by a hunter in September and that the little guy had been barely surviving on his own since that incident.  Luckily Lake Tahoe Wildlife Care has agreed to rehabilitate the cub over the winter months and then plans on releasing the bear back into the wild in the spring.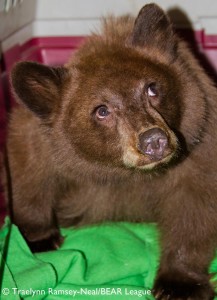 This was an amazing experience for me as I have never been so close to a bear and it was inspiring to see so many people gathered together to try and help the little cub.  Living in the mountains means that we are constantly surrounded by wildlife but it is rare to have such a positive interaction with the creatures of our community.
Tahoe Bear League
PO Box 393
Homewood, CA 96141
P: 530-525-PAWS (7297)
info@savebears.org
http://www.savebears.org
http://www.facebook.com/SaveTahoeBears
Lake Tahoe Wildlife Care, Inc.
1485 Cherry Hills Circle
South Lake Tahoe, CA 96150
P: 530.577.2273
info@ltwc.org
http://www.ltwc.org/
http://www.facebook.com/pages/Lake-Tahoe-Wildlife-Care-Inc/114446357116

David Westall, Realtor
Oliver Luxury Real Estate
P: 530-448-9882
David@WestallRealEstate.com
CA DRE# 01796995