The Lake Tahoe Real Estate is Strong Going Into Summer 2015
Spring has sprung in Lake Tahoe and with 4 months behind us, we have some great 2015 real estate sales data to crunch. The North Lake Tahoe and Truckee real estate markets remain strong with sales volume up 11% over 2014. Luxury home sales ($1M+) are the dominant factor in the Tahoe markets and account for 50% of the total dollar volume in the first four months of the year. There were 14 sales over $3m in the first 4 months which is a 36% increase over 2014 and shows the strength in the higher end of the market.
A lack of inventory in the $400K to $800K range has skewed the statistical data and has caused the median pricing to show lower than 2014, but the reality is that there has been very little inventory in these price points for buyers to purchase. Over the last month, we have seen an increase in inventory, especially in this price point (75 new homes) and currently, we have 89 homes in escrow in the $400K to $800K range, so I would suspect that next month we will see a boost in the median home price. The median home price has been trending upwards for the last 3 years, so I am confident that this trend will continue in 2015. The summer selling season is quickly approaching and if you're thinking of listing your home, now is the time to make a plan.
April 2015 Lake Tahoe Real Estate Market Report Sales Chart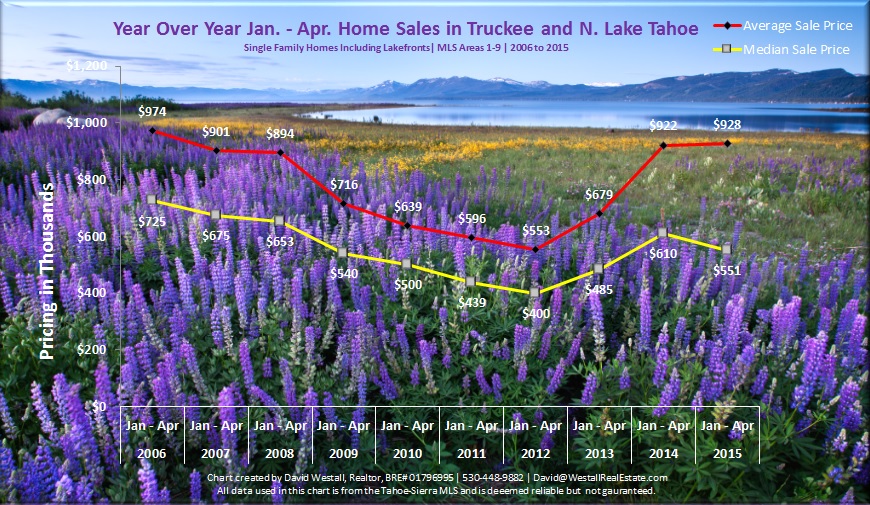 Year over Year Lake Tahoe Real Estate Sales Comparison
April 2015 Statistics
240 Single Family Home Sales

up 11%

Avg. Marketing Time: 138 Days

up 26%

Average Price: $928K

up <1%

Median Price: $551K

down 10%

8 REO & Short Sales

down 65%

3 Sales Below $200K

up 33%

37 Sales over $1M

down 18%

14 Sales over $3M

up 36%

High Sale Price: $8.85M

down 37%

Low Sale Price: $120K

up 37%
April 2014 Statistics
214 Single Family Homes
Average Marketing Time: 102 Days
Average Price: $922K
Median Price: $610K
23 REO & Short Sales
2 Sale Below $200K
45 Sales over $1M
9 Sales over $3M
High Sale Price: $14M
Low Sale Price: $76K
*North Lake Tahoe and Truckee Single-Family Homes Including Lakefronts. MLS Areas 1-9
2015 Lake Tahoe Real Estate Market Predictions
Pricing will continue on an upward trend but rise at a slower pace. I am anticipating price increases of 5-10% for single-family homes by year-end.
The luxury segment of the market will remain strong.
Mortgage rates will head higher and will be closer to 5% by the end of 2015.
There will be a rise in new construction starts this year (mostly in Truckee).
Short Sales and Foreclosures will remain a small fraction of sales.
Market rents will increase, especially long-term rental rates.
Contact Dave Westall, North Lake Realtor
Are you interested in North Lake Tahoe real estate and homes for sale? Dave Westall is your Prosser Real Estate expert and is happy to answer any questions you have. Contact Dave at (530) 448-9882 or David@WestallRealEstate.com.