August 2014 Lake Tahoe Real Estate Market Report
The 2014 Lake Tahoe real estate markets have been dominated by upward movement in the luxury segment as the number of million dollar home sales are up 27% over 2013. So far this year sales volume is down 19% over 2013, but with each new sale we are seeing pricing push upwards (median price is up 15%). Lake Tahoe buyers are willing to pay a premium for desirable properties. Tahoe real estate buyers have become more discerning when shopping for Tahoe and Truckee homes which is part of the reason why we are seeing fewer home sales than last year. We continue to see high buyer demand, low inventory levels, lower levels of distressed home sales (REO and Short Sales) which have led to solid increases in home values. These are all signs of a healthy increasing market and we anticipate a strong finish to the year.
Year over Year Market Comparison
January – August 2014 Statistics

January – August 2013 Statistics


556 Single Family Home Sales down 19%
Average Price: $949K up 28%
Median Price: $585K up 15%
40 REO & Short Sales down 58%
6 Sales Below $200K down 73%
113 Sales over $1M up 27%
High Sale Price: $14M up 32%
Low Sale Price: $76K up 5%

688 Single Family Homes
Average Price: $688K
Median Price: $495K
96 REO & Short Sales
22 Sales Below $200K
82 Sales over $1M
High Sale Price: $9.49M
Low Sale Price: $72K
*Lake Tahoe and Truckee Single-Family Homes Including Lakefronts, MLS Areas 1-9
During the next few months, inventory levels will retreat as is typical for autumn in Tahoe. This creates a great opportunity to list homes for sale as there will be less competition and can lead to higher sales prices and shorter marketing times. Throughout the year, as new homes come on the market, pricing has been ticking up on these new listings. Home buyers are willing to pay a higher price, but they are expecting to get something special for their money, whether it's a remodeled home, a view property, a unique location, etc. Inversely we are seeing homes with "issues" (floor plan, setting, dated look, etc.) taking longer to sell and selling at larger discounts. We are also seeing homes that are priced above the comparable listings taking longer to sell.
Lake Tahoe Market Analysis Sales Chart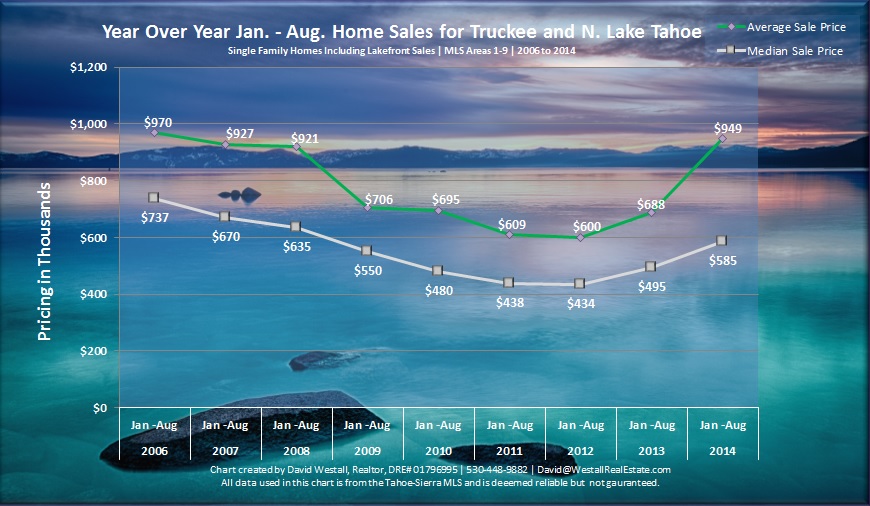 This chart shows that in the first 8 months of 2014 the Average home price in Truckee / N. Lake Tahoe is up 28% and the Median price is up 15% over the same time period in 2013.
Anticipated Second Half Market Conditions for 2014
• High buyer demand for quality properties
• Limited inventory in given price points
• Pricing Increases of 12-18% by the end of year
• Fewer distressed sales (REO and Short Sales)
• The higher end of the market will continue to set records
• Mortgage interest rates will continue to increase throughout the year and will possibly end up closer to 5% by 2015. This increase will take away from buyer purchasing power as a 1% increase in loan rates equates to a reduction in purchasing power of approximately 10%
So far in 2014, Oliver Luxury Real Estate has sold $137M in Tahoe/Truckee real estate and we are the #1 Luxury Brokerage in North Lake Tahoe! It would be my pleasure to discuss your real estate goals, so please feel free to call or email me anytime.
Contact Dave Westall, Lake Tahoe Realtor
Are you interested in Lake Tahoe real estate and homes for sale? Dave Westall is your North Lake Tahoe Real Estate expert and is happy to answer any questions you have. Contact Dave at (530) 448-9882 or David@WestallRealEstate.com.
David Westall, Realtor
OLIVER LUXURY REAL ESTATE
P: 530-448-9882
David@WestallRealEstate.com
www.WestallRealEstate.com
CA DRE# 01796995