How to Sell Your Lake Tahoe Property
The Lake Tahoe and Truckee real estate markets are dynamic and are constantly changing. In order to sell your home effectively and for top dollar, you will need to hire a professional real estate agent like Dave Westall. Selling Lake Tahoe real estate is not an easy task, but when you work with Dave, he will come up with creative solutions so that you achieve your goals and have an exceptional experience. Contact me to determine when the best time to list your property will be, it all starts with a plan. I have the knowledge, experience and resources that it takes to sell your home and I look forward to helping you achieve your goals.
View Lake Tahoe Real Estate Market Reports
Price Your Home Effectively
Price continues to be the number one factor when selling Lake Tahoe Real Estate. If you competitively price your home you will have more showings, attract more buyers, and your house will sell closer to if not over the asking price. Homes priced above the market have longer marketing times and eventually receive more price reductions. Dave was a Tahoe real estate appraiser for 6 years, which gives him the ability to perform an in-depth market analysis that is individually tailored to your Lake Tahoe property. This will help to determine a pricing strategy to sell your home and achieve your goals.
A well priced Lake Tahoe home attracts the interest of agents and buyers alike. Your home will be shown more often and your property will sell in the fastest time period possible. Chasing the market is the number one reason why a given home will sit on the market while other homes sell in typical marketing times. Buyers always ask "why has this home been on the market for so long", a quote you do not want to hear as longer marketing times raise red flags for buyers.
Lake Tahoe Realtor Dave Westall knows where the market has been and where it's going. Each month Dave puts together a market report in order to be as knowledgeable as possible about current market conditions and so that he can pass that valuable information on to his clients. Dave's analytical skills will help you price your home effectively and he knows how to be effective in a rapidly changing marketplace.
Create Maximum Exposure for Your Tahoe Real Estate
Your Tahoe property needs to be effectively marketed through many different mediums. This will help your home gain exposure and hit potential buyers 24 hours a day, 7 days a week. Dave provides listing exposure on his real estate website, his blog, OliverLux.com, all major social media outlets, all of the top real estate sites such as Trulia, Zillow, Realtor.com, and many others in order to help generate a strong web presence for your property.
Dave has teamed up with his wife Erin Westall who has taken on the role of Marketing Director at Westall Real Estate. Erin offers extensive resport property marketing experience. She will create a professional marketing plan that will help generate quality exposure for your property and in turn get your home sold quickly. Prior to joining Westall Real Estate, Erin worked as the Marketing Coordinator for Tahoe Mountain Resorts when they launched the Old Greenwood Golf Course neighborhood. From there, she moved on to Alpine Meadows Ski Resort where she was the Marketing Manager for over five years. Dave's clients benefit greatly from the experience and knowledge that Erin brings to the table.
Your home needs to have the best photography possible, its own website/webpage, and a 3D virtual tour to maximize exposure. Having these tools in place allows potential buyers to see your home every minute of every day and understand what makes your property unique and a good value. Dave hires the best professional photographers to shoot his listings, highlighting the best features of your home and creating a high level of interest for your property. High-quality professional photos make the difference of potential buyers passing over your listing or checking out the details and falling in love with your home. I work with the best real estate photographers in the business and I pay for all photography for your property as part of my marketing package.
In addition to professional photography and virtual tours, Dave offers studio-quality video tours of his luxury listings. These videos are a big hit and we have seen a strong correlation with the number of showing appointments and reduced marketing times for our properties that have video tours.

My e-marketing platform allows me to effectively list your home on the following sites and also allows me to give your listing top placement amongst competing listings: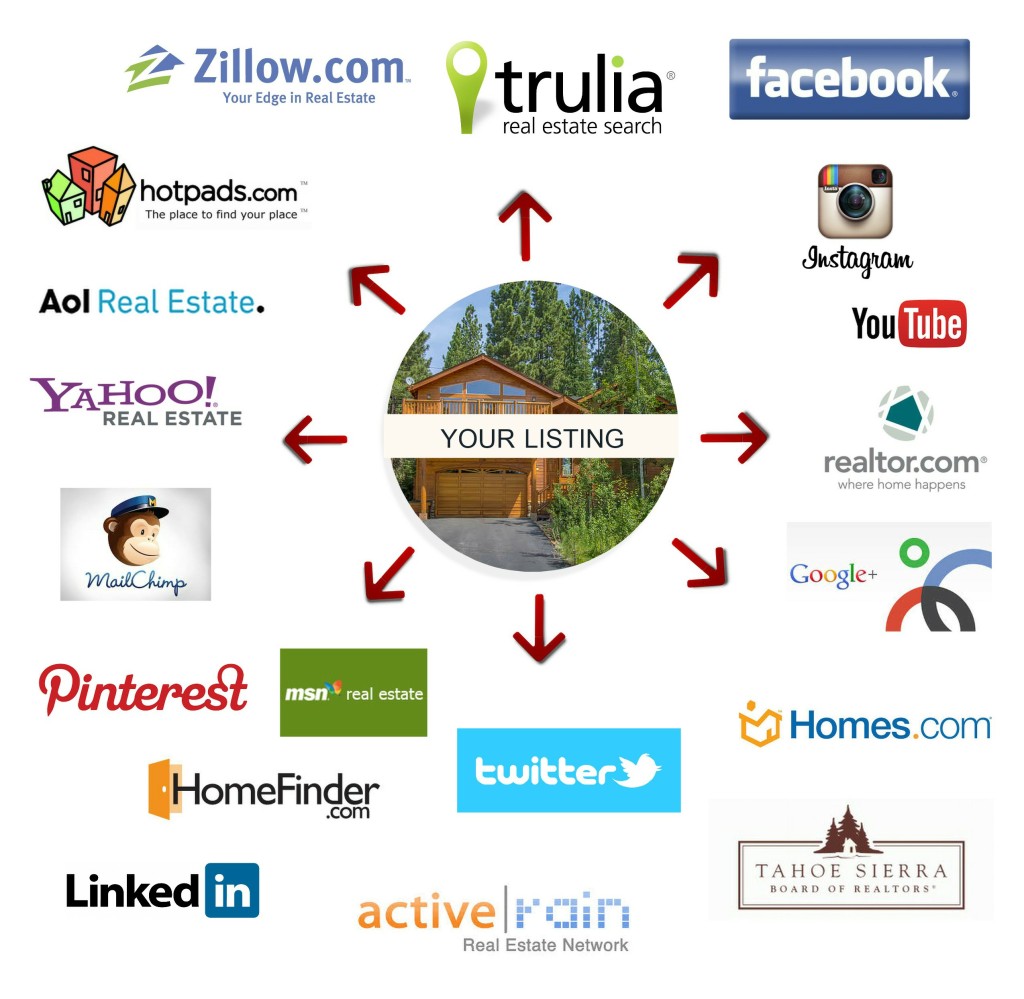 Curb Appeal and Staging are Critical When Selling Your Lake Tahoe Real Estate

In the current market, it's more important than ever for your home to have good curb appeal in order to get potential buyers to walk in the door. Without strong curb appeal, your home will not be set apart from the hordes of other listings and it will be more difficult to attract buyers. If your home has good curb appeal you will notice more agents showing your home, you will receive more clicks on your listing, and your property will sell quickly. Overcoming buyer objections will lead to offers, so showcasing your home in the best light possible will lead to offers. Time is everything in a rapidly changing market.
Your house needs to be clean and presentable during the listing period. This does not mean that you have to move out, but it means things need to be tidy and some items will need to be removed to show buyers why your house is so special. Renting a storage space to store personal items and bulky furniture is a great idea to make your house show in the best light possible.
Buyers will notice every little defect, so it is important to fix/repair any major items that will be noticed. These items include:
Painting the Exterior
Staining and Fixing Decks
Fixing holes and cracks in walls
Removing old wallpaper that is in disrepair
Painting rooms with neutral colors to appeal to the masses
Replacing missing/damaged trim or woodwork
Most minor repairs that will help your home show better can be achieved even with the smallest budgets. Dave is happy to provide you with local handymen and contractors that will help you fix issues if you are not able to do so yourself. He can even help manage projects if you would rather have someone else take care of this process.
Staging your home can help a buyer see the potential that the house has. It also makes it easier for a buyer to envision themselves living in your house. I have been working with some of the top staging professionals in the Lake Tahoe area. If we determine that staging will help you sell your home quickly and for top dollar, I will be able to help facilitate the staging process. Depending on your budget, there are many forms of staging that will make your property more presentable. Here are some examples of real estate staging:
De-cluttering
Rearranging Furniture
Adding Decorations, Artwork, Pillows, and Bedding
Bringing in Furniture Pieces to Showcase a Room
Highlighting the Best Features of Your Home
Receiving Offers
When an offer is presented, you will be notified immediately once I have reviewed the offer. I will be tediously reviewing all offers so that you are made aware of all terms, contingencies, potential pitfalls, built-in exit strategies, costs, and to make sure you are being represented to the highest level. We will then discuss a plan of action so that you can make an educated decision on how to respond to a given offer.
I will make sure that you are updated daily on contract negotiations and what to expect from the buyers.
I always put together an escrow timeline so that all parties involved in the transaction are aware of expectations, how the escrow will take place, and when the closing will occur.
All inspections that need to be completed before contingency removal will be set up and monitored so that we do not have delays with contingency removal or the close of escrow.
I will be talking with the buyer's agent regularly so that the escrow timeline is followed and that all aspects of closing the transaction are handled in a timely manner.
Your interests will be protected and you will have a piece of mind that I am getting you the best price possible for your home.
Highlights of Selling Your Home With Tahoe Realtor Dave Westall
With Dave as your agent, he can offer you the following when selling your house:
16+ years of Lake Tahoe Real Estate experience
Superior analytical skills to review the market and price your home effectively. (He was a Lake Tahoe Home Appraiser for 6 years)
One of the best marketing systems available
Systems to stay on top of your listing and manage potential buyers
A winning strategy for contract negotiation, handling inspections, and closing escrow
You will notice that Dave's communication skills will keep you informed of activity on your listing. He will give you updates on the general market and factors that affect selling your home. His open channels of communication will give you peace of mind, knowing that he is doing all he can and then some to help sell your home for the highest price possible. Contact Dave today to discuss how he can help you achieve your real estate goals.