Pent Up Buyer Demand Coupled with Low Inventory is Pushing the Median Home Price Higher
So far this winter Squaw Valley has received 575" of snow at the 8,000' elevation which is 80" more than we received during the entire 2016 winter season! The incredible snow depths have created some of the best skiing and riding conditions in decades but these conditions have made showing and selling Lake Tahoe real estate a bit more challenging. With that said, 2017 is off to a fantastic start which is highlighted by the median home price which has been ascending the charts for the last 5 years and has risen 9% over the historic 2016 sales year.
Buyer demand remains strong while inventory is historically low which will inevitably keep home prices rising going into the summer selling season. Currently, there are 92 homes under contract with 19 homes priced above $1M including a lakefront estate listed by Oliver Luxury Real Estate which is priced at $17.9M! The high number of luxury home escrows shows me that the luxury market remains solid and will continue to pull the other market segments up as the year progresses. Although a number of metrics below are showing negative trends please consider that we are only looking at 2 months of data and overall we are still trending upwards. As the next few months progress, I expect that most metrics will show positive gains. **Since this post was written, the above-mentioned listing priced at $17.9M closed for $15M and the neighboring lakefront estate was also purchased for an additional $13.9M, both properties closed on 3/17/17. These sales will be noted in next month's market report and will have a positive impact on market statistics.
If you are considering selling your Tahoe property, I would recommend listing now or early in the spring as there will be very little competition and buyers are eager for new inventory which will help you sell your property for top dollar.
Year over Year Market Conditions and Value Trends
2017 Jan-Feb Statistics
111 Single Family Home Sales Down 13%
Avg. Marketing Time: 92 Days Down 32%
Avg. List to Sold Discount: 4.3% Down 4%
Average Price: $926K Down 15.8%
Median Price: $685K Up 9%
2 REO & Short Sales Even
3 Sale Below $300K Down 50%
25 Sales over $1M Down 26%
6 Sales over $3M Down 50%
High Sale Price: $4.6M Down 35%
Low Sale Price: $169.9K Down 22%
2016 Jan-Feb Statistics
128 Single Family Homes
Average Marketing Time: 136 Days
Avg. List to Sold Discount: 4.5%
Average Price: $1.1M
Median Price: $624K
2 REO & Short Sales
6 Sale Below $300K
34 Sales over $1M
12 Sales over $3M
High Sale Price: $7.1M
Low Sale Price: $219K
Year Over Year Lake Tahoe Real Estate Sales Chart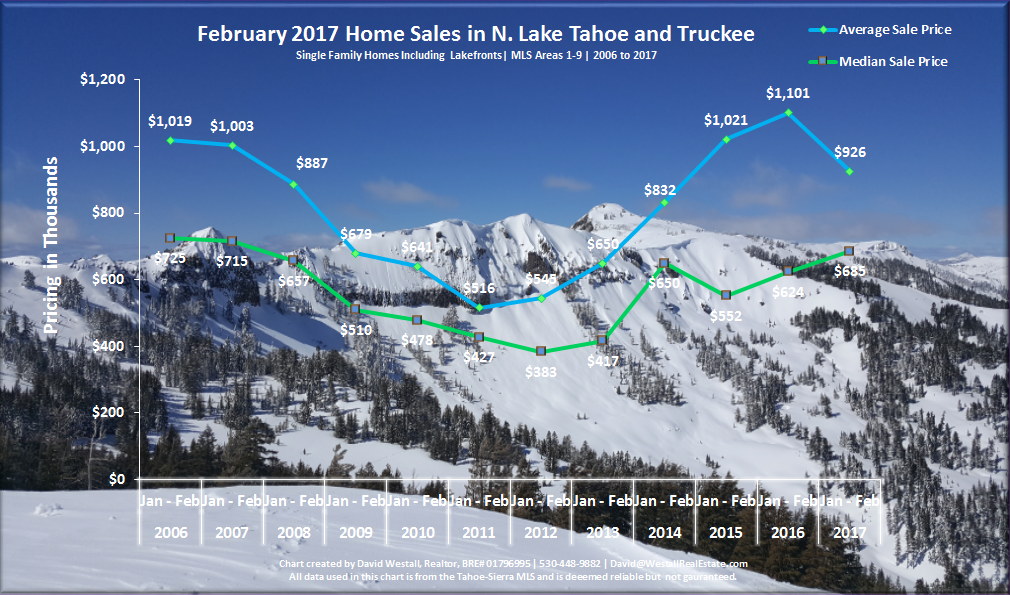 *North Lake Tahoe and Truckee Single Family Home sales including lakefronts. Data is taken from the Tahoe-Sierra Board of Realtors, MLS Areas 1-9.
Year Over Year Lake Tahoe Real Estate Sales Volume Chart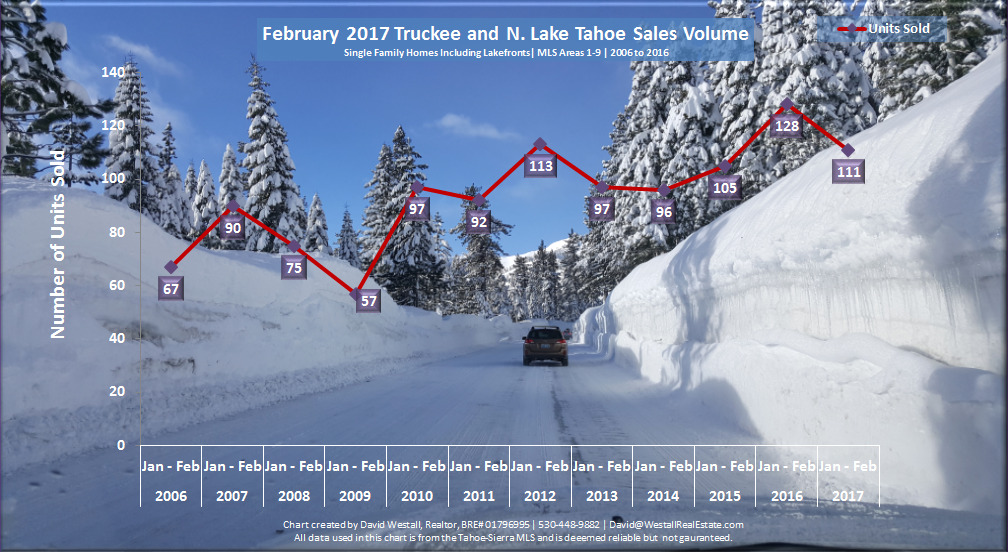 Past Lake Tahoe Market Reports
Do you have questions about Lake Tahoe Real Estate? Please call me (530) 448-9882 if you would like to discuss market conditions in more detail or to talk about how I can help you achieve your real estate goals.

For real estate news, property listings and Lake Tahoe events sign up for our newsletter here.
David Westall, Realtor
OLIVER LUXURY REAL ESTATE
P: 530-448-9882
David@WestallRealEstate.com
CA BRE# 01796995