Five Lake Tahoe Road Projects to Keep on Your Radar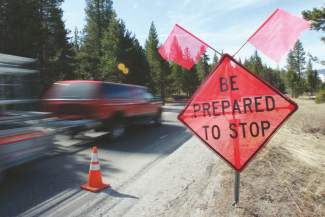 Summer  is just around the corner in Lake Tahoe!  It's safe to say that we all look forward to the long days, swimming in the lake, biking, hiking, paddle boarding and many more Lake Tahoe activities. What we never look forward to in the summer is road construction. Although it is a necessary evil, as long as you are prepared you can easily navigate through these areas. Here are the five Lake Tahoe road projects to  be aware of this summer.
View the Caltrans Lake Tahoe Construction Map
Mt. Rose Highway: Beginning after Memorial Day, roadwork will be done day and night with 20-30 minute delays expected for commuters between Lake Tahoe and Reno. This is part of a two-season project to repave and make safety improvements from the Mt. Rose summit to its junction.
Kings Beach: Weather permitting, work on the Kings Beach "Core of the Core" project is expected to begin April 1 along the main stretch of Highway 28 by converting four lanes to three. Outside of the peak period of July 1-Sept. 7, work between Highway 267 and Chipmunk Street will be from 7 a.m. to 10 p.m., Monday through Friday, with Saturday work as necessary. One lane in each direction is expected to be kept open, with a maximum delay of 20 minutes. There will be no detours into the Grid neighborhood north of the highway.
Tahoe City to Alpine:  From June 1 to October 15, drainage improvements will be made from the junction of Highway 89 and 28 to a half a mile north of Alpine Meadows Rd. Work will be done from 6 p.m. to 10 a.m., Sunday through Thursday, and will be off the highway be 10 a.m. Friday. A 20 minute delay is possible.
West Shore of Lake Tahoe: On the West Shore, a collaborative project between Caltrans and Southwest Gas begins April 14, weather permitting. Southwest Gas will replace and relocate existing natural gas mains and piping on a roughly 3-mile stretch in Tahoe City, north of Granlibakken Road to Ward Creek Boulevard, until Oct. 15. This work will be done on weekday nights. Caltrans will start drainage and roadwork May 1, weather permitting, along a roughly 3-mile stretch between Homewood and Tahoma, at Wilson Avenue to Cherry Street, until Oct. 15. Day and night work will be allowed weekdays. A maximum 20-minute delay in possible in each work zone.
Eagle Falls to Meeks Bay: From May to October, water quality improvements and paving will be done north of Eagle Falls Sidehill Viaduct to Meeks Bay. During peak season (Memorial Day to Labor Day), work will likely be from 6 p.m. to 6 a.m. Monday through Friday. During off-peak season, work will be during the day, Monday through Thursday, with no lane closures after 11 a.m. Up to a 20-minute delay is possible.
David Westall, Realtor
OLIVER LUXURY REAL ESTATE
P: 530-448-9882
David@WestallRealEstate.com
www.WestallRealEstate.com
CA DRE# 01796995