IRONMAN returns to Lake Tahoe Sunday, September 20th! With over 8,000 feet of climbing on the bike course, added to the normal challenges of a 2.4-mile swim and marathon run, IRONMAN Lake Tahoe is arguably the world's toughest course.  Athletes will fight for a piece of the $75,000 prize purse in a grueling 2.4-mile swim, 112-mile bike ride and 26.2-mile run.
IRONMAN Lake Tahoe will offer a wide range of entertainment on Sunday.  Watch the swim at Kings Beach or hang out at the Village-at-Squaw to watch the bike and running portion. Whatever you plan to do to celebrate this epic event, make sure to plan ahead as there are a significant amount of road closures in place in order to facilitate the race.
IRONMAN Lake Tahoe Course Preview
The Swim | 2.4 miles
Swim Course |Kings Beach State Recreation Area
Start –  6:30 a.m.
Cut off time – 2 hours 20 minutes after last athlete starts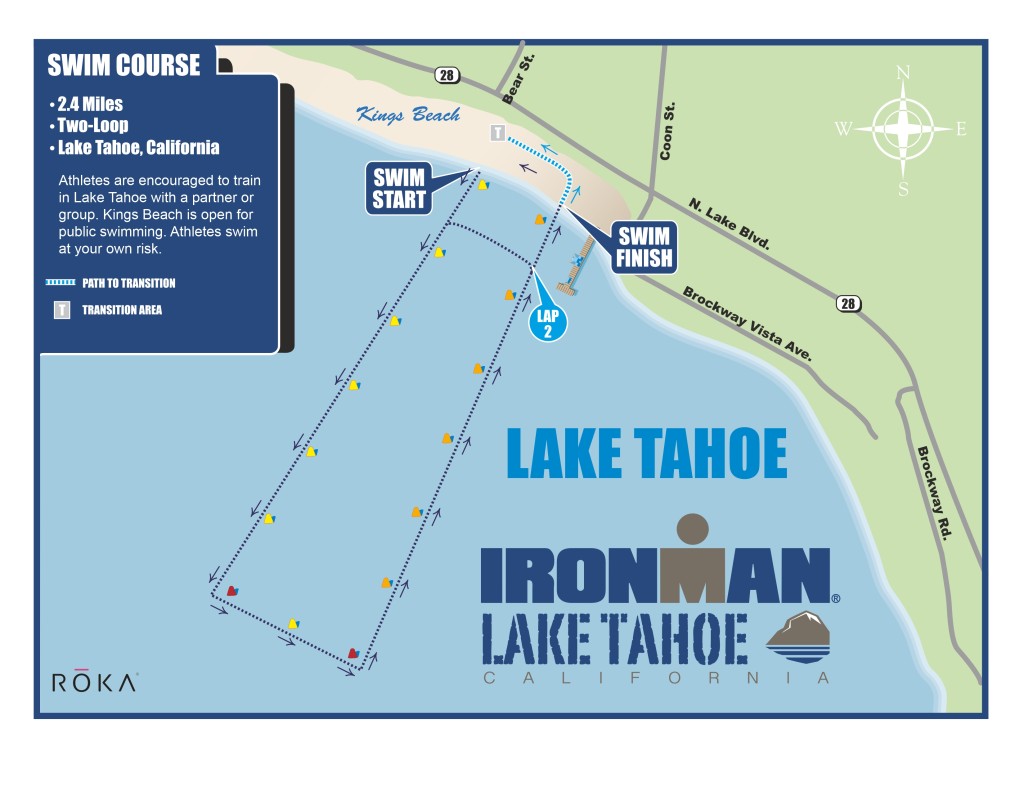 The Bike | 112 miles
Bike Course | Kings Beach State Recreation Area
Start –  7:30-9:30 a.m.
Finish –  Squaw Valley
21/3 loops | Kings Beach to Tahoe City to Truckee and back
Cut off time  – 5:30 p.m

The Run | 26.2 Miles
Run Course | Squaw Valley
Start – 12:00 p.m.
Finish – Village at Squaw Valley
Truckee River Trail  |  Squaw Valley to Tahoe City
2:30-3 p.m. – Top finishers complete Ironman
Cut off time – Midnight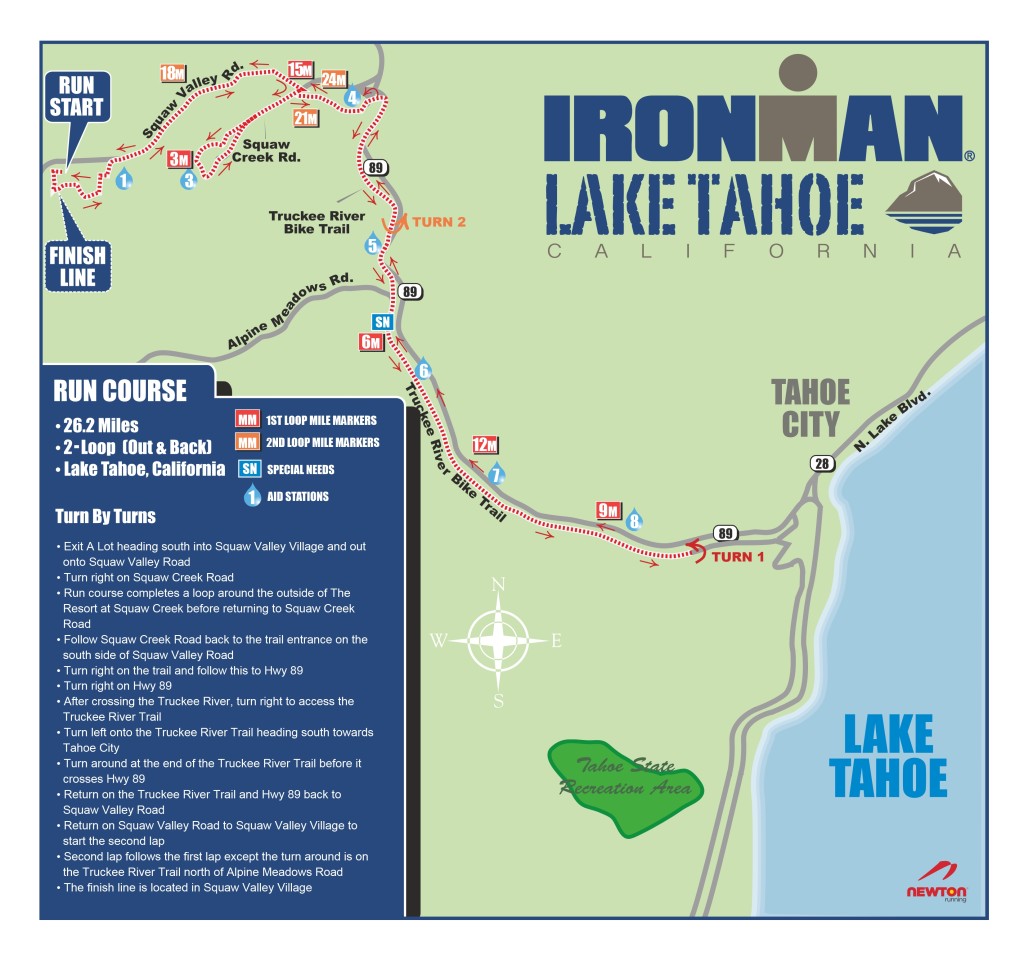 Best places to watch
The Swim | Kings Beach Recreation Area Park
Athletes will enter the swim from Kings Beach Recreation Area and the Transition is in the parking lot next to the beach. Walk or ride your bike to town, park at Kings Beach Elementary School off Steelhead Avenue.
The Bike | Kings Beach to Tahoe City to Truckee
Spectators have a number of great places to watch athletes on the bike course making two loops from Kings Beach to Tahoe City to Truckee along Highways 28, 89 and 267.
Kings Beach | Hot corner at Highways 267 and 28 where athletes will be passing three times, and along Highway 28 from the swim transition. Along Highway 267 for two passes through Kings Beach.
Tahoe City | The bike course detours around downtown at Grove Street and along Fairway Drive and turns onto Highway 89 north with both corners offering great viewing for three passes.
Olympic Valley | Athletes will pass three times near the entrance to Olympic Valley under the Olympic flame.
The Run | Olympic Valley to Tahoe City
The run course has a number of great spots to catch athletes multiple times along the Truckee River from Olympic Valley to the outskirts of Tahoe City. The Village at Squaw Valley will be an ideal location, close to the finish line, with food, music, the Ironman Village expo, and athletes making multiple passes in the area before finishing. Easy parking also makes this an ideal location to spend the day. The hot corner under the Olympic flame will be a location where athletes can be cheered on three times on the bike, and four times on the run.
*Information provided by Tahoe Weekly & IRONMAN.com
David Westall, Realtor
Oliver Luxury Real Estate
P: 530-448-9882
David@WestallRealEstate.com
CA DRE# 01796995