January 2015 Lake Tahoe Real Estate Market Report
Welcome to the first Lake Tahoe real estate market report for 2015. So far this year, the Truckee and Tahoe real estate markets are showing signs of continued appreciation. However, I anticipate that the rate of appreciation might be slowing down due to lower inventory levels and slightly lower demand due to continued price increases as well as rising interest rates. If I had to guess, I would say that the median housing price in Tahoe and Truckee will rise 5-10% in 2015.
I remain hopeful that winter will return to the Tahoe region as February and March can be huge snow months in the Sierra Nevada. Currently, the Sierra snowpack is less than 25% of average, which is exacerbated by the fact that we are going on the 4th year of drought conditions. If drought conditions continue throughout the winter months, housing pricing could suffer. I remain faithful that Mother Nature will deliver the goods, but the drought is no joke and we should watch it closely over the next few months.
January 2015 Lake Tahoe Real Estate Market Report Sales Chart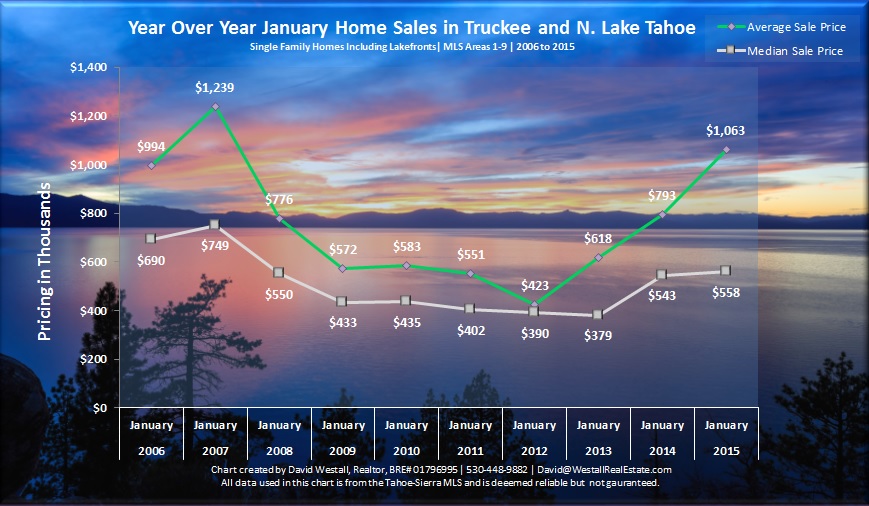 Year over Year Market Comparison
January 2015 Statistics

January 2014 Statistics


53 Single Family Home Sales up 26%
Average Marketing Time: 95 Days up 7%
Average Price: $1,063,000 up 25%
Median Price: $556K up 2%
3 REO & Short Sales equal
1 Sale Below $200K equal
10 Sales over $1M up 10%
4 Sales over $3M up 75%
High Sale Price: $7.75M up 59%
Low Sale Price: $198K up 62%

9 Single Family Homes
Average Marketing Time: 88 Days
Average Price: $793K
Median Price: $543K
3 REO & Short Sales
1 Sale Below $200K
9 Sales over $1M
1 Sale over $3M
High Sale Price: $3.2M
Low Sale Price: $76K
*North Lake Tahoe and Truckee Single-Family Homes Including Lake Tahoe Lakefronts. MLS Areas 1-9
2015 Lake Tahoe Real Estate Market Predictions
1) Pricing will continue on an upward trend but will rise at a slower pace. I am anticipating pricing increases of 5-10% for single-family homes.
2) Mortgage rates will head higher and will be closer to 5% by the end of 2015
3) There will be a rise in new construction starts this year (mostly in Truckee)
4) Short Sales and Foreclosures will remain a small fraction of sales
5) Market rents will increase, especially long-term rental rates.
Oliver Luxury Real Estate
• In 2014, Oliver Luxury Real Estate sold over $220,000,000 in North Tahoe/Truckee real estate making us the #1 luxury brokerage in North Lake Tahoe!
• If you include the sales of our Incline Village and Menlo Park offices we had over $376,650,000 in sales for 2014, which is amazing considering we only have 44 luxury agents between our 6 offices.
• Oliver Luxury Real Estate has sold an unprecedented 23 Tahoe lakefront homes in 2014, doubling the volume of our closest competition.
Contact Dave Westall, North Lake Tahoe Realtor
Are you interested in North Lake Tahoe real estate and homes for sale? Dave Westall is your Lake Tahoe Real Estate expert and is happy to answer any questions you have. Contact Dave at (530) 448-9882 or David@WestallRealEstate.com.
David Westall, Realtor
OLIVER LUXURY REAL ESTATE
P: 530-448-9882
David@WestallRealEstate.com
CA BRE# 01796995