With 5 months of real estate sales data under our belts, one thing is for sure, the January – May 2014 Lake Tahoe Real Estate Market is hot! This year the theme that keeps repeating itself with the passing of each month is high buyer demand, low inventory levels, fewer distressed sales (REO's and Short Sales), and an increase in luxury home sales. When these factors come together it is no wonder that we are seeing double-digit appreciation over 2013.
Lake Tahoe Real Estate Season
Now that May has arrived it's officially the start of the summer selling season in Lake Tahoe and over the last few weeks, we have seen inventory levels creep higher. We anticipate that between now and the end of July we will continue to see inventory levels increase. Increased inventory levels will be welcomed as buyer groups are having a hard time finding homes that fit their needs. Although we will continue to see inventory levels increase, buyer demand is quickly gobbling up these properties and we have seen median marketing times drop to 44 days. As new homes continue to hit the market we are noticing that pricing is ticking up and the market seems to be responding well to these price increases, especially when a home is located in a desirable area, has upgrades and is priced within reason.
Year over Year Market Comparison
Jan – May 2014 Statistics

Jan – Apr 2013 Statistics


294 Single Family Home Sales down 21%
Average Price: $947K up 28%
Median Price: $601K up 21%
25 REO & Short Sales down 64%
2 Sales Below $200K down 85%
62 Sales over $1M up 21%
High Sale Price: $14M up 59%
Low Sale Price: $76K up 5%

373 Single Family Homes
Average Price: $679K
Median Price: $475K
69 REO & Short Sales
13 Sales Below $200K
49 Sales over $1M
High Sale Price: $5.7M
Low Sale Price: $72K
*Lake Tahoe and Truckee Single Family Homes Including Lakefronts, MLS Areas 1-9.
January – May 2014 Lake Tahoe Real Estate
Lake Tahoe Market Analysis Sales Chart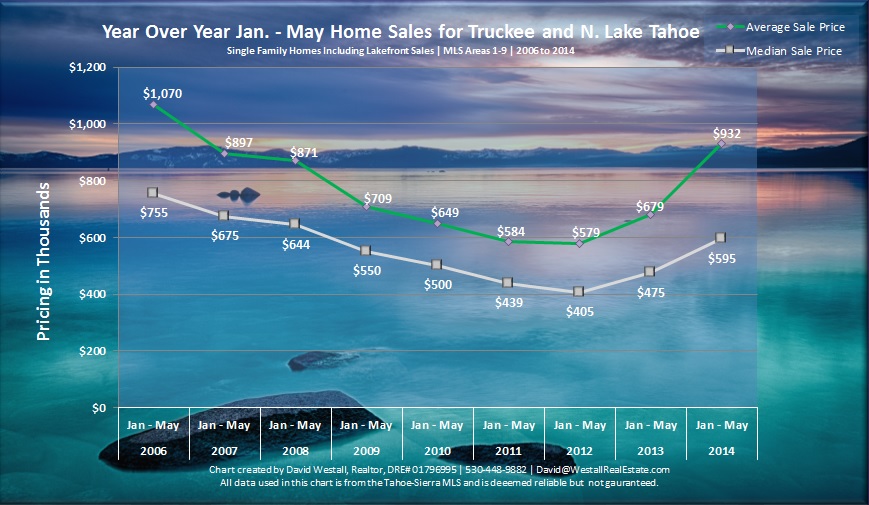 This chart shows that in the first five months of 2014 the Average home price in Truckee and N. Lake Tahoe is up 27% and the Median price is up 20% over the same time period in 2013.
Anticipated Market Conditions in 2014
High buyer demand
Limited inventory
Pricing Increases of 10-15% by the end of year
Fewer distressed sales (REO and Short Sales)
The higher end of the market will set records
Mortgage interest rates will continue to increase throughout the year and should be close to 5% by 2015. This increase will take away from buyer purchasing power as a 1% increase in loan rates equates to a reduction in purchasing power of approximately 10%
In the first 5 months of 2014, Oliver Luxury Real Estate has sold over $62M in Tahoe/Truckee real estate and we are the #1 Brokerage in North Lake Tahoe! It would be my pleasure to discuss your real estate goals, so please feel free to call or email me anytime (530) 448-9882 or David@WestallRealEstate.com.
David Westall, Realtor
OLIVER LUXURY REAL ESTATE
P: 530-448-9882
David@WestallRealEstate.com
www.WestallRealEstate.com
CA DRE# 01796995