Buyer activity in Truckee, CA continues to be hot in 2012 as buyers who have been sitting on the sidelines over the last few years are now more motivated due to soft pricing, historically low interest rates, and motivated sellers which has resulted in strong sales volume over the last few years.
Based on the first chart you can see that Truckee sales volume bottomed out in 2008 and has been increasing over the last 4 years.  Sales volume has increased 33% from 2008 to 2011 which is a significant correction in 3 years time.  We are now  just over half way through the year and with the current buyer activity and number of closed sales I can say with confidence that the number of sales in Truckee will meet or exceed 2011 volume showing continued strength in the Truckee real estate markets.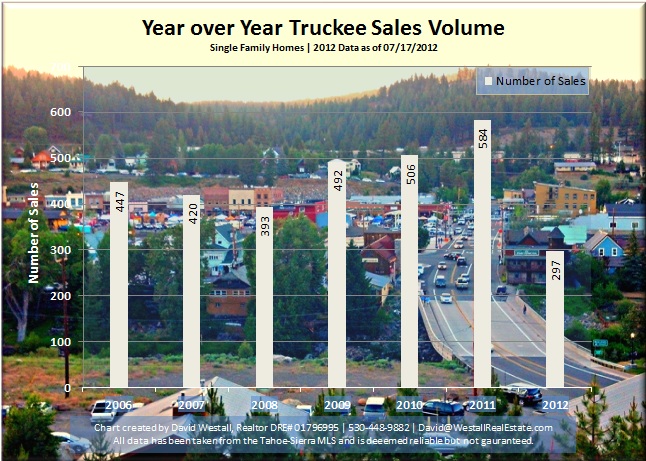 The charts below show the Average and Median pricing in Truckee over the last 7 years. From the Truckee sales chart you will see that during this time period average and median pricing has fallen significantly as sellers have had to reduce their prices in order to attract buyers.  This trend has continued into 2012, so although sales volume is increasing the Average and Median home value continues to soften.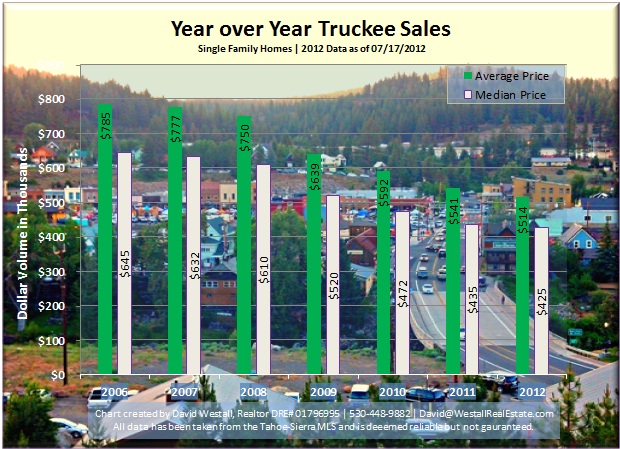 If you have any questions about the Truckee or Lake Tahoe real estate markets please feel free to call or email me anytime as I am happy to be of assistance.
Search the Truckee and Lake Tahoe MLS
Dave Westall
Tahoe Riverfront Realty, Inc.
P: 530-448-9882
F: 530-583-6312
David@WestallRealEstate.com
www.WestallRealEstate.com
Realtor, CA DRE# 01796995