July 2014 Lake Tahoe Real Estate Market Report
In 2014, the Lake Tahoe real estate markets have been dominated by upward movement in the luxury segment as the number of million dollar plus home sales is up 17% over 2013. We continue to see fewer home sales than last year, but buyers are paying a premium for these properties (median is up 17%). It appears that buyers have become more discerning when shopping for Tahoe and Truckee homes, which is part of the reason why we are seeing fewer home sales than last year. We continue to see high buyer demand, low inventory levels, lower levels of distressed home sales (REO and Short Sales) which have led to solid increases in home values. These are all signs of a healthy increasing market and we anticipate that the remainder of the year will be strong.
Year over Year Market Comparison
January – July 2014 Statistics

January – July 2013 Statistics


457 Single Family Home Sales down 19%
Average Price: $927K up 28%
Median Price: $575K up 17%
39 REO & Short Sales down 54%
4 Sales Below $200K down 80%
87 Sales over $1M up 17%
High Sale Price: $14M up 59%
Low Sale Price: $76K up 5%

567 Single Family Homes
Average Price: $666K
Median Price: $480K
85 REO & Short Sales
20 Sales Below $200K
72 Sales over $1M
High Sale Price: $5.79M
Low Sale Price: $72K
*Lake Tahoe and Truckee Single-Family Homes Including Lakefronts, MLS Areas 1-9
Over the last few months, inventory levels have increased which has been welcomed by patient buyers. As new Tahoe and Truckee homes come on the market, pricing has been ticking up on these new listings. Buyers appear willing to pay more, but they are also expecting to get something special for their money, whether it's a remodeled home, a new property, a special and unique location, a remodel opportunity in a good neighborhood, etc. Inversely we are seeing homes with "issues" (floor plan, setting, etc.) taking longer to sell and selling at larger discounts.
Lake Tahoe Real Estate Market Report Analysis Sales Chart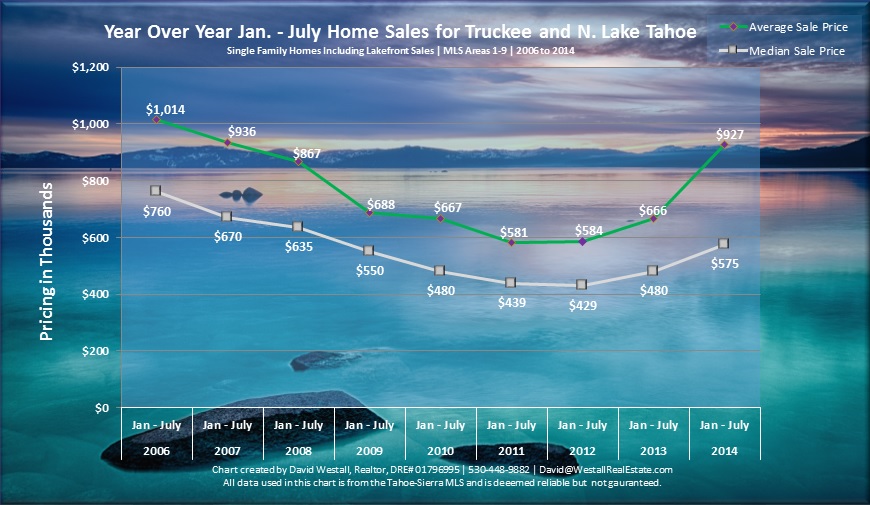 This chart shows that in the first 7 months of 2014 the Average home price in Truckee and N. Lake Tahoe is up 28% and the Median price is up 17% over the same time period in 2013.
Anticipated Second Half Market Conditions for 2014
High buyer demand
Limited inventory
Pricing Increases of 12-18% by the end of year
Fewer distressed sales (REO and Short Sales)
The higher end of the market will set records
Mortgage interest rates will continue to increase through the year and should be close to 5% by 2015. This increase will take away from buyer purchasing power as a 1% increase in loan rates equates to a reduction in purchasing power of approximately 10%
In the first 7 months of 2014, Oliver Luxury Real Estate has sold over $100M in Tahoe/Truckee real estate and we are the #1 Luxury Brokerage in North Lake Tahoe! It would be my pleasure to discuss your real estate goals, so please feel free to call or email me anytime.
Contact Dave Westall, Truckee Realtor
Are you interested in Lake Tahoe and Truckee real estate and homes for sale? Dave Westall is your Truckee Real Estate expert and is happy to answer any questions you have. Contact Dave at (530) 448-9882 or David@WestallRealEstate.com.
David Westall, Realtor
OLIVER LUXURY REAL ESTATE
P: 530-448-9882
David@WestallRealEstate.com
www.WestallRealEstate.com
CA DRE# 01796995