Tahoe Real Estate Is Fair Going Into Q3
We are half way through 2015 and although sales volume is up slightly over 2014 most market indicators are showing that 2015 will fall short of last year's blistering pace. We still have 6 months to play catch up and overall the market is very strong, so it would be of no surprise if we caught up to 2014 and had modest gains by year end.
Luxury home sales ($1M+) are the dominant factor in the current Tahoe markets and account for 43% of the total dollar volume in the first 6 months of the year. Although uxury homes sales are slightly off from last year, we are forecasting that the Tahoe markets will stay on pace with the record setting luxury sale pace of 2014. There are some beautiful lakefront homes and luxury golf course properties being offered this year which are anticipated to trade in the 3rd and 4th quarter thus bolstering the overall Tahoe market conditions.
To try and make sense of the market, I removed all luxury home sales (sales of $1M+ properties) and I was amazed to see that the number of home sales in the sub $1M price range is up 9.3% and that average and median home prices are up 1.5% over 2014. This shows me that the market is strong, we are just seeing fluctuation in the luxury segment of the market. Overall I'm confident that the 2015 Tahoe markets will show appreciation by year end and that even the luxury segment of the market will show gains.
June 2015 Lake Tahoe Real Estate Chart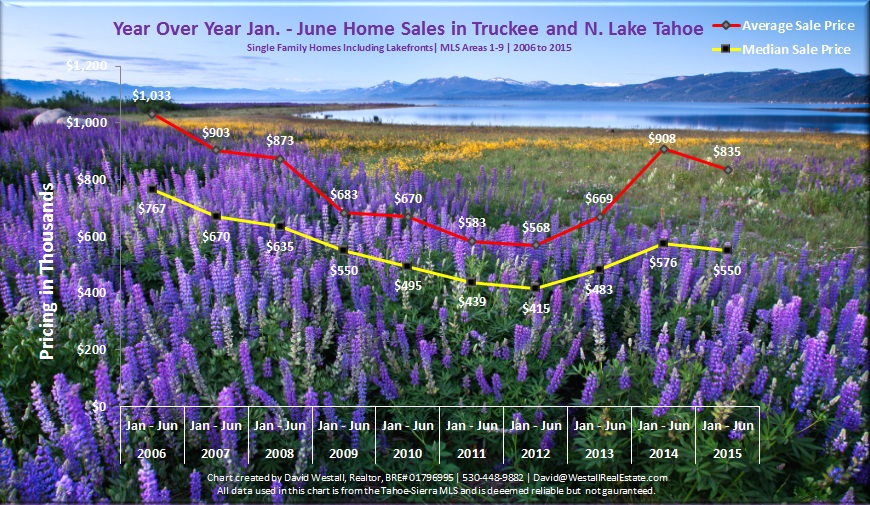 Year over Year Tahoe Market Trends Comparison
June 2015 Statistics
• 408 Single Family Home Sales up 4%
• Avg. Marketing Time: 113 Days up 18.5%
• Avg. List to Sold Discount: 3%, down 33%
• Average Price: $835K down 10%
• Median Price: $550K down 4.5%
• 18 REO & Short Sales down 42%
• 5 Sales Below $200K up 20%
• 55 Sales over $1M down 28%
• 17 Sales over $3M down 23%
• High Sale Price: $8.85M down 37%
• Low Sale Price: $100K up 24%
June 2014 Statistics
• 392 Single Family Homes
• Average Marketing Time: 92 Days
• Avg. List to Sold Discount: 4.47%,
• Average Price: $908K
• Median Price: $576K
• 31 REO & Short Sales
• 4 Sale Below $200K
• 76 Sales over $1M
• 22 Sales over $3M
• High Sale Price: $14M
• Low Sale Price: $76K
*North Lake Tahoe and Truckee Single Family Homes Including Lakefronts. MLS Areas 1-9
Please feel free to contact me to discuss the Lake Tahoe and Truckee market trends as I would be happy to answer any questions you have or provide insight into market conditions for your specific Tahoe/Truckee neighborhood. With high buyer demand this is going to be a busy summer for real estate sales, so if you are considering selling your Tahoe property lets talk today and discuss how I can help you sell your home for a price that will exceed your goals.