Total Dollar Volume on Pace to Set a Record in 2018
The 3rd Quarter of 2018 was another record-breaking quarter for North Lake Tahoe, CA and Truckee real estate. Most notably, total dollar volume for single-family homes is now at $996M (up 19%) which is incredible as we have only had 2 other years with over $1B in sales volume and it appears that this will be the best year ever for single-family home sales/dollar volume in the Tahoe/Truckee region. Just about every metric I track (see below) is positive with the average home price up 18%, the median home price is up 8% and we continue to see major movement in the luxury segments of the market with sales of $1M+ sales up 20% and the sale of $3M+ homes up 23% this year.
Year over Year Lake Tahoe, CA Real Estate Market Conditions and Value Trends
Q3 2018 Statistics
800 Single Family Home Sales Up 1%
Avg. Marketing Time: 62 Days Down 16%
Avg. List to Sold Discount: 3.7% Up 3%
Total Sales Volume: $996M Up 19%
Average Price: $1.245M Up 18%
Median Price: $718K Up 8%
4 REO & Short Sales Down 73%
13 Sales Below $300K Down 41%
229 Sales over $1M Up 20%
60 Sales over $3M Up 23%
High Sale Price: $40M Up 63%
Low Sale Price: $168K Up 17%
Q3 2017 Statistics
790 Single Family Homes
Average Marketing Time: 74 Days
Avg. List to Sold Discount: 3.6%
Total Sales Volume: $805M
Average Price: $1.019M
Median Price: $661K
15 REO & Short Sales
22 Sales Below $300K
183 Sales over $1M
46 Sales over $3M
High Sale Price: $15M
Low Sale Price: $140K
The Seasonality of Tahoe Real Estate
Over the last 30 days, we have seen a high number of price reductions as sellers are becoming more motivated to get their homes sold before the end of the year. I do not see this as a softening of the market as this is typical market behavior for autumn but it does create a great opportunity for buyers looking to take advantage of motivated sellers and obtain great pricing on their home purchases.
Lake Tahoe Real Estate Market Report Q3 2018 Highlights
Year over year dollar volume is up 19%
Oliver Luxury Real Estate sets a record with the sale of a $40M lakefront sale in Tahoe City
Luxury home sales account for 29% of all sales in 2018
Median home price is up 8%
Marketing times are down 16% to an average of 62 days
Lake Tahoe Real Estate Market Report Q3 2018 Sales Chart
Year Over Year Lake Tahoe Real Estate Sales Volume Chart Q3 2018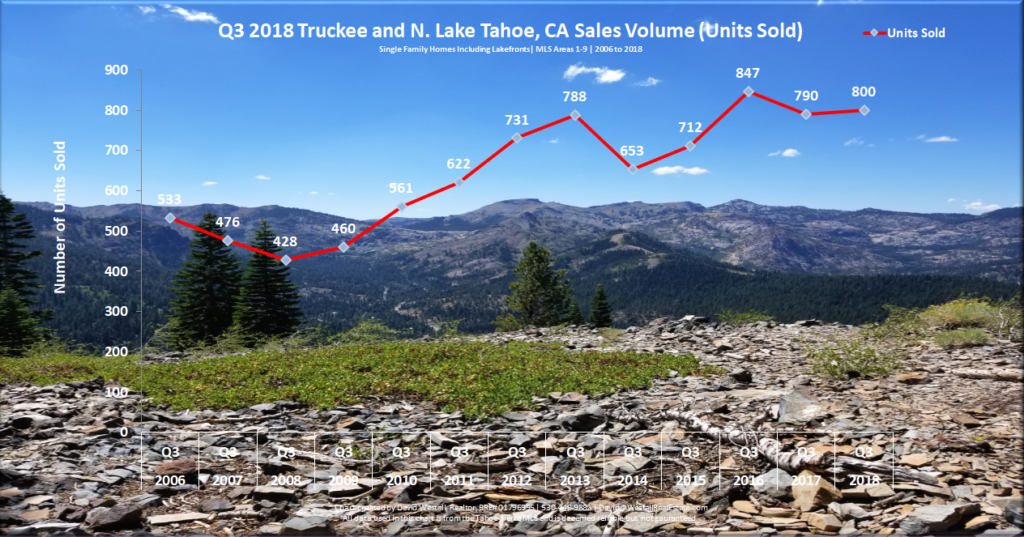 Click to Enlarge Chart
*North Lake Tahoe, CA and Truckee Single Family Home sales including lakefronts. Data is taken from the Tahoe-Sierra Board of Realtors, MLS Areas 1-9.
Lake Tahoe Market Report Archive
Do you have questions about Lake Tahoe Real Estate? Please call me at (530) 448-9882 if you would like to discuss Lake Tahoe real estate market conditions in more detail or to talk about how we can achieve your real estate goals together.
For Lake Tahoe real estate news, property listings, and events Sign up for our Newsletter.