Lake Tahoe Boat Inspection Sations Open for Season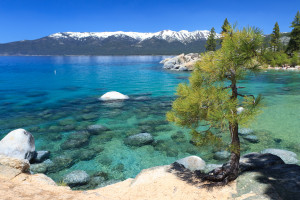 The Lake Tahoe boating season is here! The Tahoe Resource Conservation District has opened it's  boat inspection stations around the Lake and they are already seeing steady business. This is the eighth year that they have required mandatory boat inspections to keep invasive species of aquatic animals and plants out of Lake Tahoe. All motorized boats and watercraft require inspection for invasive species prior to launching into Lake Tahoe.
Invasive species such a s Quagga mussels, New Zealand mudsnails or Hydrilla, are known to multiply quickly and colonize underwater surfaces, including docks and piers, water supply and filtration systems buoys, moored boats and eventually the beautiful rocky shoreline.
"Boat inspections are critical to maintaining the health of Lake Tahoe and our local recreation-based economy," said Dennis Zabaglo, TRPA's AIS Program Coordinator.  "Through the efforts of the Tahoe Resource Conservation District's well-trained inspectors and other private and public partners committed to the Lake, we expect to have another successful season."
As of May 1st, the following boat inspection stations are open 8:30am – 5:30pm, 7 days a week:
Alpine Meadows: Highway 89, off Alpine Meadows Road north of Tahoe City
Spooner Summit: at the junction of US 50 and Highway 28 in Nevada
Meyers: at the junction of US 50 and Highway 89
Opening Thursday, May 22nd 8:30am – 5:30pm, Thursday – Sunday, CLOSED Monday – Wednesday:
Northstar: Highway 267, at Northstar Drive south of Truckee
*Please note: The Homewood inspection station is closed this season
Annual watercraft inspection fees remain unchanged from 2013.  The "Tahoe In & Out" sticker ranges from $35 for personal watercraft and vessels under 17 feet and up to $121 for vessels over 39 feet.   The "Tahoe Only" sticker fee is $30.  An additional fee of $35 is being charged for any boat requiring decontamination and an additional $10 fee for the decontamination of ballast tanks or bags.
More information on Lake Tahoe Boat Inspections
Check the story out on KTVN Channel 2 News:
KTVN Channel 2 – Reno Tahoe News Weather, Video –
Information for this blog post provided by TahoeBoatingInspections.com