The Lake Tahoe real estate markets are hot right now and 2014 is off to a fantastic start! The first 2 months of the year have been characterized by lower inventory levels, increased pricing (average price up 22%) and high buyer demand. There has been a significant decrease in Short Sales and REO's and a 29% increase in sales volume for homes priced over $1M has helped strengthen the Tahoe and Truckee real estate markets.
Strong buyer demand
Over the last 6 months, we have seen a 46% decrease in the number of distressed sales (REO and Short Sales) and this theme should continue throughout 2014 which will help with appreciation in the Truckee and North Lake Tahoe real estate markets. Strong buyer demand for Tahoe real estate and low inventory levels look like a recurring theme that will be present in 2014 which is great news for sellers but will create competition between buyer groups and should help push Tahoe real estate prices higher.
If you are thinking of selling your Lake Tahoe property, now is the perfect time to list your home for sale. Want to know what your home is worth?
The chart below shows January-February single-family sales over the last 9 years which I think you will find helpful to assess the current strength of the Lake Tahoe real estate markets.
2014 Lake Tahoe Real Estate Sales Chart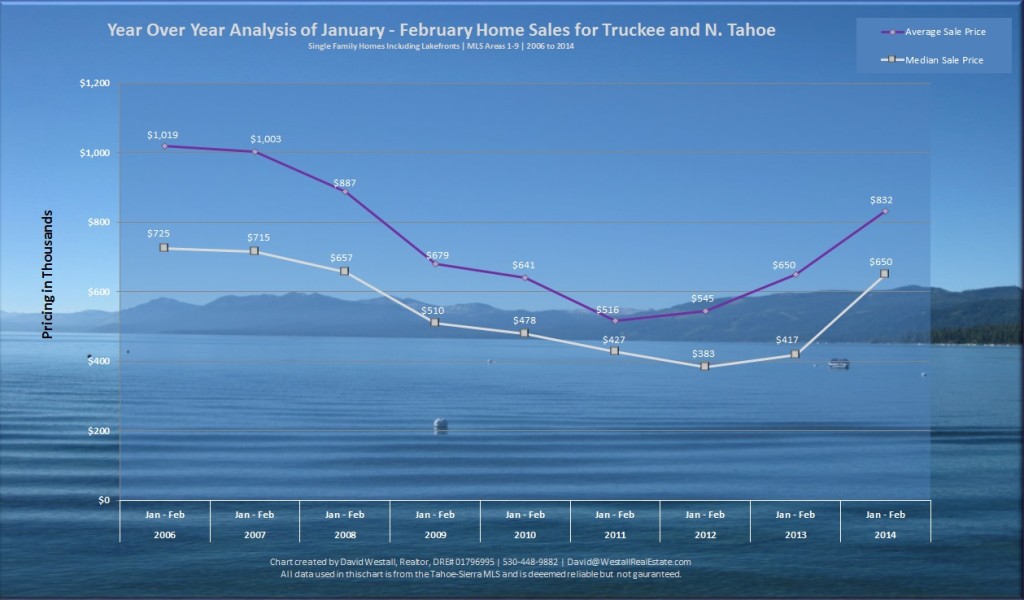 Jan-Feb 2014 Tahoe Sales vs. Jan-Feb 2013 Sales
January-February 2014
January-February 2013

96 Single Family Home Sales
Average Price:

$832K

up 22%

Median Price: $650K

up 36%

21 Sales over $1M

up 29%

14 REO's and Short Sales

down 46%

1 Sale Below $200K

97 Single Family Homes
Average Price: $650K
Median Price: $417K
15 Sales over $1M
26 REO's and Short Sales
5 Sales Below $200K
Contact Dave Westall, Lake Tahoe Realtor
Are you interested in Lake Tahoe real estate and homes for sale? Dave Westall is your Lake Tahoe Real Estate expert and is happy to answer any questions you have. Contact Dave at (530) 448-9882 or David@WestallRealEstate.com.
David Westall, Realtor
OLIVER LUXURY REAL ESTATE
P: 530-448-9882
David@WestallRealEstate.com
www.WestallRealEstate.com
CA DRE# 01796995