Tahoe Luxury Home Sales Advance the Market in January 2020
Lake Tahoe Real Estate January 2020 Market Report: The North Lake Tahoe, CA and Truckee real estate markets are off to a great start in the New Year with the median home price up 3%. In January, we saw strong luxury activity with the closing of 2 Tahoe City lakefronts, 2 Martis Camp luxury homes, 2 Lahontan golf properties and a total of 19 sales over $1M. This level of high-end activity shows that demand remains strong for luxury homes and that buyers remain confident in the Tahoe real estate markets.
In January, 20 homes sold in 30 days or less showing that buyers are hungry for new inventory and are quick to jump on listings located in desirable locations offering high levels of perceived value. Buyer demand is strong across the board with limited inventory, so I expect that average marketing times will come down significantly over the next few months as new inventory hits the market and fevered buyers purchase these new listings.
Lake Tahoe Real Estate Market Report January 2020 Highlights
Median home price is up 3% to $800,000
Luxury home sales account for 30% of all sales in January 2020
The average home price is down significantly due to an abnormal $37M Tahoe City lakefront sale from January 2019. If you remove this outlying sale, the average price would effectively be unchanged year over year making the average price a false indicator of current market conditions.
2 Tahoe City lakefronts closed escrow in January at an average price of $7.4M
New construction homes located in amenity-rich neighborhoods such as Martis Camp and Lahontan are very desirable.
The Spring Selling Season is NOW Due to a Mild Winter
So far in 2020, we've experienced a mild winter which has made travel over Donner Summit a breeze and created conditions that are conducive to buyers shopping for real estate. The first quarter is traditionally the softest of the year for real estate sales, but if the winter remains mild and new listings keep trickling onto the MLS we could have a relatively strong Q1 which would help generate momentum going into the spring. The strong economy is providing confidence that buyers need to make large scale purchase decisions, which will likely ensure that 2020 will be a solid year for Tahoe real estate sales.
Pending Sales Provide Confidence
In North Lake Tahoe, CA and Truckee there are 78 single-family homes currently in escrow including 5 Martis Camp homes and 3 Lahontan luxury residences. The average price of these pending sales is $1.14M showing that buyer demand for newly constructed luxury properties remains strong and that buyers are willing to pay a premium for modern mountain homes located within amenity-rich communities. 22 of the 78 homes in escrow were on the market for 30 days or less, providing further evidence that buyers are hungry for new inventory. Inventory is constrained, buyer confidence is high and the economy remains strong, creating the perfect scenario for growth.
Now is the Time to List Your Tahoe Property
If you are thinking of listing your Tahoe property for sale in the spring, I recommend listing your house now so that you can take advantage of low inventory, little to no competition, and a high level of buyer demand, which will result in a faster sale at a higher price. Buyers are hungry for new inventory and savvy sellers are going to list their homes this winter and get their property sold before competition ramps up in the spring and pricing stabilizes. 5 Housing Market Predictions for 2020
Year over Year Lake Tahoe, CA Real Estate Market Conditions and Value Trends
January 2020 Statistics
63 Single Family Home Sales Up 14%
Avg. Marketing Time: 84 Days Up 12%
Avg. List to Sold Discount: 4.7% Down 2%
Total Sales Volume: $75M Down 26%
Average Price: $1.19M Down 36%
Median Price: $800K Up 3%
2 REO & Short Sales Up 50%
0 Sales Below $300K Down 100%
19 Sales over $1M Up 11%
4 Sales over $3M Down 43%
High Sale Price: $7.6M Down 78%
Low Sale Price: $338K Up 48%
January 2019 Statistics
54 Single Family Homes
Average Marketing Time: 74 Days
Avg. List to Sold Discount: 4.8%
Total Sales Volume: $101M
Average Price: $1.86M
Median Price: $780K
1 REO & Short Sales
1 Sales Below $300K
16 Sales over $1M
7 Sales over $3M
High Sale Price: $37M
Low Sale Price: $175K
Lake Tahoe Real Estate January 2020 Market Report Sales Chart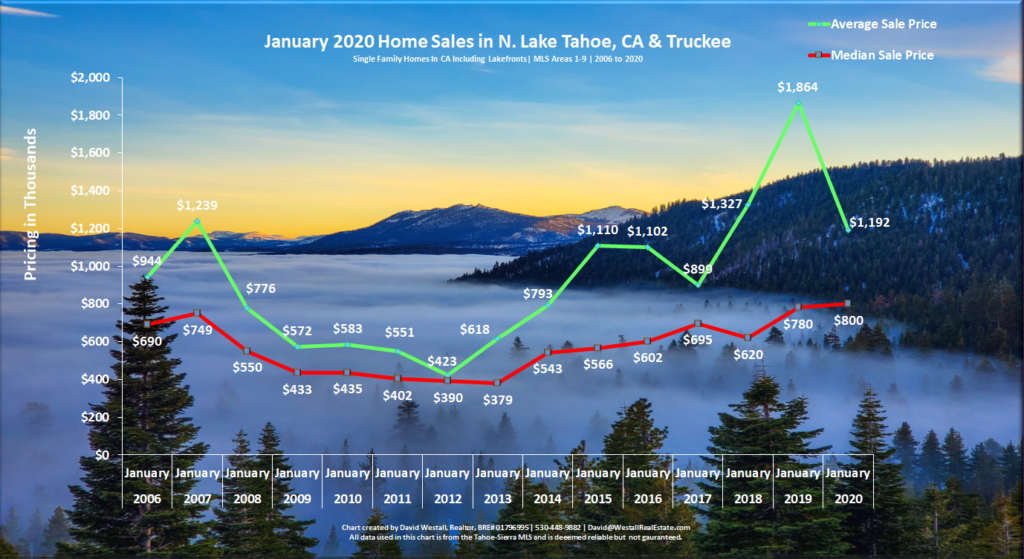 Lake Tahoe Real Estate January 2020 Sales Volume Chart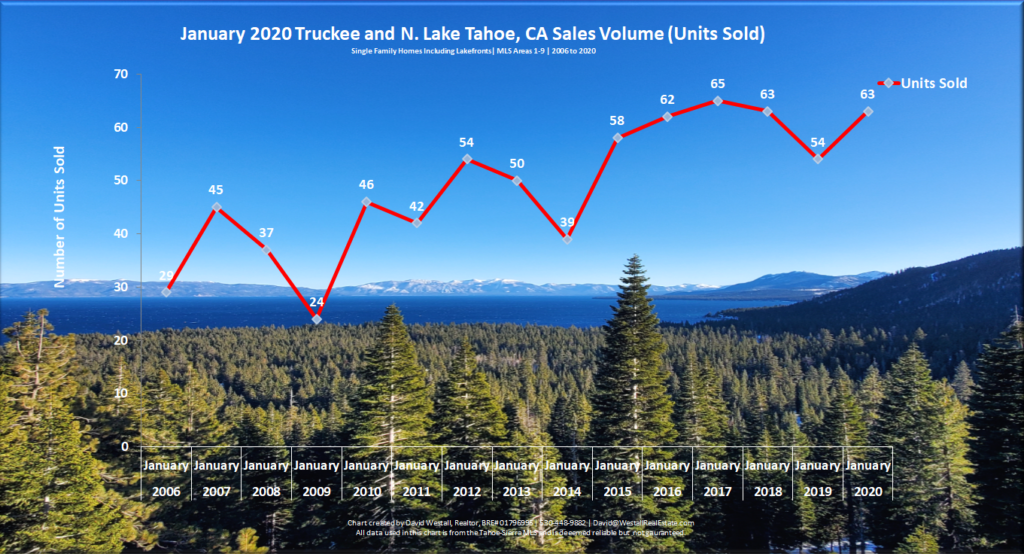 *North Lake Tahoe, CA and Truckee Single-Family Home sales including lakefronts. Data is taken from the Tahoe-Sierra Board of Realtors, MLS Areas 1-9.
Lake Tahoe Real Estate Market Report Archive
Contact Dave Westall – Lake Tahoe Real Estate Agent
Do you have questions about Lake Tahoe Real Estate? Please call me at (530) 448-9882 if you would like to discuss Lake Tahoe real estate market conditions in more detail or to talk about how we can achieve your real estate goals together.
For Lake Tahoe real estate news, property listings, and events Sign up for our Newsletter.