Tahoe Luxury Real Estate Sales Push the Market Higher in 2018
August 2018 was an incredible month for North Lake Tahoe and Truckee real estate sales, further solidifying the Lake Tahoe region as a California "power market" with over $185M in single-family home sales in the month of August! The total dollar volume for single-family homes is at $891M which is a 28% increase over 2017 (a historic record year)! This is simply incredible and puts us on pace to have another record-breaking year with over $1B in total sales. This voluminous increase in dollar volume is due to the fact that luxury home sales are up 33% over last year and the sale of $3M+ homes is up 40%. So far in 2018, we have seen three record-breaking lakefront sales at $22.8M, $24M and $40M! Oliver Luxury Real Estate was fortunate to represent 2 of these record sales including the $40M sale of 2380 Sunnyside Lane.
Year over Year Lake Tahoe, CA Real Estate Market Conditions and Value Trends
August 2018 Statistics
692 Single Family Home Sales Up 7%
Avg. Marketing Time: 64 Days Down 15%
Avg. List to Sold Discount: 3.9% Up 10%
Total Sales Volume: $891M Up 28%
Average Price: $1.288M Up 23%
Median Price: $720K Up 8%
4 REO & Short Sales Down 73%
9 Sales Below $300K Down 55%
203 Sales over $1M Up 33%
57 Sales over $3M Up 40%
High Sale Price: $40M Up 63%
Low Sale Price: $168K Up 17%
August 2017 Statistics
642 Single Family Homes
Average Marketing Time: 75 Days
Avg. List to Sold Discount: 3.5%
Total Sales Volume: $639M
Average Price: $995M
Median Price: $664K
15 REO & Short Sales
20 Sales Below $300K
136 Sales over $1M
34 Sales over $3M
High Sale Price: $15M
Low Sale Price: $140K
The Seasonality of Tahoe Real Estate has Begun
With kids back in school and a cool-down in the weather pattern, summertime in Lake Tahoe has come to an end. Traditionally, the real estate markets slow down this time of the year as fewer visitors are coming to Tahoe which leads to a lower volume of homes trading hands. Over the last few weeks, we have seen a high number of price reductions from sellers looking to make sure that their homes are priced effectively to get them sold before the end of the year. There is still a shortage of inventory in most neighborhoods and price points, so I think we will continue to see a robust number of sales in the coming months, but we might see the median home price slip a little over the next few months. I anticipate that we will still have a solid appreciation at the end of the year.
Wealthy Buyers are Investing in Power Markets
Wealthy buyers from the San Francisco Bay Area see Lake Tahoe as a "power market" and a quasi-mountain club to escape the fast pace of Silicon Valley. A place to unwind with friends and family in a pristine environment. The volatility in equity markets has prompted many wealthy buyers to purchase "safe assets" such as luxury real estate. In Tahoe, we have seen a 33% increase in luxury sales volume as many buyers are pulling cash out of the stock market and purchasing tangible assets such as lakefront real estate, golf course homes, and vacation homes. Prime Lake Tahoe and Truckee real estate is in high demand and is pulling up the entire market. When you throw low inventory into the mix, coupled with high buyer demand, we have a recipe for robust market conditions.
Lake Tahoe Real Estate Market Report August 2018 Highlights
Year over year dollar volume is up 28%
Oliver Luxury Real Estate sets a record with the sale of a $40M lakefront sale in Tahoe City
Luxury home sales account for 29% of all sales in 2018
Median home price is up 8%
Marketing times are down 15% to an average of 64 days
Lake Tahoe Real Estate Market Report August 2018 Sales Chart
Year Over Year Lake Tahoe Real Estate Sales Volume Chart August 2018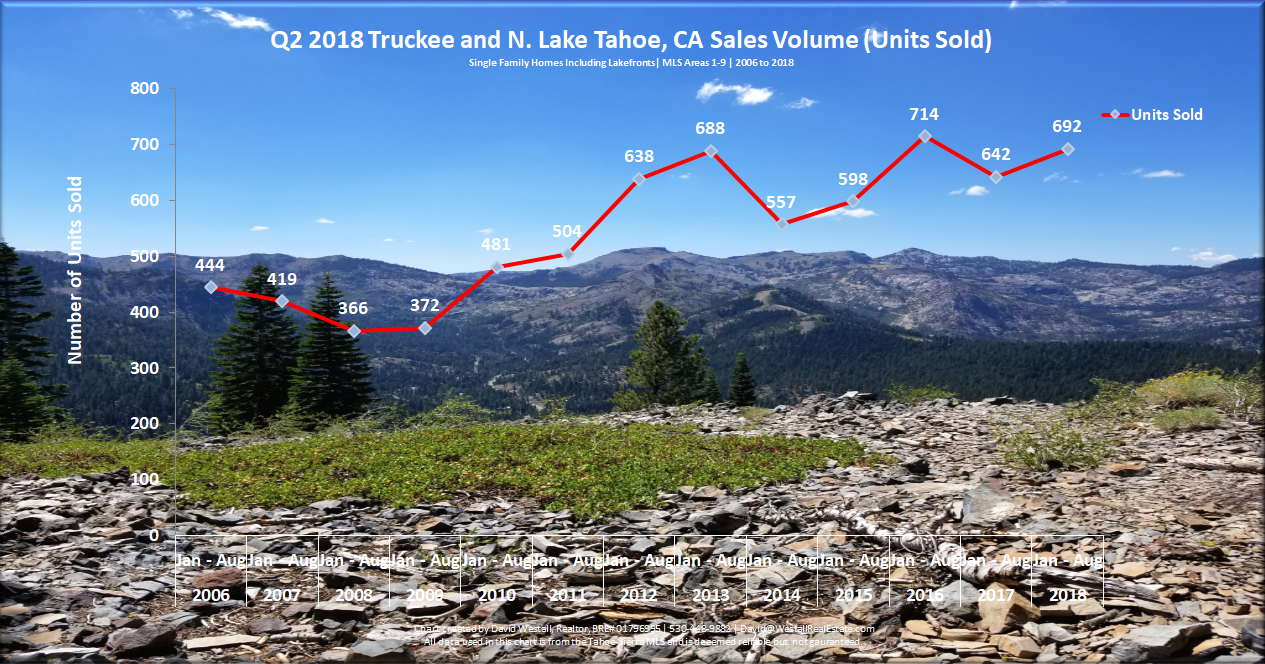 *North Lake Tahoe, CA and Truckee Single Family Home sales including lakefronts. Data is taken from the Tahoe-Sierra Board of Realtors, MLS Areas 1-9.
Lake Tahoe Market Report Archive
Do you have questions about Lake Tahoe Real Estate? Please call me at (530) 448-9882 if you would like to discuss Lake Tahoe market conditions in more detail or to talk about how I can help you achieve your real estate goals.
For Lake Tahoe real estate news, property listings, and events Sign up for our Newsletter.