2018 was a spectacular year for Truckee and North Lake Tahoe real estate sales with a record-setting $1.34B in single-family homes trading hands!
We were coming off a record-breaking year and I expected a fairly flat market at the start of 2018 but the market spoke and by the end of the year, 11 of the 12 metrics I track were in positive territory telling a story of a tenacious Tahoe real estate marketplace. The only metric that finished in the red was the number of single-family home sales which was down 7% over 2017. Given the fact that last year was a record-setting year for sales volume, it is not surprising that we could not keep pace with the number of units sold in 2017. Much of the success of this year is attributed to the strength of the Tahoe luxury real estate markets and the fact that 29% of all single-family home sales in 2018 were priced over $1M.
Lake Tahoe Real Estate Market Report December 2018 Median Home Price
The median home price closed at $720,000 which reflects a 7% gain over 2017 and is reflective of the overall health of the Tahoe/Truckee markets. The average home price is currently at $1,238,000 which is up 19% over last year and reflects the tenacity of the Lake Tahoe luxury real estate markets. This is the first time in 12 years that the median home price closed higher than the peak market pricing in 2006 just prior to the recession.

Lake Tahoe Real Estate Market Report December 2018 Luxury Real Estate
Demand for luxury homes in Lahontan, Martis Camp, Schaffer's Mill, Gray's Crossing, and waterfront properties has been at an all-time high. In 2018 we saw 31 luxury homes trade hands that were priced over $5M, 6 homes sold priced over $10M and we've had 4 incredible lakefront sales priced over $20M! Oliver Luxury Real Estate represented 4 of the 6 highest priced sales in 2018 including the record breaking $40M Tahoe City lakefront sale on the fabled Sunnyside Lane. Luxury buyers are positive on the Lake Tahoe markets and have been purchasing exceptional properties at a record pace.
Year over Year Lake Tahoe, CA Real Estate Market Conditions and Value Trends
2018 Statistics
1083 Single Family Home Sales Down 7%
Avg. Marketing Time: 66 Days Down 12%
Avg. List to Sold Discount: 3.7% Even
Total Sales Volume: $1.34B Up 13%
Average Price: $1.238M Up 19%
Median Price: $720K Up 7%
8 REO & Short Sales Down 53%
17 Sales Below $300K Down 39%
309 Sales over $1M Up 10%
81 Sales over $3M Up 19%
High Sale Price: $40M Up 63%
Low Sale Price: $168K Up 18%
2017 Statistics
1160 Single Family Homes
Average Marketing Time: 75 Days
Avg. List to Sold Discount: 3.7%
Total Sales Volume: $1.16B
Average Price: $1.0M
Median Price: $671K
17 REO & Short Sales
28 Sales Below $300K
277 Sales over $1M
66 Sales over $3M
High Sale Price: $15M
Low Sale Price: $138K
Lake Tahoe Real Estate Market Report December 2018 Highlights
Year over year dollar volume is up 13% finishing the year at $1.34 billion, a new record
Oliver Luxury Real Estate sets a record with the sale of a $40M Tahoe City lakefront estate
Oliver Luxury Real Estate sold 4 of the top 6 highest priced home sales in 2018 including 3 homes over $20M
Luxury home sales account for 29% of all sales in 2018
Median home price is up 7%
Marketing times were down 12% to an average of 66 days
Lake Tahoe Real Estate Market Report December 2018 Sales Chart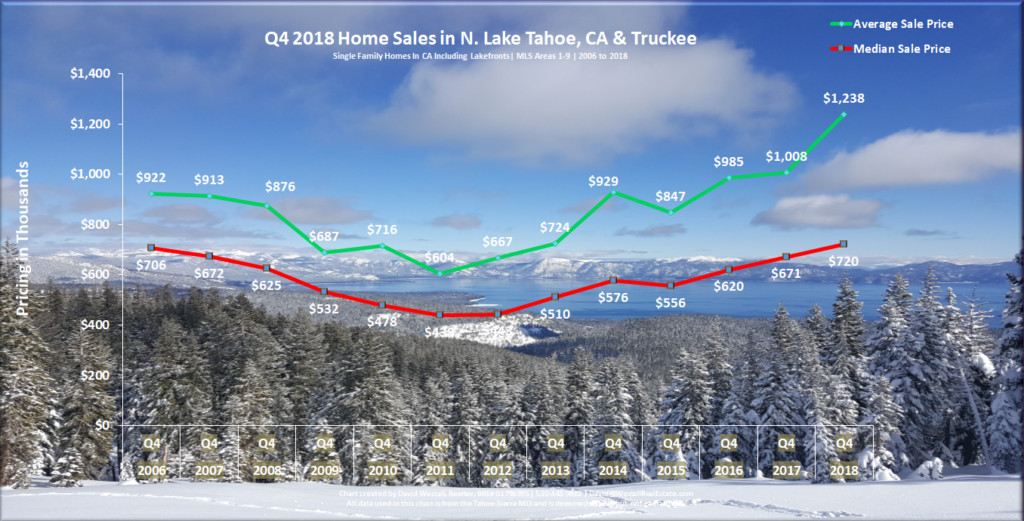 Year Over Year Lake Tahoe Real Estate Sales Volume Chart December 2018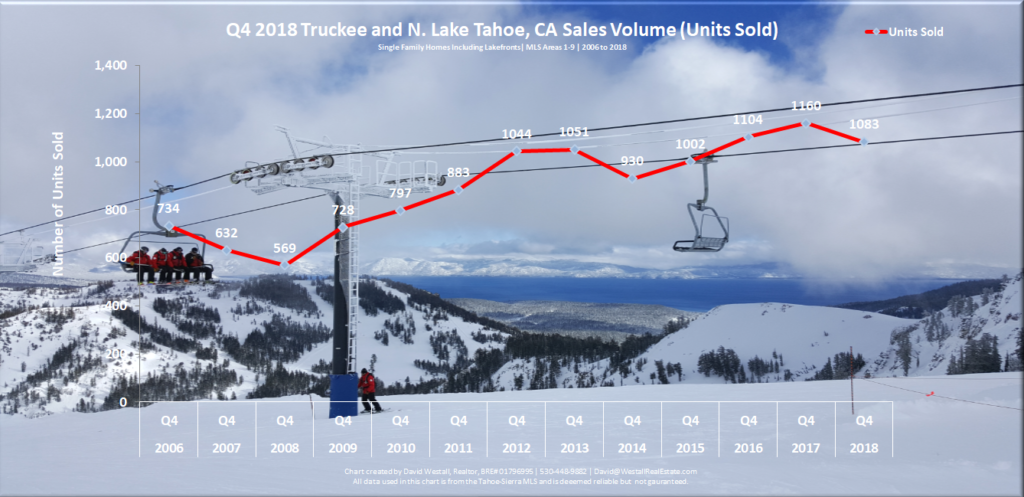 *North Lake Tahoe, CA and Truckee Single Family Home sales including lakefronts. Data is taken from the Tahoe-Sierra Board of Realtors, MLS Areas 1-9.
Lake Tahoe Market Report Archive
Contact Dave Westall – Lake Tahoe Real Estate Agent
Do you have questions about Lake Tahoe Real Estate? Please call me at (530) 448-9882 if you would like to discuss Lake Tahoe real estate market conditions in more detail or to talk about how we can achieve your real estate goals together.
For Lake Tahoe real estate news, property listings, and events Sign up for our Newsletter.