Lake Tahoe Real Estate Is Trending Upwards In 2015
After two full months of North Lake Tahoe real estate sales including Truckee real estate sales, we continue to see strength in the markets, especially in the luxury segment of the market. The average single-family home price continues to soar as the number of $3M+ sales are up 71% over last year (same time period). Although the average price is up significantly the median price is down 15% over last year, which seems to be partly due to limited inventory in the $500K – $750K price point. Although the median pricing is currently down, I expect this number to rise over the course of the year which is supported by the fact that the 3-year average is trending upwards.
Overall, buyers remain positive on Lake Tahoe as the San Francisco economy is hot, the US economy is strong, and interest rates remain historically low creating high demand for second homes in the Tahoe region. With high demand and low inventory, prices are on the rise, but as the summer approaches, I feel that supply and demand will begin to equalize as more listings hit the market. I feel that 2015 will be a strong year for Lake Tahoe real estate sales and home prices will continue to rise over the next 10 months.
Lake Tahoe Real Estate Market Report February 2015 Sales Chart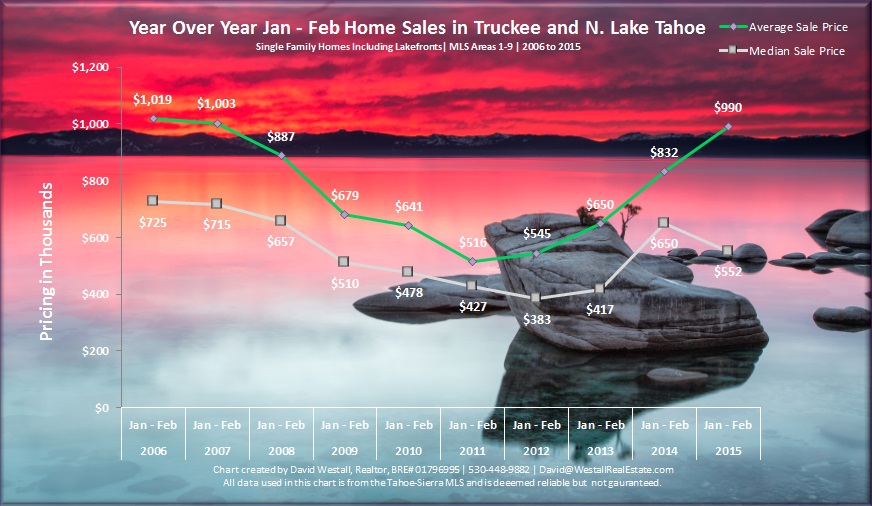 Year over Year Lake Tahoe Real Estate Sales Comparison
Jan. – Feb. 2015 Statistics

Jan. – Feb. 2014 Statistics


101 Single Family Home Sales up 5%
Avg. Marketing Time: 128 Days up 29%
Average Price: $990K up 16%
Median Price: $552K down 15%
5 REO & Short Sales down 64%
2 Sales Below $200K up 50%
17 Sales over $1M down 19%
7 Sales over $3M up 71%
High Sale Price: $7.75M up 56%
Low Sale Price: $120K up 37%

96 Single Family Homes
Average Marketing Time: 91 Days
Average Price: $832K
Median Price: $650K
14 REO & Short Sales
1 Sale Below $200K
21 Sales over $1M
2 Sales over $3M
High Sale Price: $3.4M
Low Sale Price: $76K
*North Lake Tahoe and Truckee Single-Family Homes Including Lakefronts. MLS Areas 1-9
2015 Lake Tahoe Real Estate Market Predictions
Pricing will continue on an upward trend but rise at a slower pace. I am anticipating price increases of 5-10% for single-family homes by year-end.
Mortgage rates will head higher and will be closer to 5% by the end of 2015.
There will be a rise in new construction starts this year (mostly in Truckee).
Short Sales and Foreclosures will remain a small fraction of sales.
Market rents will increase, especially long-term rental rates.
Oliver Luxury Real Estate
In 2014, Oliver Luxury Real Estate sold over $220,000,000 in North Tahoe/Truckee real estate making us the #1 luxury brokerage in North Lake Tahoe!
If you include the sales of our Incline Village and Menlo Park offices we had over $376,650,000 in sales for 2014, which is amazing considering we only have 44 luxury agents between our 6 offices.
Oliver Luxury Real Estate sold an unprecedented 23 Tahoe lakefront homes in 2014, doubling the volume of our closest competition.
Contact Dave Westall, Lake Tahoe Realtor
Are you interested in North Lake Tahoe real estate and homes for sale? Dave Westall is your North Lake Tahoe and Truckee Real Estate expert and is happy to answer any questions you have. Contact Dave at (530) 448-9882 or David@WestallRealEstate.com.
David Westall, Realtor
OLIVER LUXURY REAL ESTATE
P: 530-448-9882
David@WestallRealEstate.com
CA BRE# 01796995