The real estate markets continue to show strength in 2014 with single-family home pricing up significantly over 2013. After the first 4 months of 2014, we have seen fewer home sales than the previous year but average and median single-family home pricing is rising due to a continuation of high buyer demand, low inventory levels, lower levels of distressed home sales (REO and Short Sales), and an increase in luxury homes sales. These are all signs of a healthy increasing market and we anticipate a strong summer of home sales in the Lake Tahoe real estate markets.
Over the last month, we have seen a bump in inventory which has been well received by buyers who have patiently been waiting for new Lake Tahoe homes to come on the market. With the current buyer demand, these new listings are getting lots of attention and selling in faster than average marketing times and at lower list to sold discounts. As these new homes hit the market we are noticing that pricing on these homes is ticking up which speaks to the strength of the markets.
Lake Tahoe Real Estate Market Report Q1 2014 Real Estate Sales vs. 2013 Jan. – Apr. Sales
January – April 2014 Statistics

January – April 2013 Statistics


212 Single Family Home Sales

down 25%

Average Price: $914K

up 26%

Median Price: $610K up 20%
24 REO & Short Sales

down 59%

2 Sales Below $200K

down 71%

44 Sales over $1M

up 7%

High Sale Price: $14M

up 66%

Low Sale Price: $76K

up 5%

283 Single Family Homes
Average Price: $679K
Median Price: $485K
58 REO & Short Sales
7 Sales Below $200K
41 Sales over $1M
High Sale Price: $4.7M
Low Sale Price: $72K
*Single Family Homes Including Lakefronts
Lake Tahoe Real Estate Market Report Q1 2014 Multi-Year Real Estate Sale Chart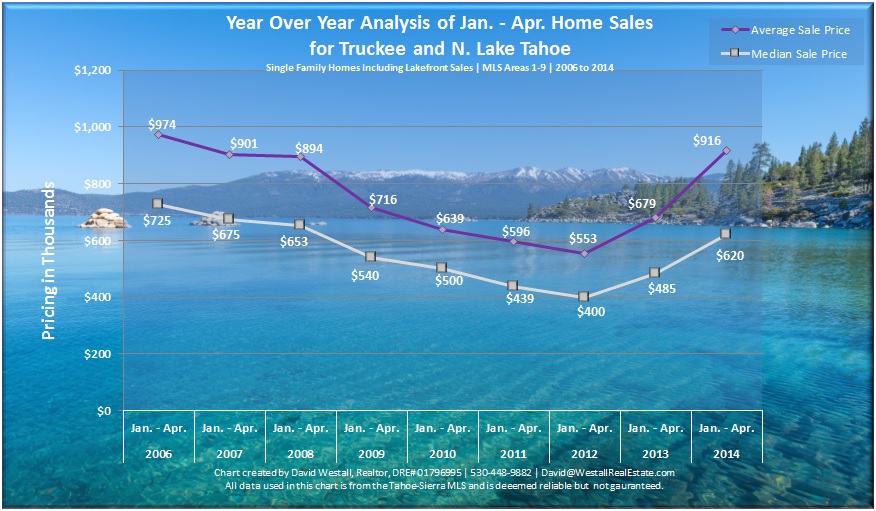 Multi-Year Real Estate Sales Volume Chart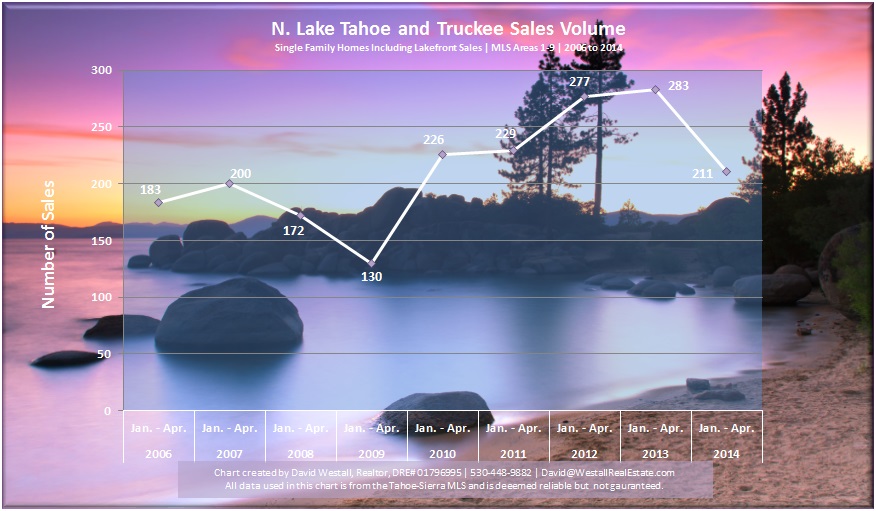 In the first quarter of 2014, Oliver Luxury Real Estate has sold over $48M in Tahoe/Truckee real estate and we are the #1 Brokerage in the Tahoe Sierra Board of Realtors!
Contact Dave Westall – Lake Tahoe Real Estate Agent
Do you have questions about Lake Tahoe Real Estate? Please call me at (530) 448-9882 if you would like to discuss Lake Tahoe real estate market conditions in more detail or to talk about how we can achieve your real estate goals together.
David Westall, Realtor
OLIVER LUXURY REAL ESTATE
P: 530-448-9882
David@WestallRealEstate.com
www.WestallRealEstate.com
CA DRE# 01796995