Lake Tahoe Luxury Real Estate Sales Dominate the Market in Q2 2018
Demand for North Lake Tahoe, CA and Truckee real estate has exceeded supply in the first half of 2018 which has pushed pricing upwards, reduced marketing times, and has led to a 27% jump in total dollar volume over 2017! Every metric that I track is up over last year and with significant gains noted in the average home price, the number of luxury home sales and a huge reduction in entry-level inventory. Sales of luxury homes make up 32% of all home sales in 2018 which has pushed the average home price to a new record! In May, Oliver Luxury Real Estate sold a $40M lakefront on the fabled Sunnyside Lane in Tahoe City and a number of other high-end luxury homes have traded hands which shows that wealthy buyers have a strong appetite for ultra-luxury homes in the Tahoe and Truckee markets.
Tahoe Real Estate Buyers Struggle with Low Inventory Levels in Q2 2018
In the first half of 2018 buyers struggle to find high-quality inventory and when a good home comes on the market they sell quickly, for top dollar and the competition can be fierce. Sellers are enjoying shorter marketing times for their listings and the median home price is up 7% over 2017. Buyers searching for homes in the sub $600K price points are struggling to find inventory as this is the most constrained segment of the market and also the most competitive. It's not uncommon for homes in these lower price points to have multiple offers and to sell above asking price.
Now is the Time to List Your Lake Tahoe Home
Over the next 2 months, we expect inventory levels to rise as is typical during the summer but I do not anticipate having enough quality inventory to satisfy buyer demand. This will inevitably cause pricing to increase and we should see the median home price rise throughout the next 6 months. If you are considering selling your Lake Tahoe or Truckee home now is a fantastic time to list your property as buyer demand is high and people are willing to pay a premium for good quality inventory.
Lake Tahoe Real Estate Market Report Q2 2018 Highlights
Year over year dollar volume is up 27%
Oliver Luxury Real Estate sets a record with the sale of a $40M lakefront sale in Tahoe City
Oliver Luxury Real Estate sold the 2 highest priced homes so far in 2018 with a $40M lakefront sale and a $22.8M lakefront sale.
Luxury home sales account for 32% of all sales in 2018
Median home price is up 7%
Marketing times are down 14% to an average of 75 days
Year over Year Lake Tahoe, CA Real Estate Market Conditions and Value Trends
Q2 2018 Statistics
430 Single Family Home Sales Up 3%
Avg. Marketing Time: 75 Days Down 14%
Avg. List to Sold Discount: 4% Even
Total Sales Volume: $566M Up 27%
Average Price: $1.316M Up 25%
Median Price: $723K Up 7%
4 REO & Short Sales Down 40%
6 Sales Below $300K Down 57%
137 Sales over $1M Up 32%
40 Sales over $3M Up 53%
High Sale Price: $40M Up 63%
Low Sale Price: $199K Up 30%
Q2 2017 Statistics
416 Single Family Homes
Average Marketing Time: 87 Days
Avg. List to Sold Discount: 4%
Total Sales Volume: $411M
Average Price: $988M
Median Price: $670K
10 REO & Short Sales
14 Sales Below $300K
93 Sales over $1M
19 Sales over $3M
High Sale Price: $15M
Low Sale Price: $140K
Lake Tahoe Real Estate Market Report Q2 2018 Sales Chart
Year Over Year Lake Tahoe Real Estate Sales Volume Chart Q2 2018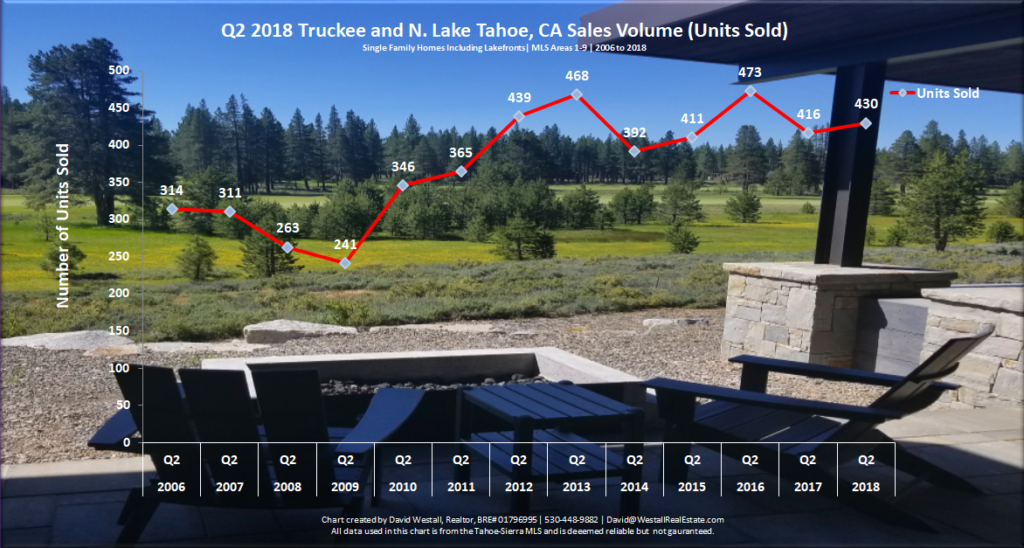 *North Lake Tahoe, CA and Truckee Single Family Home sales including lakefronts. Data is taken from the Tahoe-Sierra Board of Realtors, MLS Areas 1-9.
Lake Tahoe Market Report Archive
Do you have questions about Lake Tahoe Real Estate? Please call me at (530) 448-9882 if you would like to discuss Lake Tahoe market conditions in more detail or to talk about how I can help you achieve your real estate goals.
For Lake Tahoe real estate news, property listings, and events Sign up for our Newsletter.