The Lake Tahoe Real Estate Markets are Starting to Thaw
The first quarter of 2019 fell flat from the record highs of 2018 due to a grueling winter that brought over 59 feet of snow to the peaks of Lake Tahoe. Over the course of the winter, it became apparent that buyers were out skiing or staying home rather than shopping for homes in the daily blizzards that crippled roadways and made purchasing a home nearly impossible.
Typically, we see the start of selling season in April, but with many homes still snow covered, inventory remained near historic lows and anxious buyers continued to wait to make purchase decisions. Over the last few months, the data points that I track (see below) have been showing a rather negative scenario. If you didn't know about the historic winter of 2019, you would think that Tahoe is in a recession and that now is not a good time to purchase a house. This couldn't be further from the truth as the lack of inventory is directly related to the severe winter and the selling season has been pushed back by 1-2 months, so instead of selling season starting in April-May it is starting in June-July.
Lake Tahoe Real Estate Market Report May 2019 Highlights
Sales Volume (units sold) is down 13%
Luxury home sales account for 29% of all sales in 2019
Median home price is down 1% at $725,000
High sale for 2019 is a $37M Tahoe City lakefront, Oliver Luxury Real Estate represented the buyer
11 Martis Camp luxury homes have sold this year with an average price of $5M
A Lack of Inventory is Plaguing the Market, Creating a Great Opportunity for Sellers
Even with the lack of inventory, we are seeing strong sales volume and when high-quality homes come on the market they are selling quickly and for top dollar. Many high-quality homes in the <$1M range are receiving multiple offers, especially in the sub $700K range where there are more buyers and minimal inventory. For example, in the month of May, we saw 65 homes trade hands and of those homes 23 sold within 7 days and 37 sold in under a month. In 2019 the average marketing time is 87 days, so when we see over 50% of the home sales taking place in under 30 days, you know that the demand for inventory is strong. If you are going to sell your home in 2019, there is no better time than now.
I'm Optimistic that the Market Will Turn Around in Q3
There is no doubt that there is some uncertainty in the market, but when we dive into the statistics and make seasonal adjustments, we are doing very well. I am optimistic that as the selling season kicks off, we are going to see normalcy return to the market and I expect 2019 to have a strong Q3 and Q4. If you are thinking of selling your house, now is the time as buyers are hungry for new inventory, especially high-quality homes at all price points.
Year over Year Lake Tahoe, CA Real Estate Market Conditions and Value Trends
Jan – May 2019 Statistics
293 Single Family Home Sales Down 13%
Avg. Marketing Time: 87 Days Up 9%
Avg. List to Sold Discount: 4.2% Down 2%
Total Sales Volume: $362M Down 19%
Average Price: $1.23M Down 7%
Median Price: $725K Down 1%
2 REO & Short Sales Down 33%
5 Sales Below $300K Down 17%
85 Sales over $1M Down 24%
20 Sales over $3M Down 38%
High Sale Price: $37M Down 8%
Low Sale Price: $175K Down 12%
Jan – May 2018 Statistics
337 Single Family Homes
Average Marketing Time: 79 Days
Avg. List to Sold Discount: 4.3 %
Total Sales Volume: $446M
Average Price: $1.32M
Median Price: $729K
3 REO & Short Sales
6 Sales Below $300K
111 Sales over $1M
32 Sales over $3M
High Sale Price: $40M
Low Sale Price: $199K
Lake Tahoe Real Estate May 2019 Market Report Sales Chart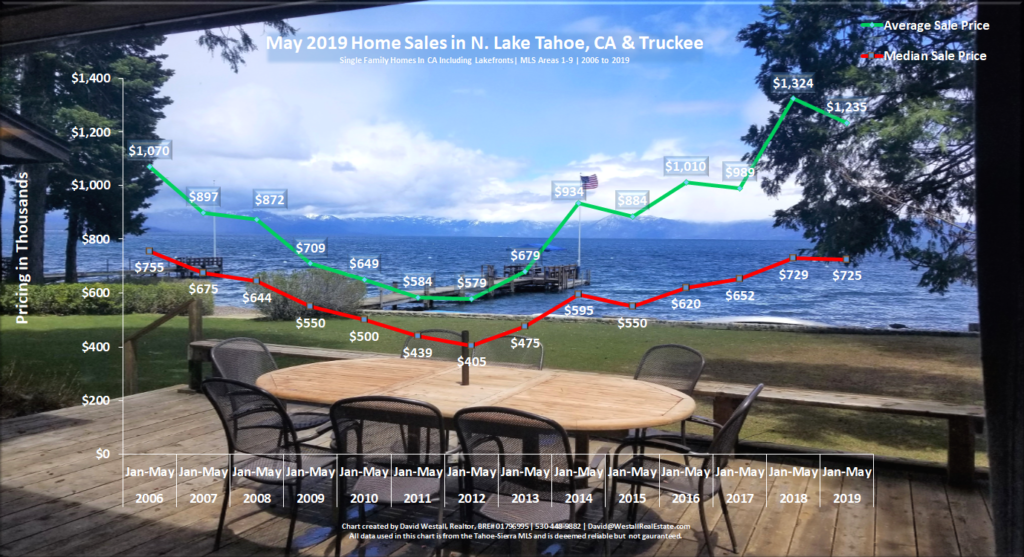 Lake Tahoe Real Estate May 2019 Sales Volume Chart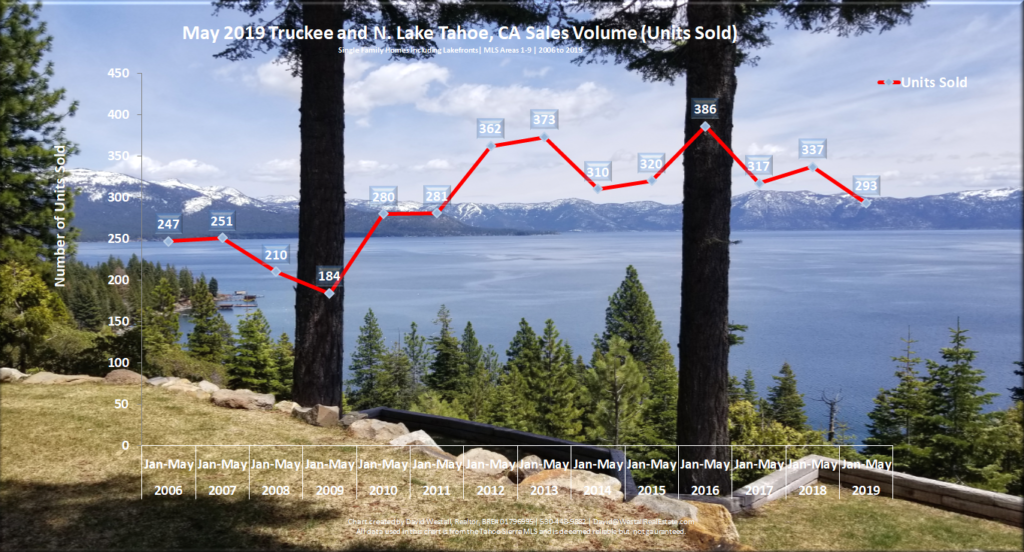 *North Lake Tahoe, CA and Truckee Single-Family Home sales including lakefronts. Data is taken from the Tahoe-Sierra Board of Realtors, MLS Areas 1-9.
Lake Tahoe Real Estate Market Report Archive
Contact Dave Westall – Lake Tahoe Real Estate Agent
Do you have questions about Lake Tahoe Real Estate? Please call me at (530) 448-9882 if you would like to discuss Lake Tahoe real estate market conditions in more detail or to talk about how we can achieve your real estate goals together.
For Lake Tahoe real estate news, property listings, and events Sign up for our Newsletter.