Buyers are Making Moves in the 4th Quarter
As we move into the home stretch of the 4th quarter, we are seeing an increased number of closed sales as buyers are making moves going into the ski season. Buyers remain confident in the North Tahoe, CA and Truckee real estate markets which is why we saw a 4% increase in sales volume in the month of November, an 8% increase in the median home price and a 4% increase in the sale of $1M+ homes. This is great news as 2019 had a rough start due to a severe winter, lack of inventory and confusing economic signals. Typically, our markets take off by May, but this year the summer selling season didn't show its face until mid-July, which caused some issues. Luckily, from July onwards, a robust marketplace took hold with significant sales volume and an increasing median home price.
Lake Tahoe Real Estate Market Report November 2019 Highlights
The median home price is up 3% at the end of October to $745,000
Luxury home sales account for 29% of all sales in 2019
2019 High is a $37M Tahoe City lakefront, Oliver Luxury Real Estate represented buyer
Gray's Crossing sales volume is up 36% with the median home price up 16% to $1.6M
In Lahontan, the average home price is up 7%, the median is up 18% and the average price per square foot is up 7.5% to $648.66. This large jump is mostly due to a higher volume of new construction home sales.
30 Martis Camp luxury homes have sold this year with an average price of $5.3M which is up 9%, median home price is up 9% to $5.1M and the average price per sqft is up 6% to $1,169.62 per square foot.
Compelling Listings are Selling Quickly
Currently there are 86 single family homes in escrow and 19 of these listings were on the market for 20 days or less. This is an indicator that buyers are hungry for quality inventory and when compelling listings hit the market, buyers are quickly making moves. The luxury market has been robust throughout the year and 30% of the current pending sales are in the $1M+ price range, which should have a positive impact on the market as we finish up the 2019 selling season.
Since the market began to correct in 2012, the trend has been that buyers are looking for new homes, homes that are in good condition/remodeled, homes that are set in superior locations and properties that offer significant value. This trend remains true and will carry into 2020, so sellers will need to accommodate buyer demands or risk longer than average marketing times and possibly leaving money on the table.
Year over Year Lake Tahoe, CA Real Estate Market Conditions and Value Trends
Jan – November 2019 Statistics
966 Single Family Sales Down 5.4%
Avg. Marketing Time: 66 Days Up 3%
Avg. List to Sold Discount: 4.1% Up 12%
Total Sales Volume: $1.09B Down 11%
Average Price: $1.13M Down 7%
Median Price: $745K Up 3%
4 REO & Short Sales Down 43%
16 Sales Below $300K Even
276 Sales over $1M Down 6%
55 Sales over $3M Down 28%
High Sale Price: $37M Down 8%
Low Sale Price: $110K Down 35%
Jan – November 2018 Statistics
1,021 Single Family Homes
Average Marketing Time: 64 Days
Avg. List to Sold Discount: 3.6%
Total Sales Volume: $1.25B
Average Price: $1.22M
Median Price: $722K
7 REO & Short Sales
16 Sales Below $300K
292 Sales over $1M
76 Sales over $3M
High Sale Price: $40M
Low Sale Price: $168K
Pricing a Home Correctly Remains Paramount to Sales Success
Tahoe properties that are overpriced or not aesthetically pleasing have been difficult to sell in 2019, which is why we saw numerous price reductions in the 3rd and 4th quarter. Currently there are 41 homes in escrow (out of 86) that have received price reductions and the average marketing time for these properties is 145 days, which is a 46% longer marketing time than the average home (66 days on avg). If you are looking to sell a property in 2020 you will want to work with your Realtor to price your home effectively, make sure that your home shows well and that you have eliminated as many objections as possible.
New Snow is Good for Q1 2020 Sales
We are fortunate to have received a good amount of snow to start our winter off and the ski resorts are all humming going onto the holidays. A strong holiday season in Tahoe typically helps push buyers to make purchase decisions which should have a positive impact on the first quarter of 2020. I expect to see low inventory levels in the first half of the year, which will be frustrating for buyers but good for sellers. If you see a house that you love, make a move quickly as buyer activity remains robust and the best homes will sell quickly and for top dollar.
Lake Tahoe Real Estate November 2019 Market Report Sales Chart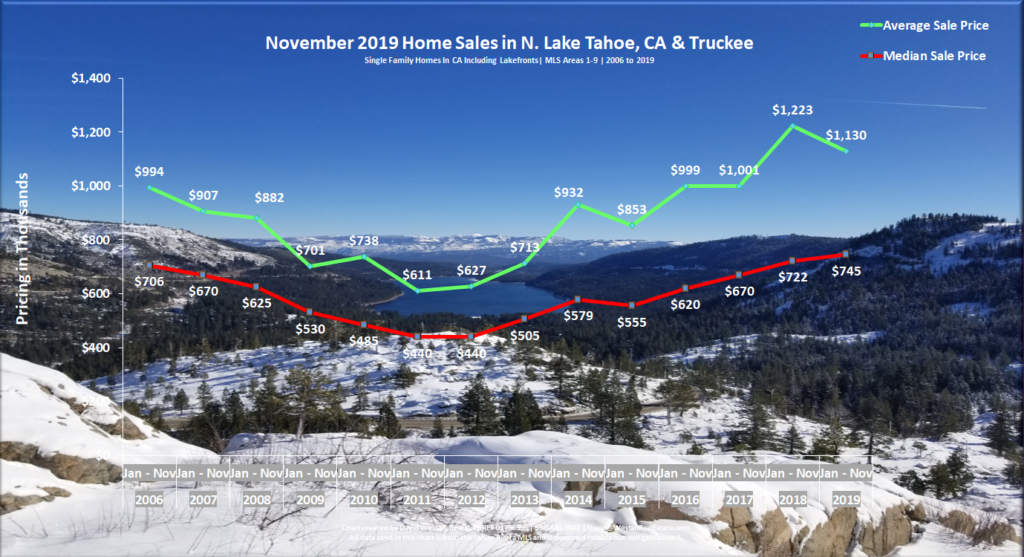 Lake Tahoe Real Estate November 2019 Sales Volume Chart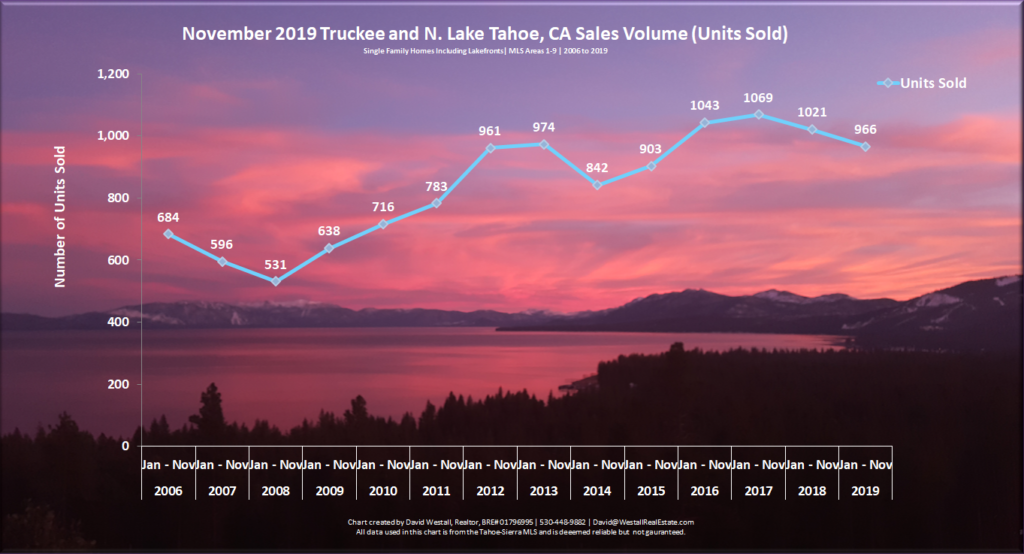 *North Lake Tahoe, CA and Truckee Single-Family Home sales including lakefronts. Data is taken from the Tahoe-Sierra Board of Realtors, MLS Areas 1-9.
Lake Tahoe Real Estate Market Report Archive
Contact Dave Westall – Lake Tahoe Real Estate Agent
Do you have questions about Lake Tahoe Real Estate? Please call me at (530) 448-9882 if you would like to discuss Lake Tahoe real estate market conditions in more detail or to talk about how we can achieve your real estate goals together.
For Lake Tahoe real estate news, property listings, and events Sign up for our Newsletter.