Last week a client was asking me about the Lake Tahoe and Truckee Real Estate markets and whether supply and demand are in balance.  In my response to my client I put together an email that calculated the absorption rate for Lake Tahoe real estate and I determined that the Lake Tahoe and Truckee real estate markets are currently balanced, but just barely.
Here is how I calculated the Lake Tahoe and Truckee real estate absorption rate:
1) Number of active single family residential (SFR) listings in all of Truckee/N. Tahoe (MLS Areas 1-9) = 524 Listings
2) Number of SFR sales in the last 12 months (May 30th 2011 to May 30th 2012) = 949 Sales
3) Divide the number of sales by 12 months 949/12= 79 sales per month
4) Divide the current inventory by sales per month 524/79 = 6.6 months of inventory
5) According to the defined market conditions below 6.6 months of inventory equals a Balanced Market.
Defined Market Conditions
Sellers Market = 1-4 months of inventory
Balanced Market = 5-7 months of inventory
Buyers Market = 7+ months of inventory
In the last 6 months I have found that buyers have very few choices in a given price points. For example, if a buyer is looking for a home that is move in ready and does not have lots of differed maintenance there are very few choices which equates to limited supply.  It has become a more regular trend over the last 6 months that when we find well priced homes that are move in ready there always seem to be multiple offers (strong demand) and it is difficult to get a buyers offer accepted by the seller unless we submit a very strong offer.
In order to further illustrate the increased demand for Lake Tahoe Real Estate I have put together the chart below that graphs out Month over Month Lake Tahoe sales trends from 2008 to 2012.  Each color in the chart represents a different month and each month surveys single family sales volume from 2008 to 2012.  In this chart I have also included a trend line that easily shows that Lake Tahoe sales volume is trending upwards!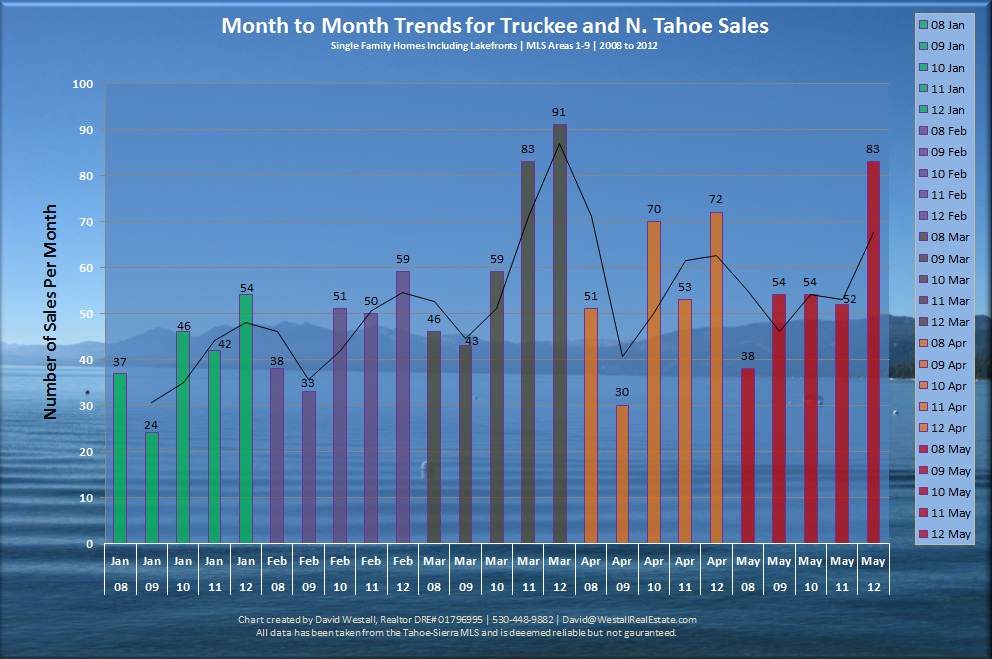 Click on Image to Enlarge Chart
If you have any questions about the current market in N. Tahoe or Truckee please feel free to contact me anytime as I am happy to help.
Best regards, Dave

David Westall, Realtor | Tahoe Riverfront Realty, Inc. | DRE# 01796995
530-448-9882 | David@WestallRealEstate.com | www.WestallRealEstate.com