Luxury Home Sales Push the Truckee & Tahoe Real Estate Market up 13% in 2016
The weather is heating up in Lake Tahoe and so are the real estate markets!  We are seeing substantially increased buyer demand in 2016 and sales volume is up 17% over last year, which is the strongest it has been in the last 11 years! The increase in buyer demand is due to the fact that we had a great ski season last winter, Lake Tahoe is above its natural rim, the Bay Area economy continues to provide stability to the Tahoe second home market and wealthy buyers feel that Tahoe is a safe place to park their cash.  All of these factors are driving demand for Tahoe and Truckee real estate and the market is the healthiest it has been in over a decade.
Sales of luxury homes are up 53% showing that wealthy buyers are confident in the Tahoe market.  We are seeing a tremendous amount of competition in the sub $600K price ranges which has created a higher level of multiple offer situations.  With the summer selling season under way, I anticipate that the market will continue to show strength.
Year over Year Statistical Comparison
May 2016 Statistics
386 Single Family Home Sales up 17%
Avg. Marketing Time: 119 Days down 6%
Avg. List to Sold Discount: 3.5% up 12%
Average Price: $1.01M up 13%
Median Price: $620K up 11%
12 REO & Short Sales down 20%
19 Sales Below $300K down 5%
97 Sales over $1M up 53%
27 Sales over $3M up 37%
High Sale Price: $8.9M even
Low Sale Price: $202K up 50%
May 2015 Statistics
320 Single Family Homes
Average Marketing Time: 126 Days
Avg. List to Sold Discount: 3.1%
Average Price: $884K
Median Price: $550K
15 REO & Short Sales
20 Sale Below $300K
46 Sales over $1M
17 Sales over $3M
High Sale Price: $8.85M
Low Sale Price: $100K
Year Over Year Lake Tahoe Real Estate Sales Chart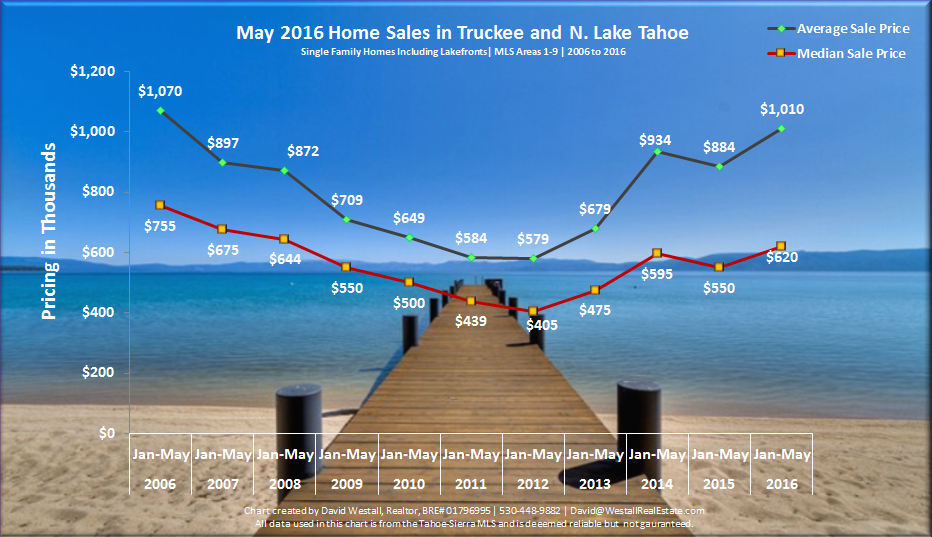 *North Lake Tahoe and Truckee Single Family Home sales including lakefronts. Data taken from the Tahoe-Sierra Board of Realtors, MLS Areas 1-9.
Do you have questions about Lake Tahoe Real Estate? Please call me if you would like to discuss the Lake Tahoe real estate market conditions in more detail or talk about the specific market conditions where your home is located. I would be happy to put together a specific market analysis for your home and provide you with information about how I can help you sell your home for top dollar.

David Westall, Realtor
OLIVER LUXURY REAL ESTATE
P: 530-448-9882
David@WestallRealEstate.com
CA BRE# 01796995