Lake Tahoe Lakefront Homes for Sale
Lake Tahoe Lakefront homes for sale are the most desirable luxury properties within the Tahoe Basin. Tahoe lakefront real estate and Tahoe luxury homes offer amenities such as private lake frontage, buoys, piers, boathouses, hot tubs, movie theaters, and many other custom home features. Pricing for entry-level Tahoe Lakefront homes start at around $4M and surpasses $50+M for the ultimate in luxury lakefront real estate. Sierra Sotheby's International Realty is the top Brokerage for Lake Tahoe lakefront real estate sales and we would be honored to help you find your dream home and "Define Your Lifestyle."
Purchasing Tahoe Lakefront Homes for Sale
I would love the opportunity to talk with you and discuss your goals of owning Tahoe lakefront property, and review Tahoe lakefront homes for sale that might be a good fit. After discussing your goals, I will put together a plan so that I can help you purchase a Tahoe lakefront home that will exceed your expectations. When it comes to purchasing Tahoe lakefront real estate you will find that I'm a true advocate. I offer a level of service and professionalism that is pleasantly surprising. My goal is to help educate you on the differing lakefront neighborhoods and factors that affect a property's value. When the time is right, I will help structure the sale in a manner that delivers results.
Selling Tahoe Lakefront Real Estate
If you are looking to sell your Lake Tahoe lakefront property I have the professional experience and knowledge that will help you sell your lakefront home for top dollar in the most efficient manner possible. I would be grateful for the opportunity to discuss your goals, schedule a tour of your lakefront home, and put a listing presentation and marketing plan together so that I can help you sell your Tahoe lakefront property.
Sierra Sotheby's International Realty is the Tahoe lakefront market leader as we consistently sell significant lakefront homes on Lake Tahoe. With Sotheby's offices located in the most affluent communities in the US and globally, we are able to network with the best agents, buyers and sellers to effectively sale luxury real estate. Our brand, network, award-winning marketing, and determination help create the highest level of exposure for your Tahoe lakefront property and our results speak volumes.

Sierra Sotheby's is the exclusive partner of Who's Who in Luxury Real Estate, a network of the finest luxury real estate firms around the globe. Our company was hand-selected and vetted to be a part of Luxury Real Estate's elite membership: Board of Regents. This distinguished accolade gives the luxury listings we represent, prime placement on LuxuryRealEstate.com, providing our listings with the best exposure to luxury real estate enthusiasts, agents and buyers on a global platform.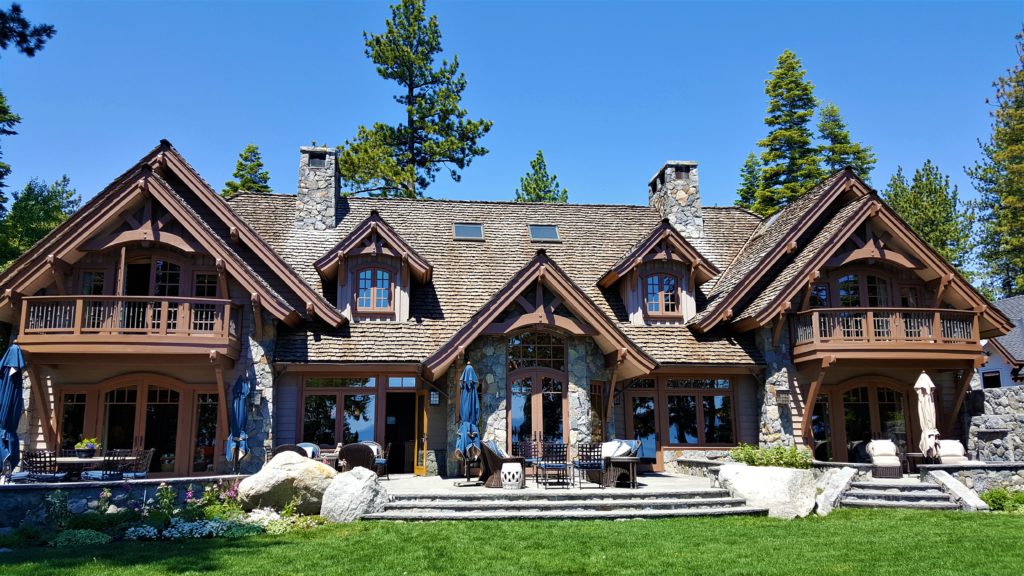 7 Factors Affecting Tahoe Lakefront Real Estate Value
1) Lot Size, Topography, and Proximity to Highway
Whether a Tahoe lakefront home for sale is situated on a small lot within close proximity to the highway, a smaller narrow lot that is deeper and set away from the highway, or on a large acreage sized parcel can have a significant effect on lakefront pricing. The Tahoe lakefront market is willing to pay a premium for estate quality lakefront homes. Waterfront properties that are affected by highway noise are often more affordable. The topography of the lot will also affect value as larger level lots are more desirable than smaller steep, down-sloping parcels.
2) Lake Tahoe Piers
A private pier will increase the value of a Tahoe lakefront property by $500,000 to $2,000,000+. A $2M pier will offer boat lifts, covered storage/boathouse, and possibly a rock cribbing providing a sheltered mooring for your boat. Lakefront homes with shared piers are also desirable but add less value than a private pier. Tahoe lakefront real estate that does not have a pier is less desirable as it's difficult to obtain permits for a private pier due to Tahoe Regional Planning Agency regulations. If you think you want/need a pier, its best to purchase a home with an existing pier as obtaining permits from TRPA and CA Lands to build a pier can take years and the cost of construction is very high.
3) Tahoe Lake Frontage
A property's value will take into consideration the amount of lake frontage a home has. Tahoe lakefronts with more frontage have greater access to the lake and become more valuable. Tahoe lakefronts with over 100 feet of frontage are the most desirable and demand a premium. These homes offer a more private setting and increased views of Lake Tahoe. These top tier lakefronts will typically sell more quickly than lakefronts with inferior lake frontage.
4) Estate Quality Tahoe Lakefront Properties
Lake Tahoe Estate quality lakefronts are very desirable for the added privacy they provide and for the quiet setting that they offer. In addition, these lakefronts offer a higher level of coverage that allows for the construction of larger homes, garages, and secondary living structures. Lakefront buyers will pay a premium for tear downs which allow for custom mountain home construction. Tahoe lakefront estates often have deep water piers, a higher amount of lake frontage, and are considered to be the most sought after in Lake Tahoe real estate.
5) Off-Highway Tahoe Lakefront Properties
These Tahoe lakefront properties are set off the highway on secondary streets. This provides a more peaceful setting, although they are not typically acreage properties. Off-highway Tahoe lakefront homes can be found on the North and West Shores of Lake Tahoe. These areas are Dollar Point, Tahoe Sierra Estates, Tahoe Park, Sunnyside, Meeks Bay, and the Ring Roads. There are a few other highly desirable side streets as well, which are in high demand. These lakefront properties are very desirable for their reduced road noise, superior privacy, views, and amenities.
6) Entry-Level Tahoe Lakefront Properties
The entry-level Tahoe lakefront home is typically located on a smaller lot, located within close proximity to the highway, and often have lower water depths. These lakefronts are a great way to get into the Lake Tahoe lakefront real estate market. These Tahoe properties offer a lakefront location, great views, and access to lake activities/sports. Easy winter access at a more affordable price makes these homes very attractive to Tahoe buyers. Although considered entry-level, these homes have pricing that starts around $2M.
7) Neighborhood Amenities
Some Tahoe lakefront homes are located in neighborhoods that have Homeowner Association amenities such as sandy beaches, piers, pools and/or buoys. Tahoe Park offers a private park with +/- 800 feet of lake frontage. Plus, they have 2 piers, shared buoys, BBQ areas with picnic tables, horseshoe pits, and volleyball. The very desirable Dollar Point neighborhood offers a private beach, pier, buoys, tennis courts, and pool. Neighborhoods with additional shared amenities are desirable and positively affect pricing.
Contact Dave Westall, Tahoe Lakefront Realtor
I would love the opportunity to talk to you about lakefront living in beautiful Lake Tahoe, CA. My real estate knowledge will help you find the perfect Tahoe lakefront property that will meet all of your needs and facilitate your dreams. Contact me Dave Westall (Lake Tahoe Real Estate Agent) –(530) 448-9882 today so that I can help you realize your goal of living the dream in Lake Tahoe!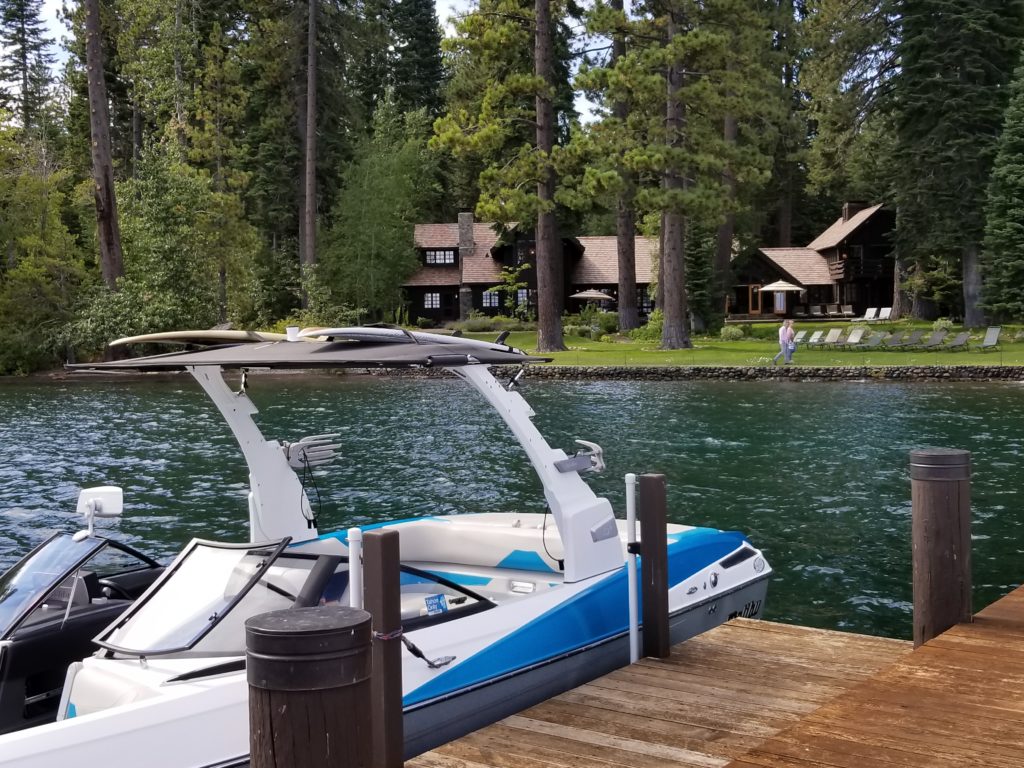 Lake Tahoe Lakefront Homes for Sale