Opportunistic Buyers are Taking Advantage of  Lake Tahoe Home Pricing
2015 has been a solid year for real estate sales volume in Truckee and N. Tahoe with 6.75% more single family home sales than last year. Unfortunately, average and median home pricing will be slightly off the pace of the record-setting gains of 2014.   Although pricing is down, the 4-year trend is still upwards meaning that we are continuing on the path of recovery.  In 2015, opportunistic home buyers remained positive on Lake Tahoe real estate despite 4 years of drought conditions, but they were only purchasing the best-priced homes on the market that they considered a "deal".  Homes that were overpriced or not located in the best locations were stagnant and took longer to sell… if they sold at all.
It would appear that if the
Godzilla El Nino
 delivers a solid winter, the Tahoe markets will show positive gains in 2016. So far, Lake Tahoe is off to the best start of winter in many years. Heavenly Ski Resort reported on 12/14 that they already surpassed the season snowfall total for last season!  The San Francisco Bay area economy is hot and if we could get out of the drought, buyers would be more apt to invest in the Tahoe markets which would drive up home pricing.  So far, we are off to a great start this winter and with a little luck, we will have an above average snowfall which will provide great skiing and riding, help fill up Lake Tahoe and strengthen the Tahoe economy. Pray for continued snow!
November 2015 Lake Tahoe Real Estate Sales Chart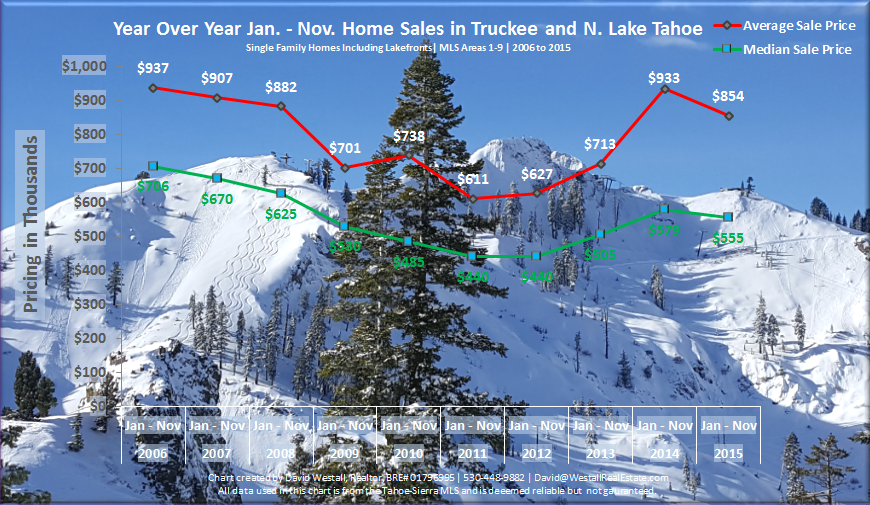 *North Lake Tahoe and Truckee Single Family Homes Including Lakefronts. Data taken from the Tahoe-Sierra Board of Realtors MLS Areas 1-9
Year over Year Lake Tahoe Real Estate Market Analysis
January – November 2015 Statistics
903 Single Family Home Sales up 6.75%
Avg. Marketing Time: 96 Days up 7.3%
Avg List – Sold Discount: 3.3%, down 28%
Average Price: $854K down 8.5%
Median Price: $555K down 4%
30 REO & Short Sales down 36%
11 Sales Below $200K up 27%
143 Sales over $1M down 18%
40 Sales over $3M down 27%
High Sale Price: $9.95M down 29%
Low Sale Price: $99.5K up 24%
January – November 2014 Statistics
842 Single Family Homes
Average Marketing Time: 89 Days
Avg. List to Sold Discount: 4.6%,
Average Price: $933K
Median Price: $579K
47 REO & Short Sales
8 Sales Below $200K
174 Sales over $1M
55 Sales over $3M
High Sale Price: $14M
Low Sale Price: $76K
*North Lake Tahoe and Truckee Single Family Homes Including Lakefronts. MLS Areas 1-9
If you would like to discuss Lake Tahoe real estate market conditions in more detail or talk about the market where your home is located please feel free to call or email me. I would be happy to put together a specific market analysis for your home and provide you with information about how I can help you sell your home for top dollar.
David Westall, Realtor
OLIVER LUXURY REAL ESTATE
P: 530-448-9882
David@WestallRealEstate.com
CA BRE# 01796995