October 2014 Lake Tahoe Real Estate Market Report
The North Lake Tahoe and Truckee real estate markets continue to show strength going into the final months of the year with sales of $1M+ properties leading the charge. Although sales volume is down 16% over last year, we continue to see the average and median home price push upwards with each new sale. In 2014 distressed home sales (REO & Short Sales) are few and far between which has had a positive impact on the Lake Tahoe real estate markets. We continue to see a surge in Tahoe luxury home sales which has a direct correlation to the red-hot San Francisco Bay area economy. Currently, there are 151 pending single-family home sales and the average price for these pending sales is $1.1M which gives me confidence that the remainder of 2014 will be strong and will give the Tahoe markets a strong push into the new year.
Year over Year Market Comparison
January – October 2014 Statistics

January – October 2013 Statistics


745 Single Family Home Sales down 16%
Average Price: $915K up 22%
Median Price: $575K up 13%
45 REO & Short Sales down 59%
7 Sales Below $200K down 74%
151 Sales over $1M up 27%
High Sale Price: $14M up 32%
Low Sale Price: $76K up 5%

890 Single Family Homes
Average Price: $712K
Median Price: $500K
110 REO & Short Sales
27 Sales Below $200K
110 Sales over $1M
High Sale Price: $9.49M
Low Sale Price: $72K
*Lake Tahoe and Truckee Single-Family Homes Including Lakefronts, MLS Areas 1-9
October 2014 Lake Tahoe Real Estate Market Report Analysis Sales Chart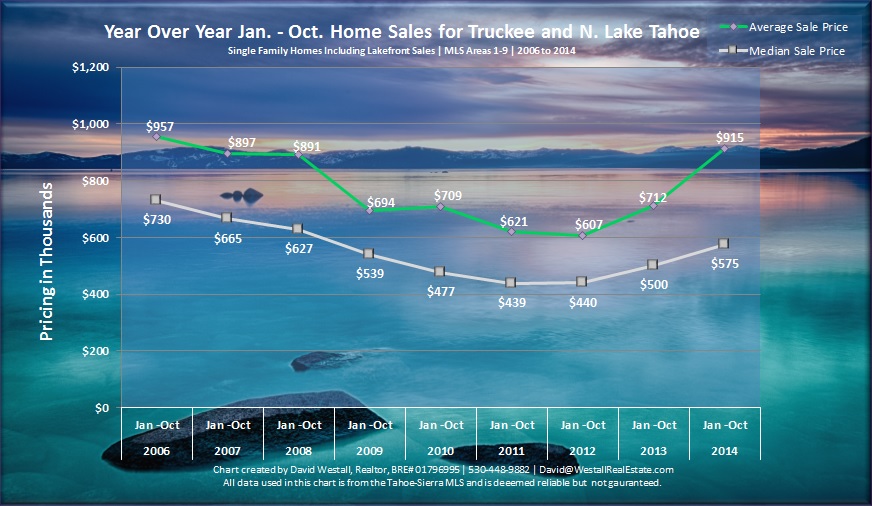 This chart shows that in the first 10 months of 2014 the Average home price in Truckee and N. Lake Tahoe is up 22% and the Median price is up 13% over the same time period in 2013.
Anticipated 4th Quarter Market Conditions
• High buyer demand for quality properties
• Limited inventory in given price points
• Pricing Increases of 12-18% by the end of year
• Fewer distressed sales (REO and Short Sales)
• The higher end of the market will continue to set records
• Mortgage interest rates will remain favorable for the next 6 months and it appears that conventional 30-year rates will hover in the 4.25% – 4.85% range creating a fantastic opportunity to purchase or refinance.
So far in 2014 Oliver Luxury Real Estate has sold $175M in Tahoe/Truckee real estate and is the #1 Luxury Brokerage in North Lake Tahoe! It would be my pleasure to discuss your real estate goals, so please feel free to call or email me anytime530-448-9882David@WestallRealEstate.com.
David Westall, Realtor
OLIVER LUXURY REAL ESTATE
P: 530-448-9882
David@WestallRealEstate.com
www.WestallRealEstate.com
CA DRE# 01796995