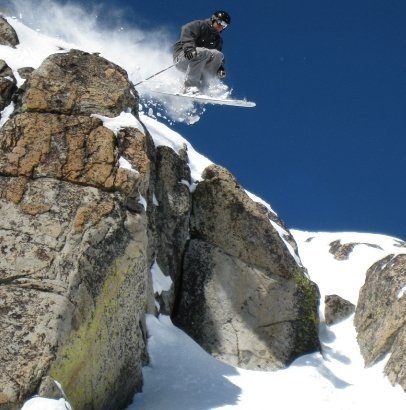 Today we received confirmation from Outside Magazine to what many of us already know, Squaw Valley has been ranked as the #1 ski resort in North America! This may come as little surprise to the people that ski Squaw on a regular basis, but now the rest of the world knows what resorts boasts the best terrain providing for the ultimate skiing experience in North America.  This is great news for Squaw Valley as well as N. Lake Tahoe where Squaw resides as this article will surely help boost tourism and interest in skiing in the Tahoe region.
Outside Magazine
November 5th, 2012
By: Avital Andrews
"It hosted the Olympic Games more than 50 years ago but Squaw Valley is still the reigning champion of American ski resorts. With 300 bluebird days and 450 inches of snowfall per year, it's hard to catch a bad time here.
Before we get into the qualitative stuff, let's look at a few more stats: the powder-day percentage is high—17 percent—and 170 trails represent 3,600 acres of variable terrain that drop 2,850 feet. Experts rip through steeps, chutes, and 16 bowls while noobs stick to the beginner-friendly mountaintop. Thirty lifts have an hourly capacity of 49,000 people and include a 110-passenger tram, a 28-person funitel, and the new Big Blue, a high-speed six-pack. Three terrain parks feature a kids' pipe, though there are other ways to keep little ones entertained: a tube park, an ice-skating rink, sleigh rides, and mini-snowmobiling.
Squaw claims to have the "smoothest rental process in the states," and the fact that you can pick gear up a day ahead supports that assertion. However, most things here are on the pricier side—maybe because this season's $24 million in improvements need to be recouped. Ways to save here include buying in a group of 10 or more, opting for night skiing ($39 on Fridays and Saturdays), or enlisting—military personnel get free lift tickets on non-holiday weekdays. A ticket here also grants you access to the lifts at nearby Alpine Meadows, now that the two mountains are under shared management—a merger deal whose beginnings started when both resorts' CEOs shared a chairlift ride.
Safety's important here, so the ski patrol is very big. There's also a medical clinic at Squaw's base—its doctors are part of the 1,600-person winter staff, alongside gear valets and world-class instructors. You can learn from gold-medal Olympians Jonny Moseley and Tamara McKinney and pro skiers Ingrid Backstrom and Robb Gaffney. Many of the coaches are Level 4 equivalents and run programs like "Gates to Skills," during which Thomas Gardtman, who's taught Olympians, shows students how to tackle all-terrain conditions.
When it's time to get off the hill, a plethora of après options await. The main lodge's Olympic Plaza Bar is completely renovated and the pedestrian Village at Squaw Valley has fire pits that act as people magnets. You'll also see lots of gear shops, pubs, and eateries. The area's finest dining experience is a four-mile drive away, in Manzanita at the Lake Tahoe Ritz Carlton. Come nighttime at Squaw, DJs and bands grab the spotlight at drinking holes like Bar One, Cornice Cantina, and the Auld Dubliner. For a mellower party, head to the elevation-8,200 mountaintop pool and hot tub, where Umbrella Bar takes care of your cocktail needs.
Among the village's six hotels are the AAA 4-Diamond Resort at Squaw Creek, whose spa menu relies on exotic ingredients; PlumpJack, whose refined surroundings reflect the preferences of Gavin Newsom, its politician founder; and popular Red Wolf Lodge—all three are ski-in/ski-out. The Silver Creek Campground is less than two miles away, and is a beautiful place in which to get to more intimately know Truckee National Forest and its river.
Squaw's pristine environs inspires resort managers to make sustainability a huge priority. Every summer, projects involve repopulating native plants, controlling erosion, and ridding the area of invasive species. Snowmaking processes have been redone so as to save energy and water even while creating more of the white stuff. The resort also generates some of its own energy onsite: For example, the aerial tram, as it goes downhill, can make enough energy to feed back to the grid.
Clearly, Squaw knows how to make things last: Though the 1960 Olympics are long over, this impressive resort has had the endurance and wherewithal to remain relevant, attractive, and utterly dominant."
CONTACT: (800) 403-0206, squaw.com
SEASON: Late November to late April
TICKETS: General: Adult $92 ($78 for a half day; discounts for groups of 10 or more; military personnel get in free on non-holiday weekdays), ages 13 to 22: $76, ages 5 to 12: $39, ages 65 and older: $76, ages 4 and younger: free
Dave Westall, Realtor
Tahoe Riverfront Realty, Inc.
P: 530-448-9882
David@WestallRealEstate.com
www.WestallRealEstate.com
CA DRE# 01796995