Sales of Lake Tahoe Luxury Homes are up 38% in the First Quarter of 2016
With 3 months of sales data behind us it's safe to say that Lake Tahoe real estate is off to a great start! Total sales volume is up 17% over 2015, just about every metric is showing positive gains and buyer demand remains strong while inventory is very low. The Tahoe luxury markets are white hot with sales of $1M+ properties up 39% and sales of home priced over $3M are up 19%. Multiple offer situations are becoming more common in the sub $500K price points and competition is strong for the best homes in their respective categories which has helped push median home pricing higher. I anticipate that the Lake Tahoe real estate markets will show continued strength as the year progresses.
Q1 2016 Lake Tahoe Real Estate Stats
Q1 2016 Statistics
206 Single Family Home Sales up 17%
Avg. Marketing Time: 124 Days dwn 17%
Avg. List to Sold Discount: 3.9% up 26%
Average Price: $1.024M down 1.6%
Median Price: $620K up 7.7%
5 REO & Short Sales even
7 Sales Below $300K down 36%
52 Sales over $1M up 38%
16 Sales over $3M up 19%
High Sale Price: $7.18M down 18%
Low Sale Price: $213K up 44%
Q1 2015 Statistics
170 Single Family Homes
Average Marketing Time: 149 Days
Avg. List to Sold Discount: 2.9%
Average Price: $1.041M
Median Price: $572K
5 REO & Short Sales
11 Sale Below $300K
32 Sales over $1M
13 Sales over $3M
High Sale Price: $8.8M
Low Sale Price: $120K
Year Over Year Q1 Lake Tahoe Real Estate Sales Chart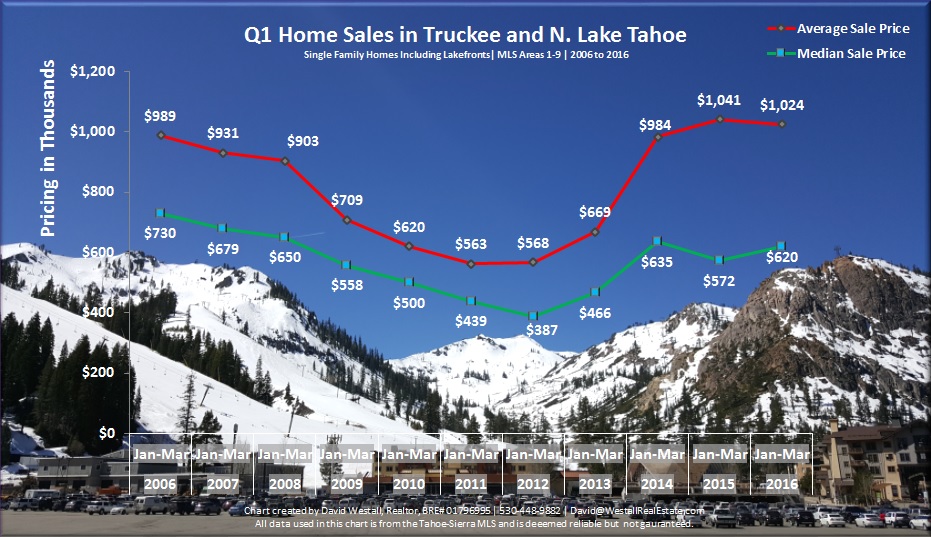 *North Lake Tahoe and Truckee Single Family Home sales including lakefronts. Data taken from the Tahoe-Sierra Board of Realtors, MLS Areas 1-9.
Please feel free to call me if you would like to discuss the Lake Tahoe real estate market conditions in more detail or talk about the specific market conditions where your home is located. I would be happy to put together a specific market analysis for your home and provide you with information about how I can help you sell your home for top dollar.

David Westall, Realtor
OLIVER LUXURY REAL ESTATE
P: 530-448-9882
David@WestallRealEstate.com
CA BRE# 01796995