Tahoe Donner Real Estate Market Report July 2014
After 7 months of real estate sales in Tahoe Donner, there has been a decrease in the number of sales as Tahoe Donner sales volume is currently down 32% from 2013. This is most likely due to the fact that over the last few years Tahoe Donner has become more expensive and there are fewer "deals" in the market which is due to a 70% decrease in distressed property sales. Currently, there are 98 homes for sale in Tahoe Donner which is just about equal to 2013 inventory levels, we are seeing fewer quality listings and these listings are priced 6% higher on average which is slowing down Tahoe Donner sales volume. Even though sales volume is down this year, buyer demand remains strong and when a good property hits the market and it's priced well, buyers are moving quickly and these homes are selling fast.
Year over Tahoe Donner Real Estate Market Report July 2014 Comparison
January – July 2014 Statistics

January – July 2013 Statistics


98 Single Family Home Sales down 32%
Average Price: $619K up 6%
Median Price: $588K up 10%
5 REO & Short Sales down 70%
3 Sales Below $300K down 70%
11 Sales over $900K down 15%
High Sale Price: $1.2M down 8%
Low Sale Price: $241K up 23%

145 Single Family Home Sales
Average Price: $580K
Median Price: $527K
17 REO & Short Sales
10 Sales Below $300K
13 Sales over $900K
High Sale Price: $1.3M
Low Sale Price: $185K
Tahoe Donner Real Estate Market Report July 2014 Sales Chart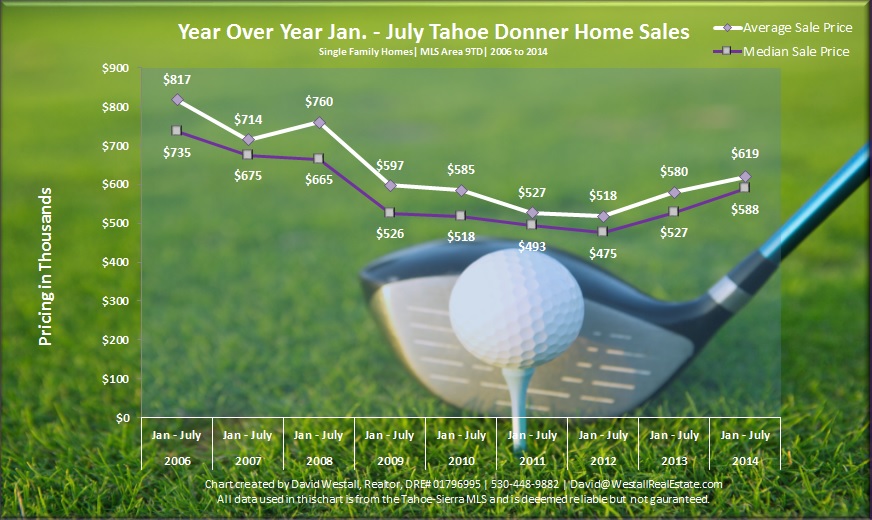 This chart shows that in the first 7 months of 2014 the Average home price in Tahoe Donner is up 6% and the Median price is up 10% over the same time period in 2013.
Anticipated Second Half Tahoe Donner Market Conditions for 2014
High buyer demand
Limited inventory
Pricing Increases of 10-12% by the end of year
Fewer distressed sales (REO and Short Sales)
Continued strength in the higher end of the Tahoe Donner market
Mortgage interest rates will continue to increase through the year and should be close to 5% by 2015. This increase will take away from buyer purchasing power as a 1% increase in loan rates equates to a reduction in purchasing power of approximately 10%
In the first 7 months of 2014, Oliver Luxury Real Estate has sold over $100M in Tahoe/Truckee real estate and we are the #1 Luxury Brokerage in North Lake Tahoe! It would be my pleasure to discuss your real estate goals, so please feel free to call or email me anytime.
Are you interested in Tahoe Donner real estate and homes for sale? Dave Westall is your Tahoe Donner Real Estate expert and is happy to answer any questions you have. Contact Dave at (530) 448-9882 or David@WestallRealEstate.com.
David Westall, Realtor
OLIVER LUXURY REAL ESTATE
P: 530-448-9882
David@WestallRealEstate.com
www.WestallRealEstate.com
CA DRE# 01796995