2012 was a great year for buyer's who purchased single family homes at a rapid rate in the Tahoe Donner subdivision of Truckee, CA.   Buyer's felt that Tahoe Donner real estate offered great opportunities due to 6 years of depressed pricing which helped single family sales volume climb 20% in 2012.  In addition to depressed pricing buyers were taking advantage of historically low mortgage interest rates which hovered around 3.657% for fully amortized conventional financing in 2012.  The combination of depressed pricing, low interest rates, and strong buyer demand led to a great year for Tahoe Donner sales.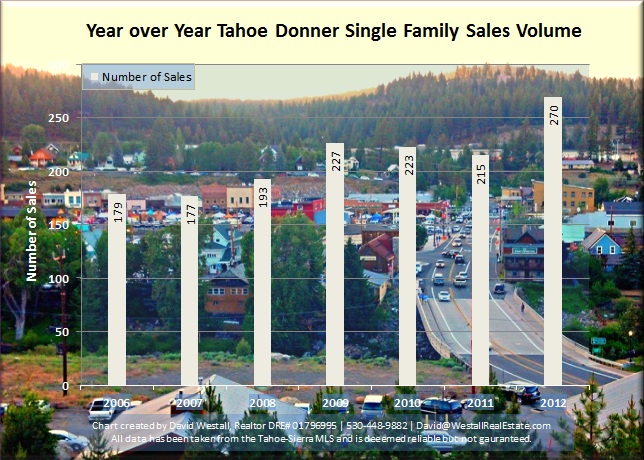 Although sales volume for Tahoe Donner single family homes was up significantly the Average and Median home price was down in 2012.  The Average price for a single family home fell from $542,000 to $523,000 which is a difference of 3.5% and the Median price fell from $500,000 to $484,000 which is a decrease of 3.2%.   The chart below shows a historical analysis of Tahoe Donner single family home sales since 2006.

2012 Tahoe Donner Market Highlights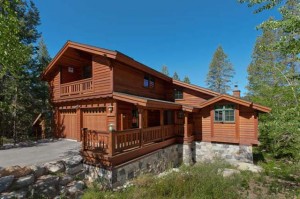 Average Price: Down 3.5% to $522,609.00
Median Price: Down 3.2% to $483,500.00
Sales Volume: Up 20% to 270 Single Family Homes
Low Price: $164,000.00
High Price: $1,200,000.00
Number of Distressed Sales (Short Sales & REO's): 41
Please contact me for more information about Tahoe Donner real estate as I would be happy to talk with you about the intricacies of Truckee's favorite subdivision.
Search the North Lake Tahoe and Truckee MLS
David Westall, Realtor
Tahoe Riverfront Realty, Inc.
P: 530-448-9882
David@WestallRealEstate.com
www.WestallRealEstate.com
CA DRE# 01796995