Continued Growth is the Trend for 2015
The start of the Lake Tahoe summer selling season is upon us and with 5 months of sales data behind us we are starting to get a clear picture of Lake Tahoe real estate trends. The North Lake Tahoe and Truckee real estate markets remain solid with sales volume up 2.5% over the record breaking pace of 2014. Luxury home sales ($1M+) are the dominant factor in the Tahoe markets and account for 47% of the total dollar volume in the first 5 months of the year. There were 17 sales over $3M in the first 5 months which is even to last year's record setting pace and supports the ongoing trend of strength in the higher end of the market.
Although there are numerous indicators that the market is strong, we are seeing signs that 2015 cannot keep pace with the 2014 market conditions. This is not necessarily a bad thing as the average Lake Tahoe home price rose 22% last year and that is not a sustainable pace for a healthy market. With the Tahoe markets flattening out in 2015 I would expect to see modest appreciation in the market, high buyer demand and smaller list to sold discounts. Sellers need to be cautious of being overzealous with pricing as buyers are price sensitive and homes that are priced well in the market are selling quickly while slightly overpriced homes and lingering.
May 2015 Tahoe Real Estate Trends Chart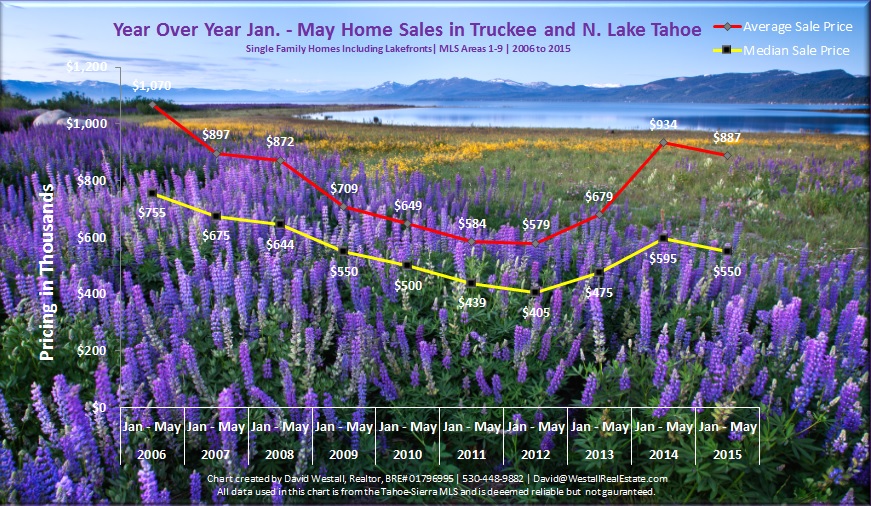 Year over Year Lake Tahoe Real Estate Trends Comparison
May 2015 Statistics
• 318 Single Family Home Sales up 2.5%
• Avg. Marketing Time: 126 Days up 22%
• Avg. List to Sold Discount: 3.1%, down 35%
• Average Price: $887K down 5%
• Median Price: $550K down 7.6%
• 14 REO & Short Sales down 50%
• 5 Sales Below $200K up 60%
• 45 Sales over $1M down 30%
• 17 Sales over $3M even
• High Sale Price: $8.85M down 37%
• Low Sale Price: $100K up 24%
May 2014 Statistics
• 310 Single Family Homes
• Average Marketing Time: 98 Days
• Avg. List to Sold Discount: 4.79%,
• Average Price: $934K
• Median Price: $595K
• 28 REO & Short Sales
• 2 Sale Below $200K
• 64 Sales over $1M
• 17 Sales over $3M
• High Sale Price: $14M
• Low Sale Price: $76K
*North Lake Tahoe and Truckee Single Family Homes Including Lakefronts. MLS Areas 1-9
Please feel free to contact me to discuss the Lake Tahoe and Truckee market trends as I would be happy to answer any questions you have or provide insight into market conditions for your specific Tahoe/Truckee neighborhood. With high buyer demand this is going to be a busy summer for real estate sales, so if you are considering selling your Tahoe property lets talk today and discuss how I can help you sell your home for a price that will exceed your goals.