The best spring events in North Lake Tahoe are coming up soon…
After a record-breaking 25 feet of snow in February, spring skiing is sounding better than ever! We are looking forward to many sunny, corn-filled spring skiing days and some of the most entertaining events of the year. Below are some of our favorite spring events in North Lake Tahoe!
*All spring events are subject to change.
Where: Alpine Meadows Sun Deck
When: March 9th – May 25th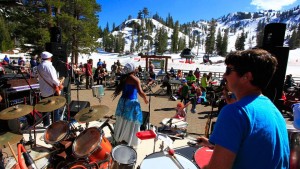 Nothing caps off a day of skiing and riding quite like sitting in the sun and soaking in some live music! Featured bands include Joy & Madness, Diggin' Dirt, Coburn Station, Mo Jo Green and more! View the Music Lineup
Where: Alpine Meadows Sun Deck
When: March 9th – May 25th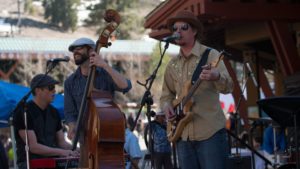 There is no shortage of apres ski live music at Squaw Valley! Enjoy a robust music schedule on the KT Deck, in the Village, or up at High Camp! View the Music Lineup
Where: Squaw Valley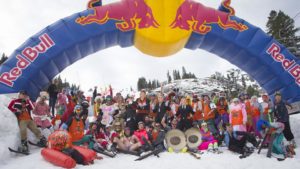 When: March 23rd
Dress up in your most outrageous ski duds and come out to Squaw Valley for a day full of belly laughs, camaraderie, and philanthropy in celebration of legendary skier Shane McConkey. Festivities include the Extreme Small Mountain Invitational and a downhill race, where pros and amateurs battle it out on snowblades for the highly coveted Golden Saucer trophy and ultimate bragging rights. More Information
Where: Squaw Valley
When: March 29 – 31
WinterWonderGrass Tahoe returns for 3 days of world-class Bluegrass/Acoustic Roots music on four stages, California and Nevada craft breweries and beer tasting all under the snow-covered peaks at Squaw Valley. It's going to be an epic weekend bringing together those who love music, mountains, and a good time. More Information
Where: Squaw Valley & Alpine Meadows
When: Every Weekend in April
Spring is in full effect at The Spring Skiing Capital! Each weekend dress up in your best Retro attire and hit the slopes, then head to your favorite apres spots for live music and drink specials. Don't forget to share your favorite Squaw Alpine spring moments with #SpringSkiingCapital.
When: April 5th – 7th
Where: Northstar California
Spring has sprung at Northstar and they are celebrating with skiing, sun, and Epic festivities! Focusing on family, fun, and wellness, Spring It On is the perfect way to enjoy a weekend outside! More Information
Where: Alpine Meadows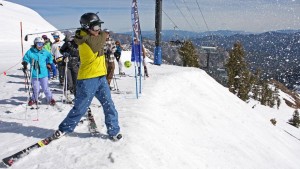 When: April 20th
Ditch the ski jacket for a collared shirt and khakis at Alpine Meadows' 35th Annual Snow Golf Tournament. As the only top-to-bottom snow golf course, Snow Golf is a unique way to spend a day on the slopes with the whole family. More Information
Where: The Village at Squaw Valley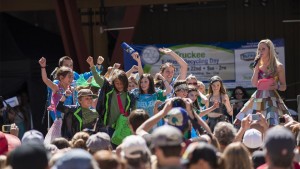 When: April 20th
Celebrate the Earth and join Squaw Valley Alpine Meadows for the largest eco-event in the North Tahoe and Truckee area. Enjoy live music, entertainment, and learn how to preserve and protect our local and global natural resources. The Earth Day Festival provides a multitude of educational booths on the topics of the watershed, health, forest health, pollution prevention, alternative energy, waste management, local art, and more. More Information
Easter Festivities Around Truckee & Lake Tahoe
When: April 20th & 21st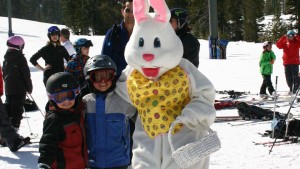 There is no shortage of Easter events throughout North Lake Tahoe and Truckee. Catch the Easter bunny on the slopes or head to the Tahoe City Golf Course for a ton of Easter fun! Below is a list of places hosting Easter events, click the links for more information!
Northstar California
Squaw Valley Alpine Meadows
Resort at Squaw Creek
Tahoe City Golf Course (April 20th)
Granlibakken, Tahoe City
Regional Park, Truckee
Tahoe Donner
Where: Cushing Pond, Squaw Valley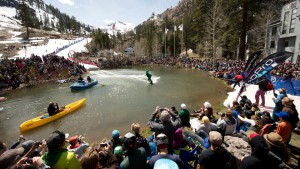 When: May 4th
The 29th Annual Cushing Crossing is the best event of the spring season. The original pond skimming event that started a spring resort ritual. Filled with big spills and laughable thrills, this is one spring event that you don't want to miss. The event kicks off at 1 pm and awards follow at the pond. More Information
Where: The Village at Squaw Valley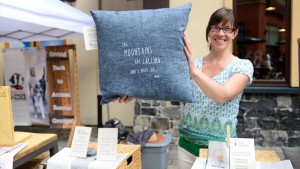 When: May 25th & 26th
Made in Tahoe Festival celebrates all things local. The Village at Squaw Valley will host a wide array of offerings that are made or inspired in the Lake Tahoe Basin. Discover, explore, and experience our special community rich with talented creators! More Information
Contact Dave Westall, North Lake Tahoe Realtor
Are you interested in Tahoe and Truckee real estate and homes for sale? Dave Westall is your North Lake Tahoe Real Estate expert and is happy to answer any questions you have. Contact Dave at (530) 448-9882 or David@WestallRealEstate.com.
David Westall, Realtor
OLIVER LUXURY REAL ESTATE
P: 530-448-9882
David@WestallRealEstate.com
CA DRE# 01796995