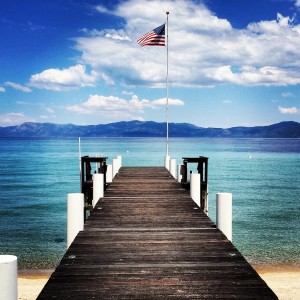 Why Buy Lake Tahoe Real Estate?
If you've visited the majestic, Lake Tahoe region, you've probably thought about what it would be like to buy Lake Tahoe real estate. Lake Tahoe property that you could return to season after season to enjoy with friends and family. Whether you love to ski powder, enjoy paddleboarding, or love to explore the wilderness; Lake Tahoe has something for everyone. Here are my top 5 reasons why you should consider purchasing Lake Tahoe real estate:
1) Lifestyle Investment
If you love the outdoors, recreation, and healthy living, then it doesn't get much better than living and owning property at Lake Tahoe. The more time you spend in Tahoe the more you will realize that there are people just like you who are passionate about skiing, biking, climbing, trail running, wake sports, etc. If you own Tahoe real estate you are more apt to participate in the activities you love, meet people that are like-minded and your overall wellness will most likely increase exponentially.
2) Own a Tangible Asset
In this day and age, you can invest your money in a multitude of different ways: stocks, bonds, gold, FX and, of course, real estate. One of the best reasons to invest in Lake Tahoe real estate is that it's a tangible asset that you can visit and enjoy. With the volatility of the stock market and global economies, there is something to be said for an investment that you can use and enjoy. Currently, the Lake Tahoe markets are still +/- 18% away from resistance levels, which creates good upside potential. Upside potential is great, but spending time with family and friends is worth its weight in gold. The lasting memories that will be created are worth the investment alone. Over the long term, Tahoe real estate has always been a fantastic investment offering a solid return.
3) Income Potential
Lake Tahoe real estate is extremely desirable and Tahoe is a top-rated destination for travelers due to the access to recreation. Many second homeowners cannot use their Tahoe properties every week or weekend so it's very common for homes and condos to be placed on a vacation rental program. By marketing your home on a rental program, you can reduce your carrying costs and let renters pay for your second home. Depending on how aggressive you are with short-term rentals, you can go from covering your taxes and utilities to actually making a decent return on investment. If you place your home on a rental program, you can also take advantage of numerous tax benefits. This will further reduce the cost of owning a second home in Tahoe (consult your CPA). I recommend talking with Tahoe Getaways to learn more about vacation rentals, costs, risks, and to evaluate a given property.
4) A Solid Retirement Plan
Lake Tahoe is the perfect place to retire if you are an active adult that loves the outdoors and spending time with friends and family. With 275 days of sun each year, mild winters, and a comfortable summer, Tahoe is the perfect place to enjoy life. You may not be considering retiring at this stage of your life. But purchasing a second home in an area that you love will give you the opportunity to develop friendships, get involved in community activities, and decide if Tahoe is really where you want to spend your golden years. By purchasing a Tahoe home 10-20 years prior to retirement, your cost of living will be much more affordable when retirement occurs as housing costs and interest rates will surely rise over that time period.
5) An Investment in your Family
In this day and age, it's easy for kids and adults to get sucked into a sedentary lifestyle where video games, WiFi devices and the TV dominate family time. When you invest in Lake Tahoe real estate, you are investing in your family and committing to getting everyone outside, recreating, and enjoying the simpler aspects of life. Coming up to Tahoe for the weekend or vacations will show your commitment to spending time with your family and doing things together. Just imagine teaching your kids to ski, taking them for hikes, floating the Truckee River, or boating on Tahoe. These are the memories that you and your family will have for eternity if you make the investment.
How to find a second home in Lake Tahoe
Contact Dave Westall, Lake Tahoe Realtor
Are you interested in Tahoe real estate and homes for sale? Dave Westall is your Lake Tahoe Real Estate expert and is happy to answer any questions you have. Contact Dave at (530) 448-9882 or David@WestallRealEstate.com.
David Westall, Realtor
Corcoran Global Living
P: 530-448-9882
David@WestallRealEstate.com
www.WestallRealEstate.com
CA BRE# 01796995