Fall Events around North Lake Tahoe
Fall is here bringing wonderful family festivals, Oktoberfest celebrations, highly anticipated movie premieres and so much more! Mark your calendars for some of the best fall events in Lake Tahoe!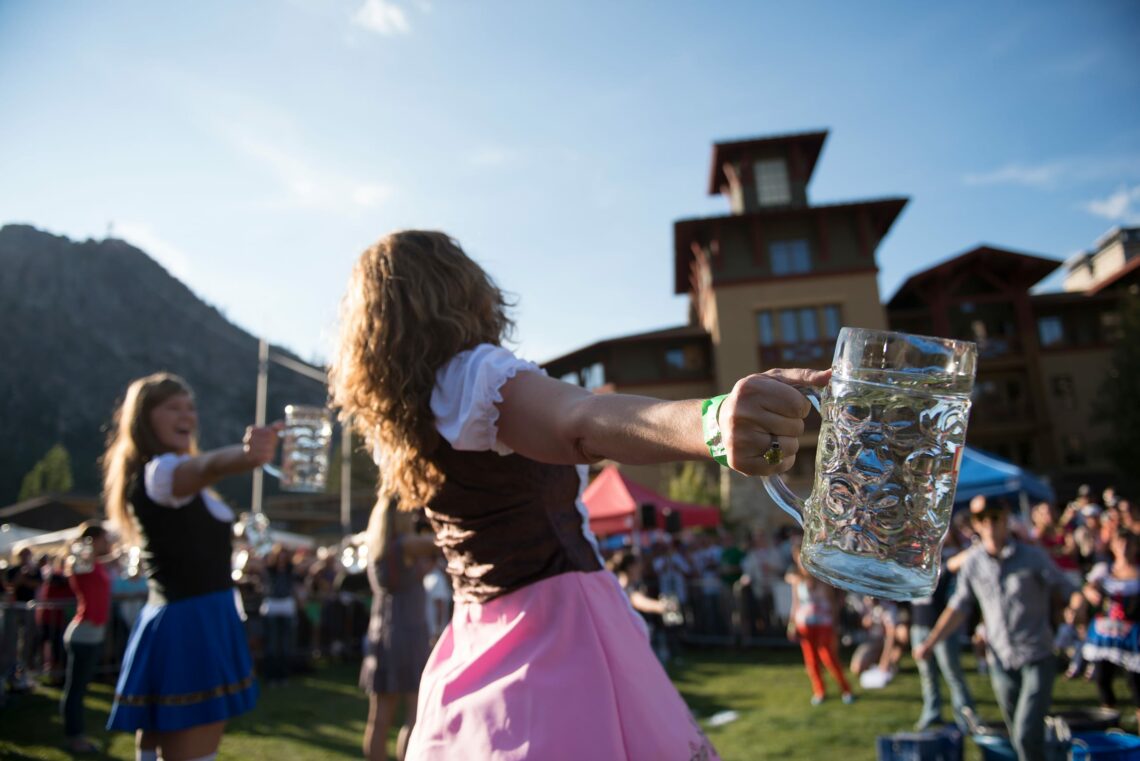 *All events are subject to change.
Where: Palisades Tahoe
When: September 16th & 17th | 10am – 3pm
Head to Palisades Tahoe for a family friendly weekend open to all ages celebrating the van life community and the opportunity to view an array of van vendors and overland products. In addition to all of the great van builds the event will feature live music, food and local brews all weekend long. And those looking to show off their custom builds are encouraged to sign up for the DYI Contest where they will have their rigs viewed by hundreds of event goers and rated by van build experts. Looking to buy or sell? Expect to find roof racks, bumpers, solar panels, interior storage, water filters, window coverings, beds, bedding, and 4×4 recovery items….and of course coffee cups, t-shirts and more! More Information
Where: Truckee River Regional Park
When: September 16th, 12pm – 8pm
Fox Cultural Hall will host the 3rd annual Mexican Heritage Festival in honor of Día de La Independencia on September 16, 2023. In our third year, Fox Cultural Hall (formerly Arts For The Schools) is expanding the festival, with the kick-off activities that you won't want to miss! The event will start with a parade into the festival grounds and live music! Grab a bite for lunch, dinner, or a drink. Activities include live performances, arts and crafts, food, drink and treats, and tons of traditional games including, Loteria, Futbol and many more from your childhood. More Information
Where: Gatekeeper's Museum, Tahoe City
When: Saturday, September 23rd | 12pm – 5pm
This exciting family-friendly event offers a wide selection of Bavarian-themed food options and delicious craft beers brewed by regional breweries. Enjoy live music from Coburn Station and the sounds of an authentic accordion player, Christiane Georgi. While enjoying your favorite local brew, participate in fun games like the Stein squat, Yodel Contest, and Weiner toss. Make special Oktoberfest pretzel necklaces, explore the Vendor Village featuring North Tahoe's most talented artisan makers and small businesses, plus you can put on your creative hats and get ready to show off your imaginative side by dressing up in your finest German-themed costume! Prizes for ALL! More Information
Where: KidZone Museum
When: Sunday, September 24th | 10am – 1pm
Head to the KidZone for the Family Farm Festival and enjoy a petting zoo, bulb planting, arts and crafts, face painting, singalongs and free museum play! More Information
Where: The Village at Palisades Tahoe
When: Saturday, September 30th | 12pm – 6pm
This annual event transforms the Village at Palisades Tahoe into the largest Bavarian playground in North Lake Tahoe, complete with authentic German beer and Bavarian music and dance, plus the ever-popular Oktoberfest Games and plenty of family fun. Enjoy live entertainment by Joe Smiell's 20 Piece Bavarian Band, the Almenrausch Schuhplattler Dance Troupe and Alpentanzer Schuhplattler Dance Troupe, accompanied by the Alpentanz Kapelle Band throughout the day. Authentic Brats, Pretzels, Swiss Slices and traditional European dessert/pastries to include apple strudel & nussgipfel, plus Root Beer Floats for the kids will be available for purchase. More Information
Where: Northstar California
When: September 30th
Head to Northstar California for some fall fun! Enjoy a full vendor alley and beer garden complete with HUGE giveaways and beer! Come dressed to impress as there will be a Best Lederhosen Costume prize! Bike features include a whip off on Livewire, long jump on Last Jump and Daytona Berms. More Information
Where: KT Basebar at Palisades Tahoe
When: September 30th, 6pm
Teton Gravity Research is excited to return to the KT Base Bar at Palisades Tahoe for the winter kick-off celebration of the year! Get hyped for winter with TGR's new feature length ski and snowboard film, Legend Has It, premiering on the big-screen AND featuring the all-time winter at Palisades Tahoe! Go early for athlete poster signings and prize giveaways from partners like Sierra Nevada, Nissan, Atomic, YETI, Volkl, Mammut, Tincup and many more. Plus, enter to win the tour grand prizes – with TGR's biggest giveaway ever, as someone will be driving away in a Nissan Pathfinder Rock Creek edition. Other grand prizes include a trip to TGR's hometown, Jackson Hole Mountain Resort, plus prizes from Atomic, Sierra Nevada, YETI, Eleven and others. More Information
Where: Downtown Truckee
When: October 7th | 12pm – 4pm
This iconic fall event is located in beautiful downtown Truckee. Attendees will receive a commemorative wine glass to sample wine at 30+ venues as well as delicious bite-sized snacks at a variety of downtown restaurants and merchants, plus a map to all participating venues. Truckee is a town of beckoning doorways, history and lively events. Let your appetite for wine, shopping, food and music be your guide as you join us for our 20th Anniversary Downtown Truckee Wine, Walk and Shop! More Information
Where: The Village at Palisades Tahoe
When: October 8th | 11am – 5pm
Made in Tahoe celebrates all things LOCAL. The Village at Palisades Tahoe will host a wide array of offerings that are made in or inspired by the Lake Tahoe Basin and Truckee areas: local artisans, businesses, chefs, organizations, and entertainers. Discover, explore, and experience our rich community full of talented creators while enjoying a variety of local feed and beer. More Information
Where: Northwoods Clubhouse
When: Saturday, October 14th | 11am – 4pm
Now in its 12th year, Fall Festival is Truckee's premier family-friendly autumn celebration and one of Tahoe Donner's largest community events of the year! The Fall Festival is a favorite for all ages, featuring a full day of harvest-themed events and activities. As each year gets bigger and better, you can expect familiar favorites like a bounce house, face painting and a candy apple station, in addition to special activities like a climbing wall, a slide and even a doggie dip adventure for your four-legged friends in Northwoods Pool! More Information
Where: Olympic Valley Events Center
When: November 3rd, 6pm
Get ready to go deep into the stuff of which snowy dreams are made with Warren Miller's ALL TIME. Celebrate the birth of ski towns like Sun Valley and Aspen, icons and innovators like the original hotdoggers, and the most outlandish locations ever skied. Then, catch up with Maine's finest athlete of today, Donny Pelletier, and meet the next generation at Woodward Park City. Through it all, Jonny Moseley and special guests will share their own stories to bring us to this moment. More Information
Contact the Westall Real Estate Team, Lake Tahoe Realtors
If you have questions about North Lake Tahoe Events, feel free to contact us. The Westall Real Estate team are your Tahoe Real Estate experts and are happy to answer any questions you have. Contact Dave at (530) 448-9882 or Team@WestallRealEstate.com.