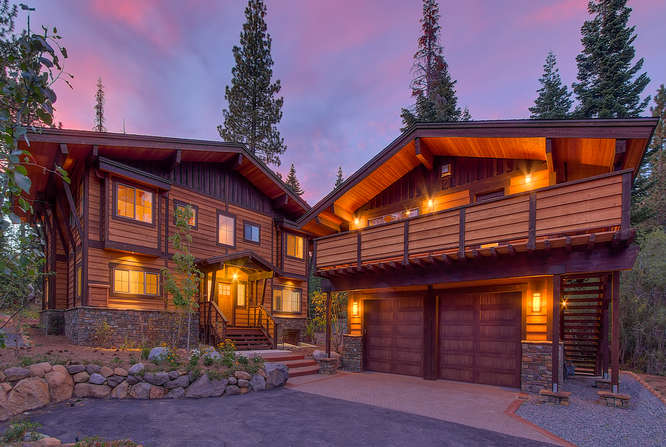 As signs of winter start to show in the Lake Tahoe region, many peoples start thinking about ski leasing a home for the season. We see families spend anywhere from $25K to $60K renting a home for the winter which is a significant investment that could easily go towards owning your own Lake Tahoe vacation home.
At 491 Club Drive in Tahoe City, the rental potential is high meaning you could own this home and subsidize the cost of ownership by renting the house out during the peak vacation months.
"491 Club Drive is a standout West Shore listing when it comes to rental potential. The size, layout, high quality, and world-class location provide plenty of leverage points to succeed in today's highly competitive rental market" Jim Winterberger, Managing Partner of Tahoe Getaways
Built with the highest level of craftsmanship, this luxurious Lake Tahoe Bavarian chalet offers 4 bedrooms, 3.5 bathrooms and a detached 1 bed/1 bath in-law quarters. The luxurious interior features vaulted ceilings and awe-inspiring forest views framed by a wall of extensive picture windows. Fun for the whole family awaits at this stunning Tahoe property.
Benefits of Buying over Ski Leasing
Freedom and control: As the owner your friends can pay you to ski lease your house! You can come and go as you please with no limitations and leave your belongings behind. You will no longer have to lug skis, boots, poles, winter clothes, etc. back and forth between your primary home and your vacation house.
Always have a place to go on vacation: Take the guesswork out of your vacation and know exactly what you're getting every time. This leaves more time to enjoy your vacation and less time figuring out your surroundings and a new area.
Rent it out and make money, which will defer costs: Lake Tahoe has significant vacation rental demand creating an opportunity to earn income and reduce the costs of ownership. Our friends at Tahoe Getaways are the experts on Lake Tahoe vacation rentals and would be happy to discuss the potential income you could earn by renting your vacation home.
The home may appreciate in value: The Lake Tahoe market continues to gain strength offering real estate investors a chance to make a return on their money. As the Bay Area economy has grown, the sales volume in Tahoe has increased to record levels and over time we should see solid appreciation.
Tax advantages for second home owners: Depending on how you use your Tahoe property there are many tax advantages that you could take advantage of. Talk to your CPA or financial planner to learn more and see if owning a second home in Tahoe fits into your investment objectives.
491 Club Drive Photos
David Westall, Realtor
Corcoran Global Living
P: 530-448-9882
David@WestallRealEstate.com
CA BRE# 01796995