The demand for Alpine Meadows real estate continues to be strong in 2012 and with limited inventory buyers are jumping on quality homes that are priced within reason which resulted with 19 single family home sales in 2012  and an increase in Average and Median home pricing.
The first chart shows a 7 year analysis of Average and Median single family home pricing in the Alpine Meadows market area.  From this chart you will notice that the Average home price reached a high of $1.067M in 2008 and then hit a low of $541K in 2011, a decrease of 49%.  During this same time period the Median sale price has fallen 46% from $890K to $480K.  Since the lows of 2011 we saw increases in pricing in 2012 with the average price rebounding 4.5% to $567K and the median price rebounding 15% to $565K.  Alpine Meadows continues to have strong buyer demand as we enter 2013 and with limited inventory we are forecasting a strengthening market in 2013 with pricing increases.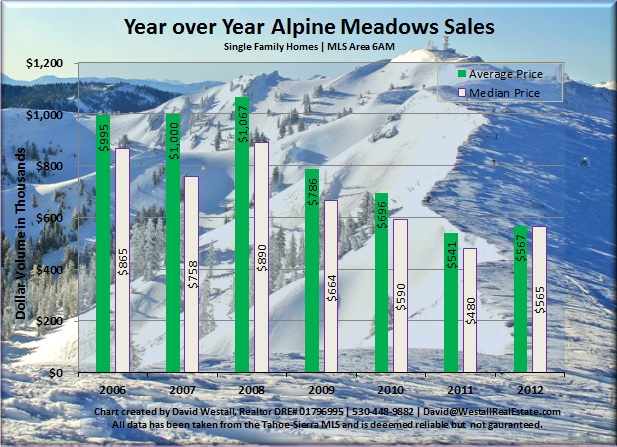 The chart below shows the year over year single family home sales volume for the Alpine Meadows real estate market.  The significance of this chart is that it shows a steady rise in sales volume since 2007.  Although Average and Median pricing took a big hit over the last 7 years the sales volume is up 37% which is a reflection of lower home pricing, low interest rates, and continued high demand for the Alpine Meadows ski resort neighborhood.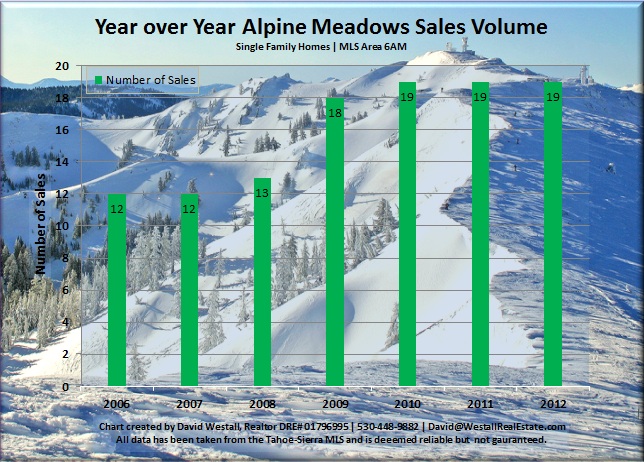 2012 Alpine Meadows Real Estate Market Highlights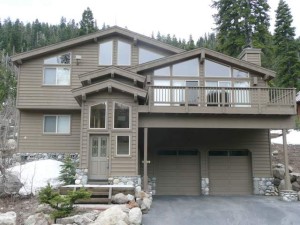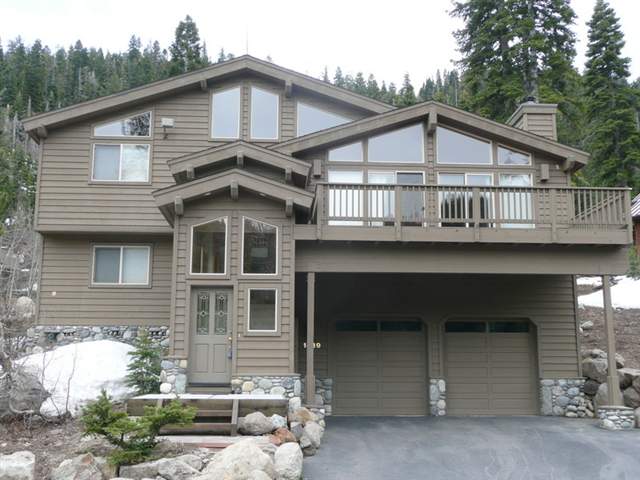 Average Price: up 4.5% from $541,000 to $567,631
Median Price: up 15% from $480,000 to $565,000
High Price: $950,000
Low Price: $100,000 (collapsed uninhabitable house)
Sales Volume: 19 Single Family Home Sales, even with 2011
Currently there is a shortage of inventory in the Alpine Meadows neighborhood so if you are considering selling your Alpine Meadows real estate please contact me to discuss how I can help you sell your home quickly and for top dollar.
If you have any questions about the Alpine Meadows real estate market please feel free to call or email me as I would be happy to talk with you about the opportunities that this amazing neighborhood has to offer.
Search the MLS for Alpine Meadows Real Estate
David Westall, Realtor
Tahoe Riverfront Realty, Inc.
P: 530-448-9882
David@WestallRealEstate.com
www.WestallRealEstate.com
CA DRE# 01796995