With the start of the New Year, it's now time to reflect and look back at the 2014 Lake Tahoe real estate market and see what happened over the last 12 months. The biggest highlight of the year is that 2014 marks the 3rd straight year of recovery as the median sale price climbed 24%. In order to return to the height of the market pricing we still have 18% to recover (median pricing), but we are on a healthy path to recovery. The delta between the height of the market and today's pricing represents a great opportunity for people buying into the Lake Tahoe Markets as there is still upward potential before we reach resistance levels.
Although
Lake Tahoe sales
volume was down 12% in 2014, Average and Median single-family home prices rose significantly over the course of the year. This rise in pricing was due to a huge reduction in the number of distressed sales (REO and Short Sales) and a significant rise in the number of Tahoe luxury home sales. In fact, the number of home sales over $3M is up 51% which is mostly due to a higher number of
Martis Camp real estate
and lakefront home sales (luxury segment). With fewer distressed sales and a high number of Tahoe luxury home sales, it is no surprise to see double-digit improvements in the Lake Tahoe real estate markets. In 2014, Lake Tahoe buyers were very discerning when choosing properties to purchase. If a given home was priced above the market, the days on market increased significantly. If the house did not offer a unique feature such as location, setting, or quality construction these homes were often passed over for other opportunities. In the current market, pricing is extremely important to sell your Lake Tahoe home for top dollar. Last year the market was being pushed upwards at a stable rate which, over time led to double-digit appreciation. In 2015, pricing your home accurately will be even more critical to get it sold quickly and for top dollar. Make sure to examine the comparables closely before deciding on a price for your Lake Tahoe home.
2014 Lake Tahoe Real Estate Market
Year over Year Tahoe Market Comparison
2014 Lake Tahoe Statistics

2013 Lake Tahoe Statistics


925 Single Family Home Sales down 12%
Average Marketing Time: 91 Days up 2%
Average Price: $931K up 22%
Median Price: $575K up 11%
49 REO & Short Sales down 58%
8 Sales Below $200K down 72%
190 Sales over $1M up 27%
55 Sales over $3M up 51%
High Sale Price: $14M up 32%
Low Sale Price: $76K up 5%

1,051 Single Family Homes
Average Marketing Time: 89 Days
Average Price: $724K
Median Price: $510K
118 REO & Short Sales
29 Sales Below $200K
138 Sales over $1M
27 Sales over $3M
High Sale Price: $9.49M
Low Sale Price: $72K
*Lake Tahoe and Truckee Single-Family Homes Including Lakefronts, MLS Areas 1-9
Lake Tahoe Market Analysis Sales Chart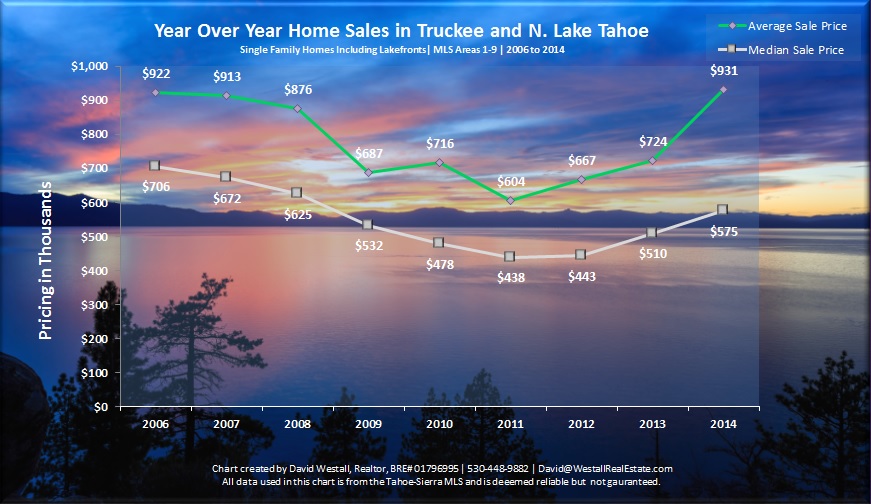 This chart shows that in 2014, the Average home price in Truckee and N. Lake Tahoe is up 22% and the Median price is up 11% over 2013.
2015 Lake Tahoe Real Estate Market Predictions
Pricing will continue on an upward trend but will rise at a slower pace. I'm anticipating a pricing increases of 5-10% for single-family homes.
Mortgage rates will head higher and will be closer to 5% by the end of 2015.
A higher number of millennials (born between 1981 and 2000) will enter the market.
There will be a rise in new construction starts this year (mostly in Truckee).
There will be fewer Short Sales and Foreclosures in the market.
Market rents will increase, especially long-term rental rates.
Geopolitical factors will continue to threaten the economy.
2014 Lake Tahoe Market Analysis' By Segment
2014 Lake Tahoe Lakefront Market Report
2014 Tahoe Donner Market Report
Oliver Luxury Real Estate
In 2014, Oliver Luxury Real Estate sold over $220,000,000 in North Tahoe/Truckee real estate making us the #1 luxury brokerage in North Lake Tahoe!
If you include the sales of our Incline Village and Menlo Park offices we had over $376,650,000 in sales for 2014.
Oliver Luxury Real Estate has sold an unprecedented 22 Tahoe lakefront homes in 2014, doubling the volume of our closest competition.
Contact Dave Westall, Lake Tahoe Realtor
Are you interested in Lake Tahoe real estate market and homes for sale? Dave Westall is your Lake Tahoe Real Estate expert and is happy to answer any questions you have. Contact Dave at (530) 448-9882 or David@WestallRealEstate.com.
David Westall, Realtor
OLIVER LUXURY REAL ESTATE
P: 530-448-9882
David@WestallRealEstate.com
www.WestallRealEstate.com
CA BRE# 01796995