2014 was a great year for Tahoe Donner real estate market as the Average and Median single-family home price rose 12%. The rise in Tahoe Donner home pricing was due to a significant increase in the number of luxury homes sales (up 29%) and a contraction of the number of distressed sales (Short Sales and REO's) which helped push pricing upwards.
Tahoe Donner sales volume was down 25% which was due to a significant reduction in distressed sales (down 72%) and homes priced below $300K, which took a lot of "deals" out of the market and thus removed buyers looking for affordable entry-level homes. As pricing increases, fewer people can afford Tahoe Donner real estate and need to enter other markets where homes are more affordable.
As you can see from the multi-year chart below, Tahoe Donner has completed 2 years of positive gains since the market hit bottom in 2012 and it would appear that 2015 will continue on this upwards trend but most likely at a more stable rate.
Year over Year Tahoe Donner Real Estate Market Comparison
2014 Tahoe Donner Statistics

2013 Tahoe Donner Statistics


206 Single Family Home Sales down 25%
Average Marketing Time: 61 Days

down 9%

Average Price: $674K up 12%
Median Price: $617K up 12%
7 REO & Short Sales down 72%
4 Sales Below $300K down 69%
34 Sales over $900K up 29%
High Sale Price: $1,950,000

up 32%



Low Sale Price: $241K up 23%

273 Single Family Home Sales
Average Marketing Time: 67 Days
Average Price: $596K
Median Price: $545K
25 REO & Short Sales
13 Sales Below $300K
24 Sales over $900K
High Sale Price: $1,325,000
Low Sale Price: $185K
2014 Tahoe Donner Real Estate Market Sales Chart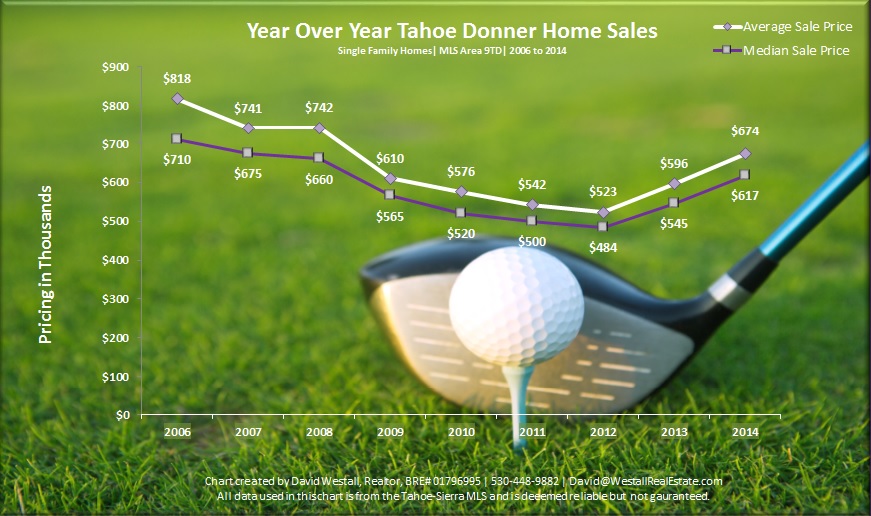 This chart shows that in 2014 the Average Tahoe Donner home price is up 12% and the median price is also up 12% over 2013 pricing.
2015 Predictions for Tahoe Donner Real Estate
Strong buyer demand
Slightly increased inventory
Pricing Increases of 5-10% by the end of year
Distressed sales (REO and Short Sales) will be a minor part of the market.
Continued strength in the higher end of the Tahoe Donner market
Mortgage interest rates will continue to increase through the year and should be close to 5% by 2016. This increase will take away from buyer purchasing power as a 1% increase in loan rates equates to a reduction in purchasing power of approximately 10%
Oliver Luxury Real Estate
In 2014 Oliver Luxury Real Estate sold over $220,000,000 in North Tahoe/Truckee real estate making us the #1 luxury brokerage in North Lake Tahoe!
If you include the sales of our Incline Village and Menlo Park offices we had over $376,650,000 in sales for 2014, which is amazing considering we only have 44 luxury agents between our 6 offices.
Oliver Luxury Real Estate sold 18 Tahoe Donner homes in 2014 with a combined value of $13,258,500 and an average price of $736,000 which is 8% over the neighborhood average.
Oliver Luxury Real Estate has sold an unprecedented 22 Tahoe lakefront homes in 2014, doubling the volume of our closest competition.
Please feel free to call or email me anytime to discuss market conditions in Tahoe Donner Real Estate as I would love to talk and provide you with additional insight, discuss listing your property or talk about purchasing real estate in Tahoe Donner and Truckee. Contact Dave at (530) 448-9882 or David@WestallRealEstate.com.
David Westall, Realtor
OLIVER LUXURY REAL ESTATE
P: 530-448-9882
David@WestallRealEstate.com
www.WestallRealEstate.com
CA DRE# 01796995