North Lake Tahoe and Truckee Real Estate Sales are off to a Great Start in 2017
2017 is off and running and the North Lake Tahoe and Truckee, CA real estate markets are looking solid in the New Year. In January North Lake Tahoe received over 237 inches of snow at 7,000' which broke the previous snowfall record from 1973! The record snowfall has made for some amazing skiing and riding, but near-daily blizzard conditions made showing property difficult and distracted buyers from touring homes. Even with the challenging weather conditions, we witnessed a 4.6% jump in single-family home sales volume and the median home price rose 13% over January 2016.
From the year over year statistical comparison shown below, you will notice that a few metrics are lagging which are shown in red. This is due to the fact that in January of 2016 we had 7 sales over $3M with a high price of $7.1M and in 2017 we only had 3 sales over $3M with a high sale of $3.9M. This does not indicate that the Tahoe market is falling apart, it just shows that in January 2016 we saw more high-end luxury homes close than in 2017. We are only 1 month into the year which creates a small statistical sample that can be flawed and difficult to interpret. I am more focused on the median home price which has less influence from high-end sales and the number of single family home sales as these 2 metrics provide a better picture of the markets overall health.
Year over Year Market Conditions and Value Trends
2017 Statistics
65 Single Family Home Sales Up 4.6%
Avg. Marketing Time: 86 Days Down 41%
Avg. List to Sold Disc.: 3.8% Down 9.5%
Average Price: $899K Down 18%
Median Price: $695K Up 13%
0 REO & Short Sales Even
1 Sale Below $300K Down 80%
14 Sales over $1M Down 7%
3 Sales over $3M Down 57%
High Sale Price: $3.97M Down 44%
Low Sale Price: $299K Up 27%
2016 Statistics
62 Single Family Homes
Average Marketing Time: 146 Days
Avg. List to Sold Discount: 4.2%
Average Price: $1.1M
Median Price: $602K
0 REO & Short Sales
5 Sale Below $300K
15 Sales over $1M
7 Sales over $3M
High Sale Price: $7.1M
Low Sale Price: $219K
Currently, we're seeing strong buyer demand and historically low inventory levels which are creating pent up demand for Lake Tahoe and Truckee real estate. As inventory levels start to rise this spring, I anticipate a buyer feeding frenzy for good quality homes that are priced in alignment with the market. If you are considering selling your Tahoe property I would recommend listing now or early in the spring as there will be very little competition and buyers are eager for new inventory which will help you sell your property for top dollar.
Year Over Year Lake Tahoe Real Estate Sales Chart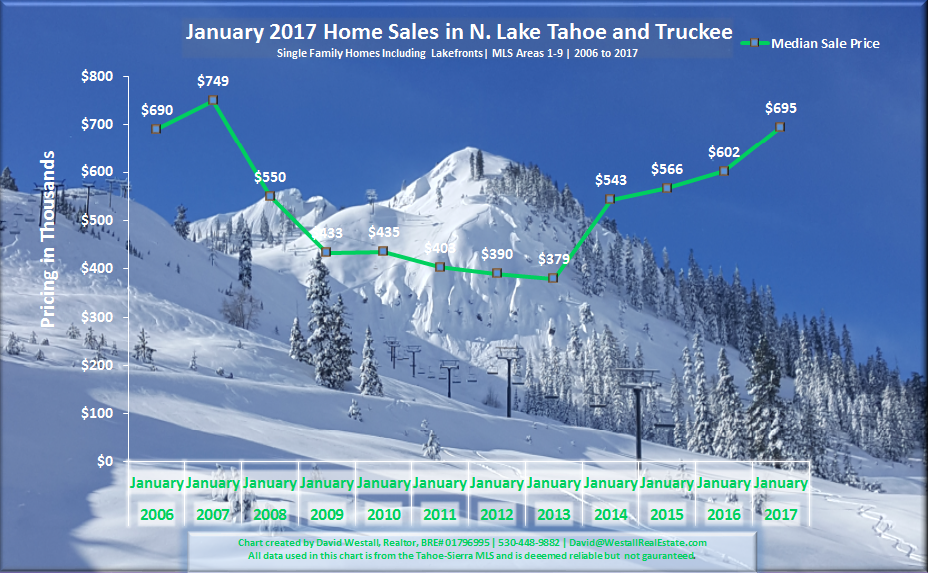 *North Lake Tahoe and Truckee Single Family Home sales including lakefronts. Data is taken from the Tahoe-Sierra Board of Realtors, MLS Areas 1-9.
Year Over Year Lake Tahoe Real Estate Sales Volume Chart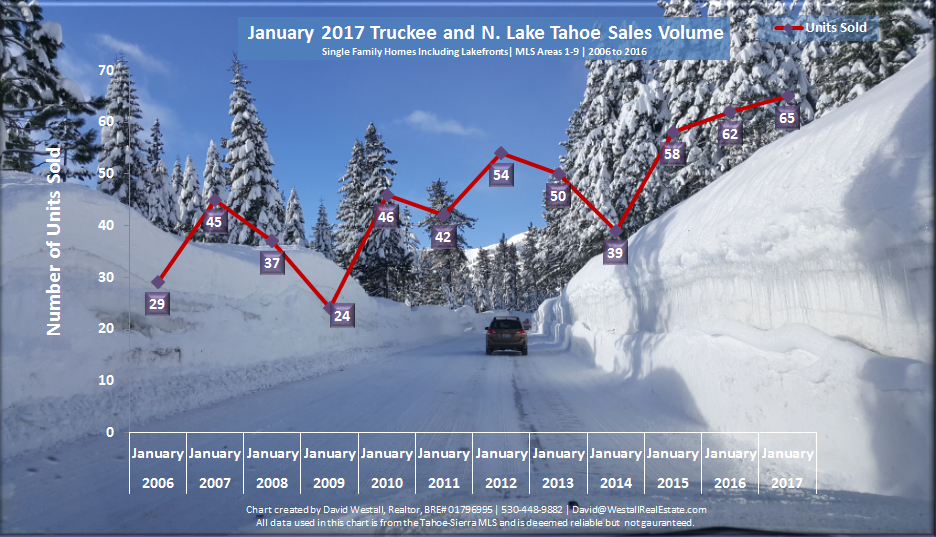 Past Lake Tahoe Market Reports
Do you have questions about Lake Tahoe Real Estate? Please call me, Dave Westall at (530) 448-9882 if you would like to discuss market conditions in more detail, or to talk about how I can help you achieve your real estate goals.

For real estate news, property listings and Lake Tahoe events sign up for our newsletter here.
David Westall, Realtor
OLIVER LUXURY REAL ESTATE
P: 530-448-9882
David@WestallRealEstate.com
CA BRE# 01796995