Tahoe Luxury Properties Push Market Higher in July
North Lake Tahoe and Truckee real estate sales have been energetic in 2016 which is evident by the fact that sales volume is up 13% and just about every notable metric is showing positive gains. Although the market is showing strength I have noticed that sales volume, average price and median home pricing have slowed a little over the last 2 months.  We will have to keep our eyes on the market and see how the 3rd quarter finishes.
In 2016 sales of luxury homes are up 50% showing that wealthy buyers are confident in the Tahoe market and see real estate investments as a safe bet over the volatile stock market.  Wealthy buyers are gravitating towards the gated golf course communities, with
Martis Camp
accounting for 63% of sales over $3M.  This appears to be due to the fact that Martis Camp offers world class amenities and cutting edge modern mountain architecture, which are priority items for Tahoe luxury buyers. I anticipate that the market will remain strong over the next quarter and pricing will stay positive for the remainder of the year.
Year over Year Statistical Comparison
July 2016 Statistics
588 Single Family Home Sales up 13%
Avg. Marketing Time: 102 Days down 1%
Avg. List to Sold Discount: 3.3% up 9%
Average Price: $989K up 12%
Median Price: $602K up 8.6%
14 REO & Short Sales down 36%
22 Sales Below $300K down 15%
143 Sales over $1M up 50%
40 Sales over $3M up 45%
High Sale Price: $8.9M even
Low Sale Price: $202K up 50%
July 2015 Statistics
511 Single Family Homes
Average Marketing Time: 103 Days
Avg. List to Sold Discount: 3%
Average Price: $874K
Median Price: $550K
22 REO & Short Sales
26 Sale Below $300K
72 Sales over $1M
22 Sales over $3M
High Sale Price: $8.85M
Low Sale Price: $100K
Year Over Year Lake Tahoe Real Estate Sales Chart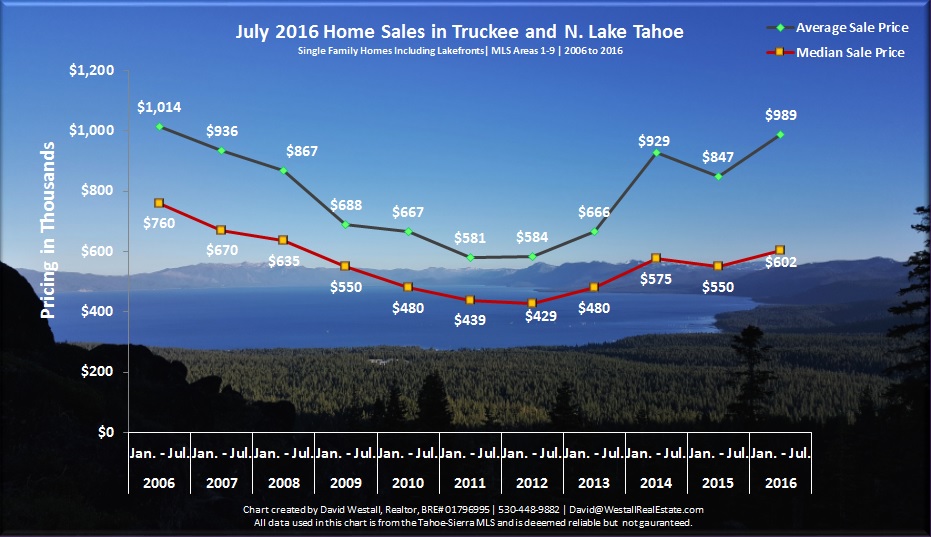 *North Lake Tahoe and Truckee Single Family Home sales including lakefronts. Data taken from the Tahoe-Sierra Board of Realtors, MLS Areas 1-9.
Year Over Year Lake Tahoe Real Estate Sales Volume Chart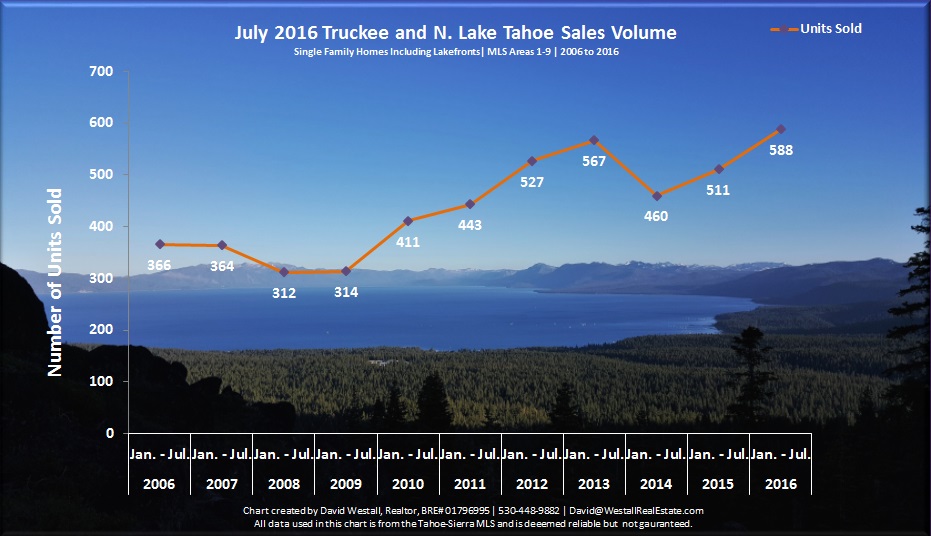 Past Market Reports
View All of My Tahoe Real Estate Market Reports
Do you have questions about Lake Tahoe Real Estate? Please call me if you would like to discuss the Lake Tahoe real estate market conditions in more detail or talk about the specific market conditions where your home is located. I would be happy to put together a specific market analysis for your home and provide you with information about how I can help you sell your home for top dollar.

David Westall, Realtor
OLIVER LUXURY REAL ESTATE
P: 530-448-9882
David@WestallRealEstate.com
CA BRE# 01796995