A Severe Winter and Limited Inventory are Slowing Down the Tahoe Markets
The North Lake Tahoe and Truckee real estate markets are still recovering from a significant winter which brought over 59 feet of snow to the higher elevations of Tahoe. During this "snowpocalypse" we saw a huge downturn in buyer activity during February, a month in which we received over 25 feet of snow and buyers could barely drive to Tahoe, let alone shop for homes. In short, we were buried during February and March and naturally real estate sales slowed down. With that noted, I think we are looking at a strong market, but it will take a little time for the statistics to thaw out and show what is actually going on. I expect that by the end of Q2, we will see market normalization take place and the statistics will be more representative of the overall market.
Lake Tahoe Real Estate Q1 2019 Market Report Highlights
Year over year dollar volume is down 17%
Luxury home sales account for 29% of all sales in 2019
Median home price is even with 2018 at $724,000
High sale for 2019 is a $37M Tahoe City lakefront, Oliver Luxury Real Estate represented the buyer
11 Martis Camp luxury homes have sold this year with an average price of $5M
Lake Tahoe Real Estate Inventory Should Steadily Rise in the Coming Months
This spring, a lack of inventory has been frustrating anxious buyers who are ready to purchase homes in the Tahoe region. The heavy winter snows have delayed the typical start of the selling season by 1 to 2 months, which has had a negative effect on inventory levels. We continue to see slow rise of inventory levels and we should continue to see new homes hit the market for the next few months (summer selling season), which will help boost the market. Statistically, the lack of inventory is causing sales volume to be off and is having a negative effect on most of the data points that I track (see below).
Lack of Inventory is Creating a Great Opportunity for Sellers
In our inventory constrained market sellers are in a great position to sell their homes for top dollar as buyers do not have as many choices when searching for homes. Bidding wars for quality inventory have become more common as there are many buyers searching for the same type of property, which is pushing up prices. Marketing times are starting to come down as buyers are jumping on new listings. If you are thinking of selling, the current market conditions are making this the perfect time to sell your house for top dollar.
Year over Year Lake Tahoe, CA Real Estate Market Conditions and Value Trends
Jan – Apr 2019 Statistics
228 Single Family Home Sales Down 12%
Avg. Marketing Time: 90 Days Up 6%
Avg. List to Sold Discount: 4.3% Dwn 10%
Total Sales Volume: $294M Down 17%
Average Price: $1.29M Down 5%
Median Price: $724K Even
2 REO & Short Sales Down 33%
5 Sales Below $300K Up 20%
65 Sales over $1M Down 28%
17 Sales over $3M Down 26%
High Sale Price: $37M Down 8%
Jan – Apr 2018 Statistics
260 Single Family Homes
Average Marketing Time: 85 Days
Avg. List to Sold Discount: 4.8 %
Total Sales Volume: $353M
Average Price: $1.36M
Median Price: $726K
3 REO & Short Sales
4 Sales Below $300K
90 Sales over $1M
23 Sales over $3M
High Sale Price: $40M
Lake Tahoe Real Estate April 2019 Market Report Sales Chart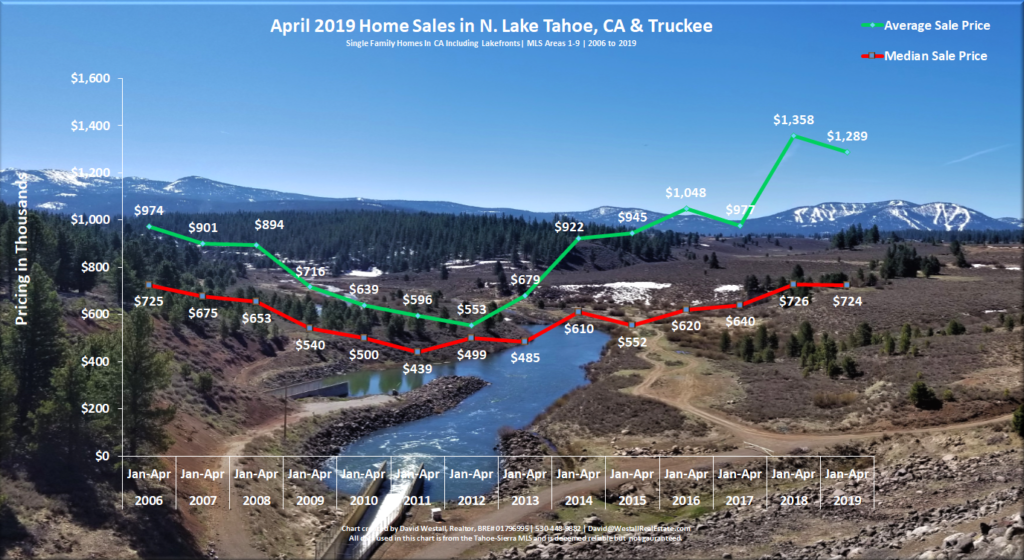 Lake Tahoe Real Estate April 2019 Sales Volume Chart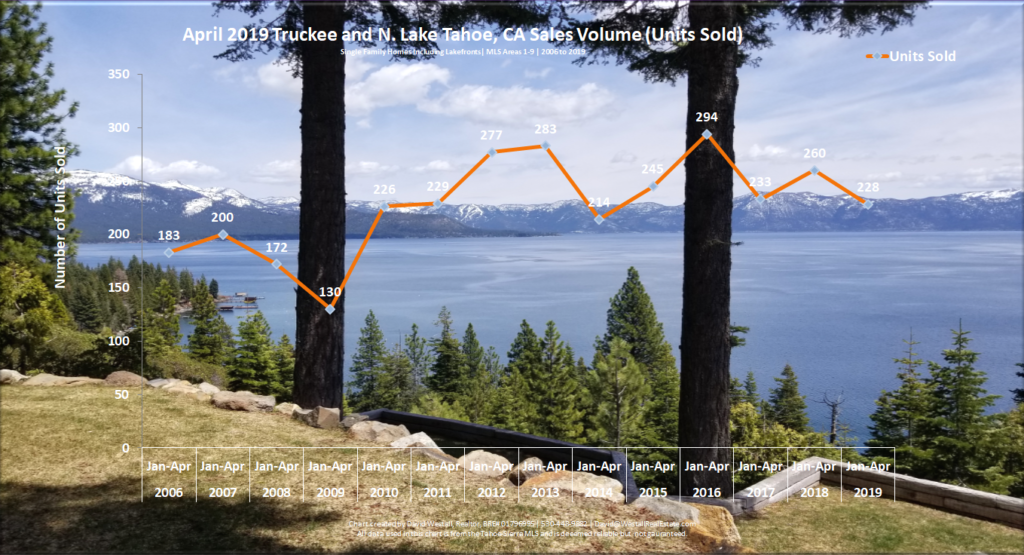 *North Lake Tahoe, CA and Truckee Single-Family Home sales including lakefronts. Data is taken from the Tahoe-Sierra Board of Realtors, MLS Areas 1-9.
Lake Tahoe Real Estate Market Report Archive
April 2018 Lake Tahoe Market Report
Contact Dave Westall – Lake Tahoe Real Estate Agent
Do you have questions about Lake Tahoe Real Estate? Please call me at (530) 448-9882 if you would like to discuss Lake Tahoe real estate market conditions in more detail or to talk about how we can achieve your real estate goals together.
For Lake Tahoe real estate news, property listings, and events Sign up for our Newsletter.